Market Product Grid Explained from a Marketing Point-of-View
The Market Product Grid, or also known as Igor Ansoff Matrix, is a Business Growth Strategy framework that helps a company define growth strategies in relation to the risk level. It was first published in Harvard Business Review in 1957 but is still relevant today.
It's divided into four main strategies: Market Penetration, Market Development, Product Development, and Diversification.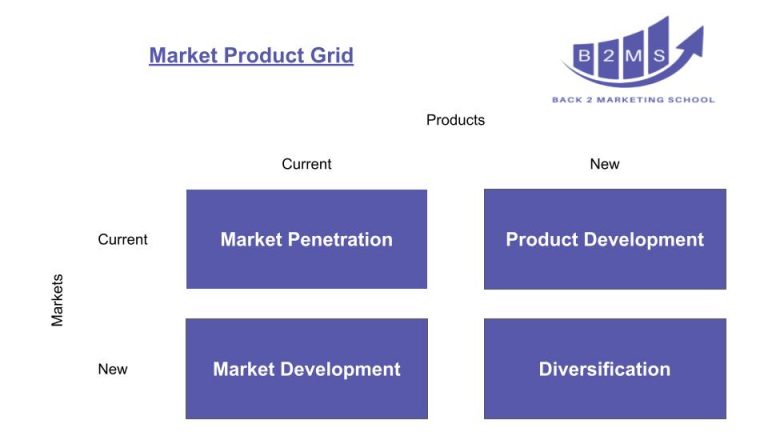 Besides an overall business and product development strategy, the Marketing department is a major player in each of the strategies.
The strategies are aligned on a grid with two dimensions: Markets and Products. Each dimension is separated into current and new segments. 
What are the four strategies of the market product grid? 
Market Penetration
Market penetration has the lowest risk level of all four strategies. It focuses on the current market with current products. In short, you are aiming for more market share with your existing products, selling to your current customer segment.
What are market penetration tactics?
Pricing (lower the price, introductory offers, or even increase prices to signal a premium)
Distribution (make your product more available)
Awareness/Branding (increase brand recognition)
What's marketing's role in Ansoff's market penetration strategy?
Marketing is playing a key role in this strategy. The business doesn't develop a new product but focuses solely on marketing. 
Before diving into the market product grid strategy, marketing is involved in research and competitor analysis to define if the market penetration is a realistic business strategy. For example, would a price decrease result in a price war and decrease profits altogether? Would our audience pay a higher price for more perceived value?
In the next step, marketing is responsible to penetrate the market to increase the market share.
Some marketing tactics to increase market penetration of the product market expansion grid are:
Increased advertising
Email marketing to existing customers and prospects
New branding
Doubling down on SEO
Partnerships with relevant businesses
Press Releases (PR)
Market Development
The market development strategy of the Market Product Grid aims to tap with existing products into new markets like audience segments or geographics. It's an expansion strategy for your current products.
What are market development tactics?
National expansion (geographical)
International expansion (geographical)
New customer segment expansion (demographics/firmographics)
What's marketing's role in Ansoff's market development strategy?
Marketing is crucial in the research phase in which markets can be developed and in which order. What resources are needed? In facilitating the strategy, marketing is the main driver in cooperation with the sales team to enter the markets. For example, for an international expansion to translate the materials into the local language.
Some marketing tactics to develop a new customer market of the market product grid are:
New advertising channels: For example, targeting a younger demographic on TikTok
New branding towards the new market segment like colors or packaging of physical goods
Translating content. Search analysis for local languages.
Partnerships to seize audiences
Product Development
The product development strategy goal is to develop a new product to cater to the existing market. It's often an upsell opportunity like a Social Media solution for a Content Management Software. More, it's not uncommon that companies face the reality that they need to develop new products to meet the standards of the ever-changing customer needs.
What are product development tactics?
Research & develop a new product or expand the existing product range
Acquire a company that adds a new product catering to the existing market
What's marketing's role in Ansoff's market development strategy?
Marketing also has to support the R&D in research, but as always is one of the main drivers in the roll-out stage. 
Some marketing tactics to promote a new product are:
Forming strategic partnerships
Press releases and awareness campaigns
Content marketing for paid and organic campaigns
SEO for new keywords
Diversification
The diversification strategy holds the biggest risk within the market product grid. This strategy develops a new product for new markets. The diversification strategy can be broken down into two different approaches: Related and unrelated diversification.
Related vs unrelated diversification
Related diversification may still be somewhat related to the existing products. Often synergies can be seen. For example, a cell phone manufacturer produces technical devices for car entertainment. Developed technologies can be used for the new product.
Unrelated diversification, on the other hand, has very little synergies to the existing business. For instance, the same cell phone manufacturer develops clothing lines. 
What's marketing's role in the market product grid diversification strategy?
For marketing, it's a whole new world and the department will have to develop an entire go-to-market strategy.
Here is a marketing use-case of the market product grid, if you are interested.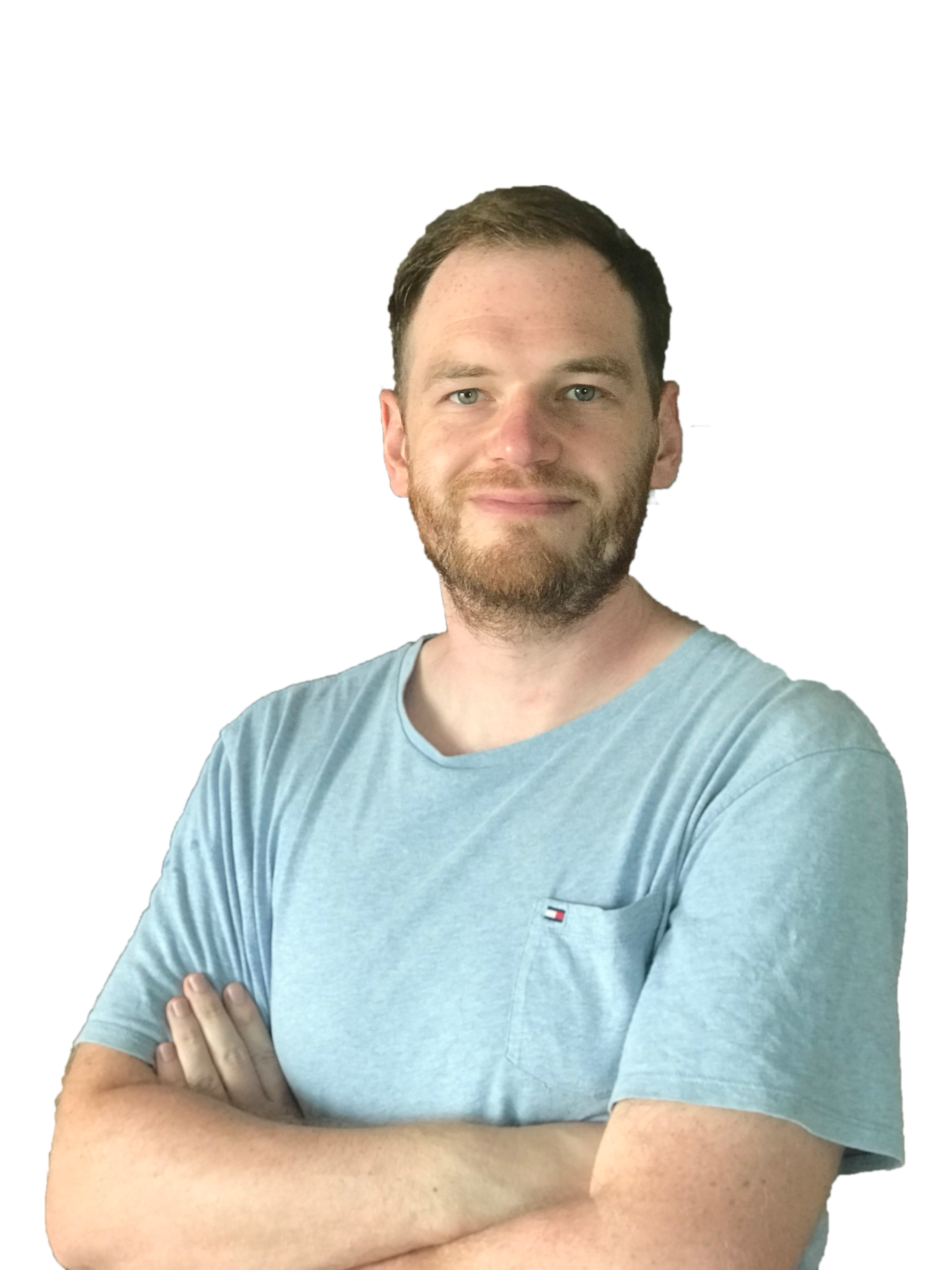 Sascha is a Lifecycle Marketing Consultant with over 8 years of digital marketing experiences in Silicon Valley, the UK, and Germany.
After leading the demand generation for a 100+ million company, he decided to venture out on himself. He's now helping clients to attract and convert more leads and customers.
His main focus are SEO, paid media & marketing automation – all with the focus to tie marketing campaigns to revenue.
Sascha has been featured in industry publications.