SEO Writing 101: Follow these 9 steps to rank higher on Google
There are two ways how to approach SEO writing:
Start with a topic and find a keyword

Start with a keyword and find a topic
First, you have a topic already and match and optimize it for the best possible keyword. That means you may have thought about something your audience is really interested in and you can provide value and now need to do some keyword research to find a keyword that matches the search intent. Secondly, you start with a keyword list and find a topic to target a specific search term. This option is usually easier because you can customize your text for the best SEO outline, rather than mapping a keyword to your existing article.
In any way, you want to follow these 9 tips for SEO writing 101 to give your content the extra nudge to rank higher in search results.
1. Keep search intent in mind
You need to match the search intent the searcher has in mind. Mainly there are two different search intents: informational and commercial/transactional. Think it this way: You can't have a product page with all your features ranking for a how-to guide. On the other hand, if someone is looking for "the best" solutions of a category, you won't serve this user well with informational content.
Solution if the search intent doesn't match your article: Find a long-tail keyword. You may have to sacrifice search volume but it's still better than not ranking at all.
2. Write the optimal lengths
In SEO writing it's important to have a similar length of your article compared to currently ranking pages. Why is that? Google serves articles that match the search intent and tested various articles to provide the best user experiences. If the average length of page one search results is 800 words, you should aim for the same lengths.
Of course, it's more important to create the most valuable resource. If you can't add any more content without adding any fluff, keep it shorter. The same goes for adding more words if you think it's necessary. But don't just write 2000 words because of your gut feeling.
Going over is usually better than writing less. If others write 800 words chances are you will need that many to cover the topic thoroughly.
3. On-Page SEO Writing 101
The metadata is very important for on-page SEO. That's why you can't optimize a single piece of content for various keywords. You can include keywords in the body, but you are limited in on-page signals. Make sure to include and optimize the following when publishing an SEO-optimized article:
SEO title tag

H1 headline

meta description (also include variations and potentially long-tail keywords)

URL slug

sub-headings

image titles and alt attributes

anchor texts linking to the new article

HTML strong tag
Those spaces are limited and tell search engines that your content is really about that topic/keyword.
4. Strategic keyword placements in SEO writing
Writing and SEO writing are two different skill sets. One main ingredient to SEO writing is the strategic placement of the target keyword. It's crucial to use the keyword in the right ratio – to not overuse it – but also to pick the right appearance. We've covered the importance of on-page SEO already. Include variations and the primary keyword in sub-headings.
Moreover, you can highlight the keywords in bold (ideally an HTML strong tag instead of a bold tag), and use the target keyword in the first few sentences of your article.
5. Include or avoid long-tail and semantic keywords
Long-tail and semantic-related keywords round up your SEO writing. It gives more context to search engines and provides the opportunity to rank for those long-tail search terms.
It's always good to compile a full list of keywords you want to include or actively avoid to prevent keyword cannibalization.
6. Answer People Also Ask (PAA) questions
When googling your target keyword you will most likely find the People Also Ask section of the search engine results page SERP. Those are great for adding to your content as it indicates the user intent, as well as increase the likelihood to rank for those terms as well. In order to enhance the SEO writing, you should format the answer targeting in a logical way, so it's easy for Google and Co to understand your high-quality content.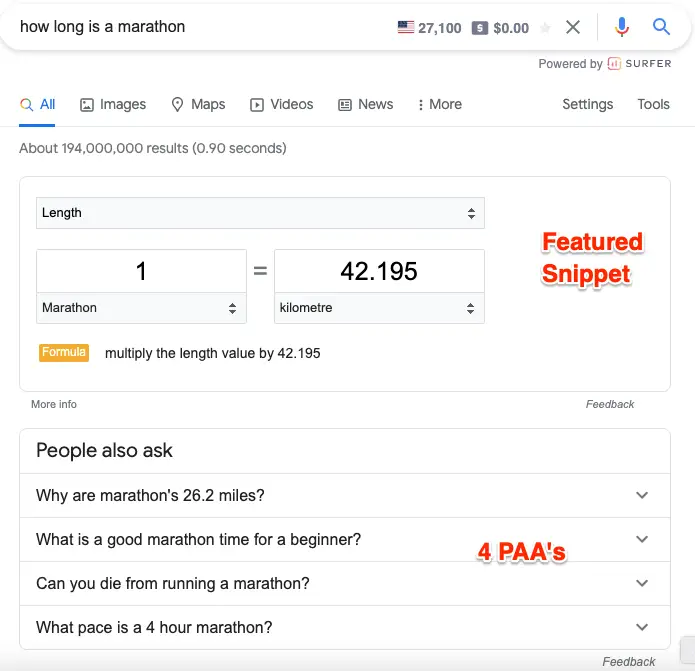 7. Boost SEO writing with Internal links
You should always link to other internal resources in your blog posts. It's good to plan for this when outlining your post already. But what's also important and often overlooked is to cross-link to the new blog post you are writing. It's not 100% related to your SEO content writing 101, but it's an additional step that will increase your page ranking.
8. Enrich your SEO writing with images
Images are great for enhancing the user experience but also for placing SEO keywords in the title and image alt tags. Moreover, image searches can also increase organic traffic and are great for sharing on social media.
9. Create an SEO content brief
Regardless if you create content for search engines or other promotional channels, you should always create an SEO content brief that covers all of the above to keep your search engine optimization writing in check. The template will help you structure your content as well as plan keywords from the start.
Every content marketer knows the value of a content brief.