​​Website relaunch: The how-to guide and checklist
If you are in need of a website makeover and want to relaunch your website, it is important to consider some points. First of all, it is crucial whether your website has performed well so far or not. The existing data must be used and optimized in the best possible way.
In the following, we will often distinguish whether you already have data available for your website redesign project or are starting from scratch.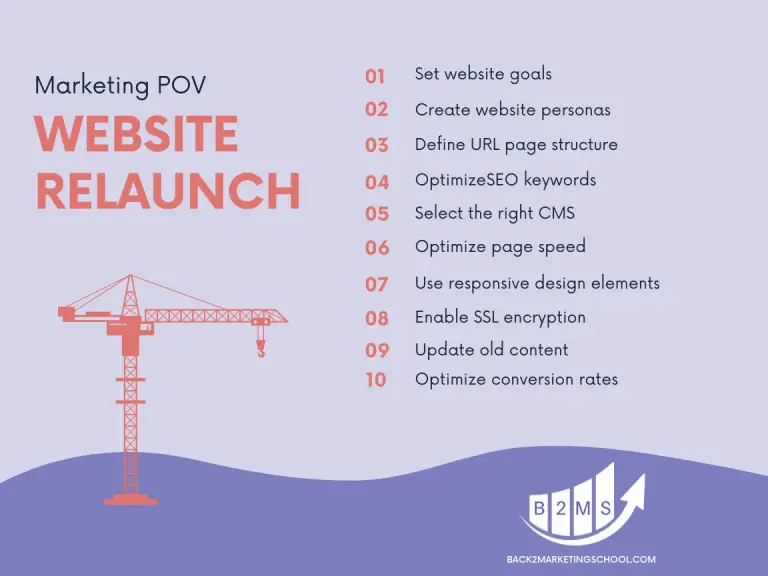 1. Goal setting of your website relaunch
Before you even start with the design, text, or structure, you must make yourself clear what goal you are pursuing with the website. Is it for lead generation and new customer acquisition, or just a place for additional information or a business card of your business?
2. Create website personas
With the goal in mind, you need to define for whom the site is being developed. In marketing, so-called personas need to be created.
In order to create and define personas, you need to understand the demographic and firmographic characteristics o f your target customers, but also uncover more in-depth behavior such as the motivation or reading habits of your buyer persona.
Technology can help you do this. Google Analytics has some demographic data available, as well as the LinkedIn Insights tag can provide B2B marketing insight into previous website visitors.
3. Define page and URL structure
The importance of the page structure when redesigning a website is huge. The URL structure is not only used to navigate the page but also contributes to the visibility. In search engine optimization SEO, the URL structure is one of the most important – and often underestimated – ranking factors. Interlinking should be analyzed for an existing site through an internal link audit.
Should I change URLs when relaunching my website?
First, we need to understand that the exact URL holds the SEO value for the particular page. So a URL domain.com/blog/date/title has a historical URL value. If the URL is changed, this value is not necessarily carried over. There are some important factors that need to be considered. 
This also applies if the domain (domain.de) is changed to another one (domain-new.com) [domain name and/or top-level domain].
If you are redesigning your website you should consider if it makes sense to change the URL structure.
Important: When changing the URL structure, always implement a permanent 301 redirect from the original URL to the new one.
4. SEO website relaunch – keyword optimization
When a website is relaunched it is the perfect moment to reflect on which keywords work for you and generate already organic website traffic.
In any case, a free Google Search Console keyword research should be conducted. Furthermore, keyword tools like SEMRush can show keywords and keyword positions very easily. 
However, caution is advised here! If you only look at your current keywords, you don't know what you don't know. It may very well be that you rank very well for certain keywords, but these are not the optimal keywords.
Let me illustrate this with an example:
Non-optimal keyword implementation (example)
A cab company offering airport transfers in Chicago could rank very well for the keyword "taxi Chicago airport" in search results, but could rank even better if optimized for keywords with higher search volume and even lower keyword difficulty: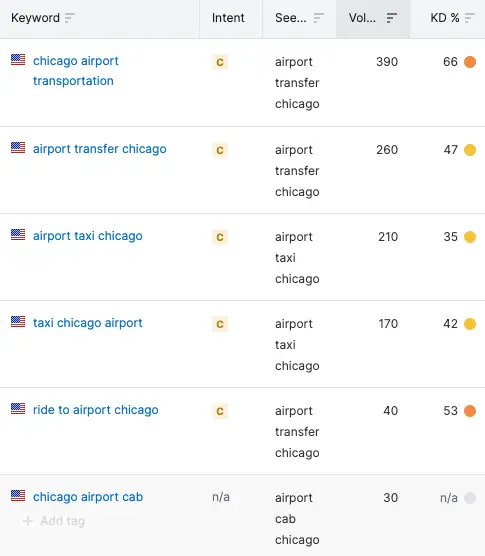 If you follow SEO writing 101 basics, pages and content are optimized for search engines. It is necessary to plan content precisely and place keywords as well as search terms strategically.
5. Right Content Management System for the website redesign
In the website redesign process we need to decide on the Content Management System (CMS). A Content Management System is in most cases the construction kit with which the website is designed. Although there is the exception of HTML code-based sites that are hard-coded by developers. The most popular CMS are WordPress, Squarespace, Wix, or Shopify for online stores.
If you are redesigning a website, it can be a good option to switch your content management systems. WordPress is usually less expensive than Squarespace. Squarespace makes designing with drag-and-drop templates even easier than WordPress. Depending on your requirements, you should choose a CMS that is suitable for you.
Some factors besides usability and customization options for your needs, I would like to list a few points that will have a direct impact on the success of your newly designed website: Design and page load time.
6. Fast page load speed
The loading time of a website is not only important to rank high in search results, but also for the user experience. In digital marketing user experience can be measured by time on page, dwell time, or bounce rate.
Some speed optimization options are:
Minimization of CSS and Java scripts

Minimizing and using new image formats

Use of one container tag instead of many tracking pixels

Caching tools/plugins

Rich media optimization like video thumbnails
You can find a complete guide to Squarespace speed optimization here. (not only relevant for Squarespace but all websites)
7. Responsive design of a new website
Responsive web designs are important since the growth of smartphones and tablets, but they are even more important since a big Google algorithm update in the spring/summer of 2021. The so-called Core Web Vitals where among other factors the page speed time has gained importance, but also the readability and functionality of the page on any possible screen size.
Core Web Vitals can be easily viewed and evaluated in Google Search Console under Core Web Vitals: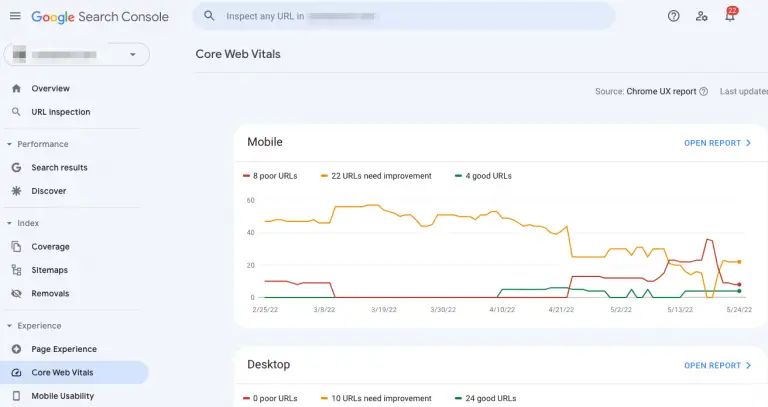 By improving the user interface with the redesigned website, there is a positive spillover effect to search engine optimization SEO. As a result, more visitors will come back to the site and the FlyWheel will start spinning.
In this context, it is worth mentioning that the layout, design, and user experience are probably one of the main reasons for a website relaunch and redesign.
What is Responsive Design of a website anyway?
Responsive web design ensures that the page and all its elements such as texts, columns, images, or buttons adapt to the screen size. This is not only between smartphones and desktops but also the window size of the browser.
8. SSL Encryption
HTTPS URLs (unlike HTTP – without S at the end) signal trust and secure the page in the background. They are the identifying feature of an SSL encrypted and secured page. SSL encryption should definitely be applied to any website.
SSL encrypted pages can be recognized by the HTTPS URLs and also by the lock icon (security symbol) in the browser:

You can usually get an SSL certificate from your domain register. But there are also free variants, for example by CloudFlare, but they are a bit more complex to implement. At Squarespace a free SSL certificate comes with the purchase of a domain.
Once you have purchased or implemented an SSL certificate, you still need to activate it and make sure that you redirect all HTTP pages to the appropriate HTTPS pages. You are virtually enforcing website visitors to use the secured HTTPS structures.
9. Update old blog posts
When a website is redesigned, content such as old blog posts should be updated or removed or not republished.
The goal is to always have relevant blog posts and to implement an SEO-friendly URL structure with internal cross-linking. This creates topical authority and relevance.
In addition, SEO keyword cannibalization should be avoided, which often creeps into pages after a certain time.
10 Conversion Rate Optimization
One of the most important reasons why an existing website should be relaunched in the first place is conversion rate optimization. Sometimes website optimization is not good enough and a relaunch needs to be done. 
Why is this important aspect the last one on the list? Because all previous steps directly or indirectly lead up and affect conversion rates. Without the right personas and goal definitions, content cannot be optimized. Without content optimization, the content will not be seen. Technical requirements like page speed and SSL encryption also contribute to lead generation.
How do I optimize conversion rates during a website relaunch?
First of all, you should know your previous conversion rates and thus understand what is already working and at the same time identify areas for improvement.
As a guideline, you should aim for a page-wide conversion rate of 2%.
Forms should have a clear call-to-action, be easy to find, and stand out visually. 
Not all conversions are direct sales calls. Some are marketing leads and can be generated through lead magnets or content offers, such as eBooks. These leads should then be nurtured through automated email marketing (even with free tools) to get them sales-ready.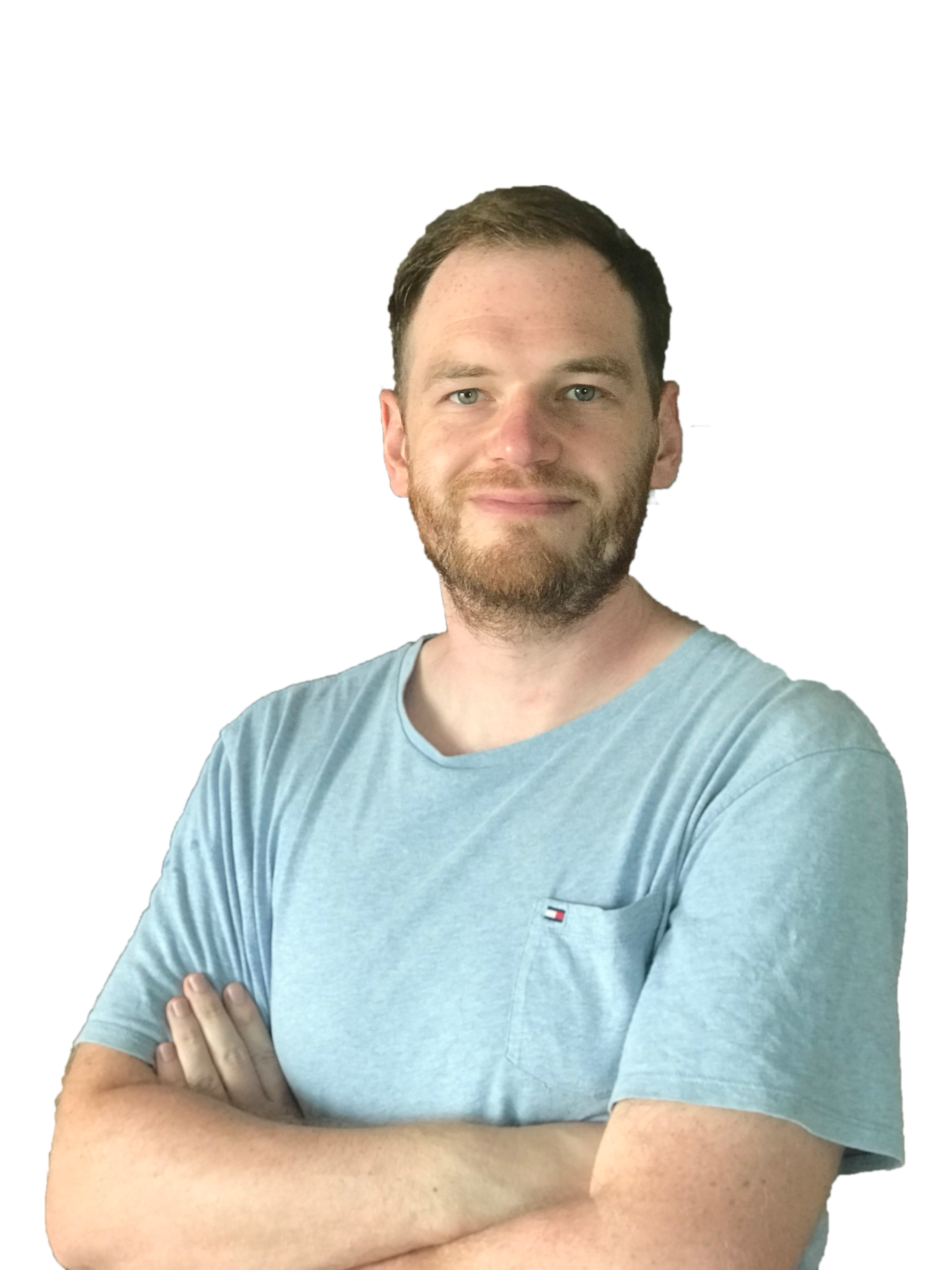 Sascha is a Lifecycle Marketing Consultant with over 8 years of digital marketing experiences in Silicon Valley, the UK, and Germany.
After leading the demand generation for a 100+ million company, he decided to venture out on himself. He's now helping clients to attract and convert more leads and customers.
His main focus are SEO, paid media & marketing automation – all with the focus to tie marketing campaigns to revenue.
Sascha has been featured in industry publications.