Updating old blog post for SEO FAQ
Short answers to the most asked questions about updating your old blog posts for better SEO results.
What's the best process to update my blog?
Analyze, research, update, publish, promote, report, repeat.
Why should I update old blog posts?
Search engines want to provide the best experience for searchers. Therefore, Google and co want to deliver relevant, up-to-date content. 
Four reasons that may have changed since publishing the content:
Keyword relevancy and search intent may have changed over time
Keyword difficulty due to rising competition
Data sources are outdated 
Keyword cannibalization within your content marketing. Your website may rank for the keywords for multiple pages and Google doesn't know which page to prioritize 
Which blog posts should I update?
Three different scenarios: 
Boost best-performing blog posts further (quick wins)
Revamp old blog posts that performed well but don't anymore (quick-ish win)
Resolve keyword cannibalization and implement a higher keyword depth 
Additionally, overall search volume should be taken into consideration. Maybe you are already getting the vast majority of clicks.
Step-by-step guide on how to pick which blog post to update first
How can I optimize my best-performing blog post further?
5 tips to refresh your best performing blog post:
See which current keywords/search terms perform the best. They might be different from the main keyword of the blog post. For example, your blog post is about fishing for beginners and it's optimized for this search term. However, you find that "how to catch my first fish" is the biggest click source. You can optimize the content for this keyword in the headlines, title tag, and meta description. 
Update data sources: refresh the data sources cited in the blog post to be most relevant
Add a new section: writing an additional section for keywords that are related but not performing well yet might give you additional keyword jacking. Often related questions can be answered.
Remove irrelevant sections: There might be a section/paragraph about a specific question or search term that just doesn't rank for. In the same example about fishing for beginners you may have a section for which fishing pole you should use, but realize that fishing poles are not ranking for this blog post. You can replace the section. Please note, only remove sections if you think they don't add value to the reader. Even if Google doesn't rank you for those keywords, it might be still relevant in this post.
Increase incoming links: This can be backlinks but also internal links from other blog posts on your site. Use consistent anchor texts throughout the process.
How can I optimize blog posts that used to perform well but not anymore?
You can update the data sources, add additional sections like answering questions, or rewrite the blog to match the changed search intent. 
You probably know already which blog posts don't perform as well as they used to anymore from your page view numbers from SEO Google Analytics reports or impressions and clicks in Google Search Console. However, you need to identify which keywords used to perform well but don't anymore. Google Search Console is a great way to start. 
How can I use Google Search Console to identify blog post performance over time? 
In Google Search Console compare the performance of the search results of the past 6 months to the previous period. Select the "pages" dimension to identify the page performance over time.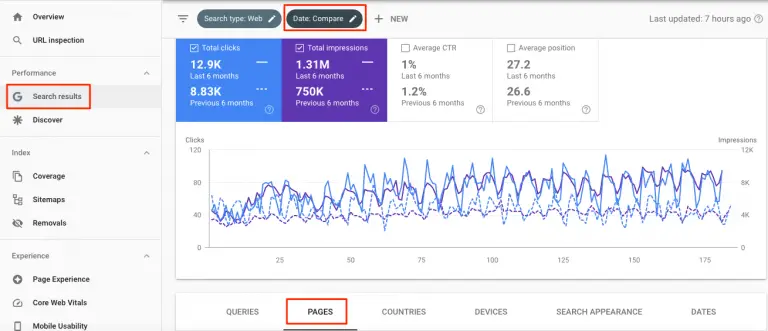 Make sure you have the clicks and impressions difference data selected. Sort the click difference ascending so you see the biggest losers first. 
You can do the same by sorting the impressions difference. As you can see for Example Page 2 in the above list that the clicks and impressions are not always correlated. 
Dropping Click-through-rates (CTR) can also indicate that your SEO title and meta description are not optimized anymore.
After identifying which pages or blog posts used to perform well turn back to Google Search Console and look at the detailed information for that specific post. Look at the search queries and see which have worked in the past. Those are great ways to update your blog post by refreshing the keywords that once worked. 
How often should you update your blog posts?
Established blogs should update one to three posts per week. As a rule of thumb, you should update three times more blog posts than creating new ones. 
Giving your old content a longer life will also increase the return of investments in the long run.
How do I optimize an old blog post for one keyword?
It's recommended to conduct semantic keyword research for the search term you are targeting. Semantic keyword research looks at the top search results and compares them to identify what you need to do to rank as high as possible. 
This process will give you content ideas, keywords to include, and tell you the optimal length of the article.
How can I increase my blog content?
Based on semantic keyword research you have keywords to include and potential content ideas that will help to enrich your existing content. 
Tables, datasheets, how-tos, FAQs are great examples to increase the blog content.
Should I update the original publish date on blog posts?
This is a never-ending discussion, but to be safe, no, don't update the original publish date but add an "updated" field to the post. In fact, readers and search engines value an updated post and it adds a level of credibility to the content.
Should I update the URL when revamping a blog post?
Never update the URL if you don't have to. The URL holds the SEO value and should stay consistent. You can still update the blog post and use the old URL. Make sure to add an "updated" mark in the beginning.
What if my blog has the publish date in the URL?
If you are early in your blogging or see this as a major problem long-term, change the permalink settings to exclude the publishing date. It's best to have a consistent site structure and to get this right from the beginning. If you are starting with blogging, don't include the date in the URL. For the most flexibility, use %category%/%title% if you would like to grow your blog.
Do I need to update the SEO title when refreshing my content?
It's best practice to keep the SEO title, headline, and meta description as updated as possible. Especially year call-outs work well in titles to show your audience that the piece of content is relevant right now. 
It's also great if your content includes a listicle or process steps. You don't want to overpromise 7 tips but only deliver 5 if you narrowed your list down in the revamp.
Is it bad to delete old blog posts?
If the blog post has no value to your audience and your website anymore, it's actually a good idea to delete the post and 301 redirect the URL to a relevant part of your website to avoid broken links.
When is it a good idea to delete an old blog post?
You have a more up-to-date, more relevant blog post already
The topic is not relevant to your audience or your business anymore
It's more work to completely revamp the article than create a new piece of content
You have a lot of content on the site and would like to save some "crawler real estate"
You have a keyword cannibalization issue you can't fix and they want to only keep the other content piece
Summary
How to Refresh Old Blog Posts for SEO?
Identify keywords you are currently ranking well for or used to rank well for previously.

Target one keyword when updating the older content

Watch out for keyword cannibalization

Conduct semantic keyword research by identifying what's working for page one results

Refresh parts, add new sections, and remove no longer relevant paragraphs to make the post most relevant

Update the improved SEO title, headline, and meta description

If you have a publish date on the blog, add an update timestamp to the post

Optional: Promote the blog post through social media, email, and paid promotion

Track performance over time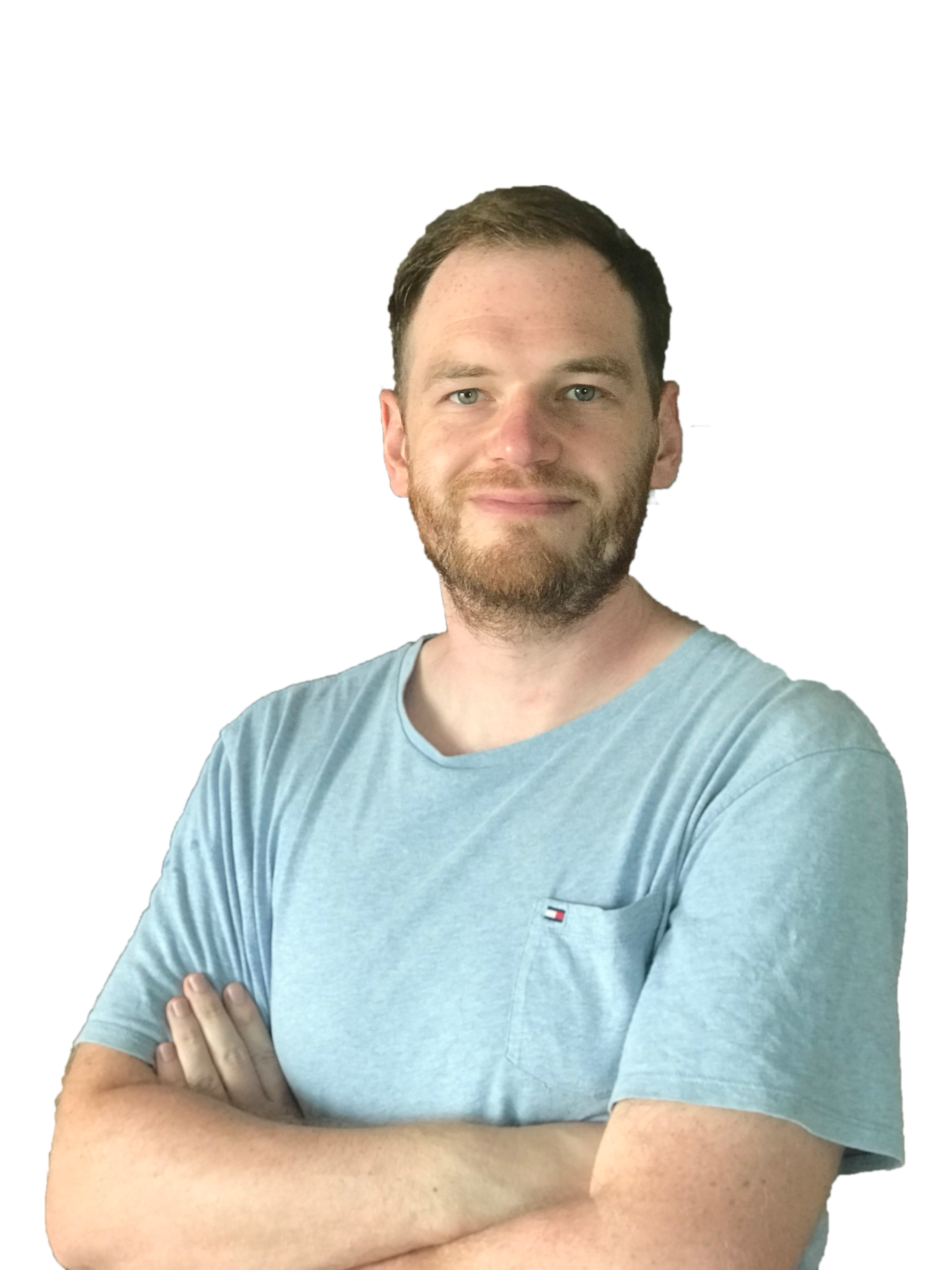 Sascha is a Lifecycle Marketing Consultant with over 8 years of digital marketing experiences in Silicon Valley, the UK, and Germany.
After leading the demand generation for a 100+ million company, he decided to venture out on himself. He's now helping clients to attract and convert more leads and customers.
His main focus are SEO, paid media & marketing automation – all with the focus to tie marketing campaigns to revenue.
Sascha has been featured in industry publications.