How to utilize paid, owned, and earned media in digital marketing?
Unfortunately, it's not always easy to identify or define the differences between paid, owned, and earned media. There is often overlap and certain media formats can fall into multiple categories.
We'll start by looking at the traditional definitions and differences, but then move on to what's known as converged media marketing.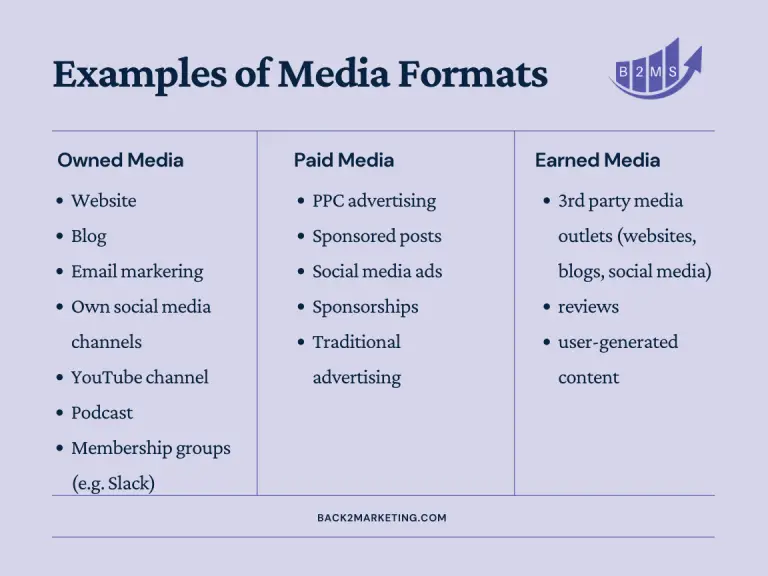 What is Owned Media?
Owned media are formats and content that a company or brand can control themselves. Usually, owned media is free. This is also the main distinction from paid media.
However, when we look at the cost, we only focus on the placement or publication of the content. The creation itself requires resources, such as time and possibly budget to write an article.
The most common example of owned media is the company's website and its blog. Content creation is subject to complete control and branding. Email marketing is another form of owned media where marketers can control the reach, timing, and content.
Other owned media channels include a brand's own social media profiles such as Facebook, Instagram, or Pinterest. Also, YouTube channels are categorized as owned media.
Problems of Owned Media in Digital Marketing
With owned media, I have complete control over the publication of the content, but only limited control over the reach. Social media channels in particular have frequently adjusted their algorithms in recent years to ultimately decide who actually sees your organic posts. YouTube also only suggests your video in a limited way.
Even your hub of owned media – your website – is subject to search engine optimization. Algorithm updates from search engines affect the reach and traffic of your website or blog. In SEO, it is therefore important to always stay up to date so that your owned content can be seen by as many people as possible.
Paid Media for more reach
Paid media, in simple terms, is traditional and digital advertising, such as print, radio, billboard, but also pay-per-click, social media ads, or sponsorships and influencer marketing.
The difference between paid and owned media is that paid media is paid advertising and therefore also subject to the guidelines of advertising platforms and principles of advertising.
However, paid media and owned media should not be considered separately, but especially in SEO and SEA, there are many overlaps.
Paid media can sometimes be hard to be identified as such. Especially in influencer marketing – even if this has to be labeled as paid partnerships. In addition, new advertising formats such as native advertising make it more difficult to identify ads. Native Ads allow to mimic the natural environment of the page, so at first glance, it looks like an organic post. In addition, there is frequent overlap with earned media such as press releases and guest posts or appearances.
Earned Media simply explained
We talk about earned media when a free, independent publication mentions you or your services. Essentially, earned media is what other people say about you on their owned media channels. Customer reviews or press releases are good examples of earned media.
Therefore the main difference between earned and paid media is that earned media is free. As a result, earned media has high credibility and can help build long-term relationships with potential customers.
Earned media is one of the best forms for a business as it means free, authentic reach and branding.
However, earned media differs from owned media in terms of control. With earned media, a company has no control over the content. These can be misleading, factually incorrect, or even a complaint. Nevertheless, this can be an opportunity to turn a negative comment into a positive experience by responding and resolving the issue.
Earned media can also be actively pursued by a company in its media strategy without any payment in exchange. For example, guest posts (free of charge) on relevant blogs, pitched press releases to publishers, or guest appearances in webinars, YouTube videos, or podcasts are possible avenues.
In addition, companies can actively ask for customer reviews, generating more earned media and trust.
Earned media not only has a positive impact on the company's reach and branding but often on SEO as well. It is common to get a backlink from the article to your own site.
Overlap of Paid and Earned Media
Due to media placements that are not always clear, it is sometimes impossible to distinguish between earned and paid media. A guest post in a blog feed may have been paid or published for free. There is also the possibility to "buy" press releases and distribute them systematically to different online publishers.
What is Converged Media?
Converged media is the overlap of all three paid, earned, and owned media types at the same time. However, each overlap between two fields has its own definition, as well: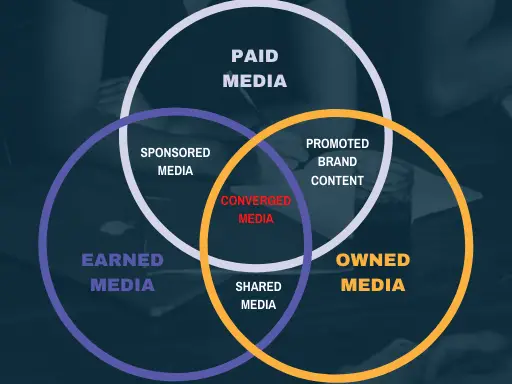 Shared media is the combination of owned and earned media. For example, companies create case studies or include customer reviews on their owned media channels such as websites or social networks.
Promoted brand content is the overlap of owned and paid media. Companies promote their own content and direct readers to their own domain. Native ads and content discovery widgets are commonly used formats. But Facebook, Twitter, or LinkedIn Sponsored Posts mostly bring the reader to their own owned channels.
Content distribution or syndication is a commonly used term in online marketing for promoted brand content marketing.
Sponsored media refers to the form of paid placements on third-party owned media channels. Influencer marketing or paid press releases are traditional examples. A company pays an influencer for a social media post and thus generates word of mouth by distributing the content on the influencer's own channels to access their target audience and followers.
Companies end up paying for sponsored media to receive earned media.
Converged media is the combination of all three factors. One example is the publishing of user-generated content on owned media channels, which are then in turn advertised through paid marketing channels.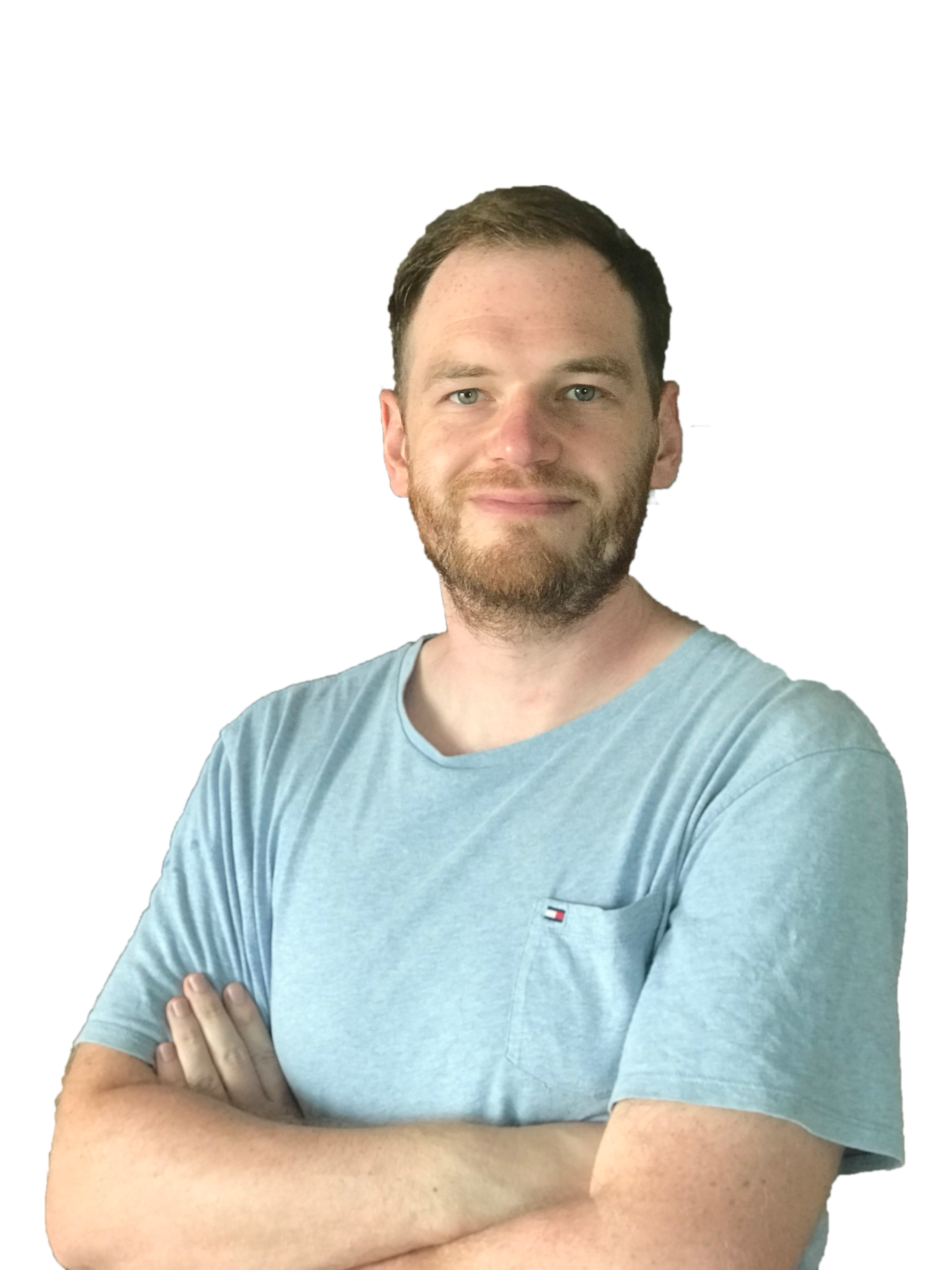 Sascha is a Lifecycle Marketing Consultant with over 8 years of digital marketing experiences in Silicon Valley, the UK, and Germany.
After leading the demand generation for a 100+ million company, he decided to venture out on himself. He's now helping clients to attract and convert more leads and customers.
His main focus are SEO, paid media & marketing automation – all with the focus to tie marketing campaigns to revenue.
Sascha has been featured in industry publications.