11 LinkedIn Ads Tricks & Tips that will boost your marketing results
In this post, we have compiled 11 LinkedIn Marketing Hacks that you can start using today to increase not just your advertising performance, but also boost organic engagement and uncover deep insights about your target audience, competitors, and previous campaign results.
ABM list insights
LinkedIn, the biggest professional social media network is obviously very well suited for Account Based Marketing. 
Learn more about LinkedIn ABM campaigns.
Anyways, this marketing hack is great for organic, paid, and in general sales insights. Uploading a list of targeted accounts to your LinkedIn advertising account has multiple benefits. One, you can target those companies in your next ad campaigns. Additionally, you get further insights into the engagement of your ads, as well as organic LinkedIn marketing with those targeted accounts. 

If you also created a website audience with the help of the LinkedIn Insights Tag (more to that also in a later tip), you can also see how many people from your targeted accounts visited your website.
How to upload your targeted account list to LinkedIn
In your LinkedIn Campaign Manager, head over to

Account Assets -> Matched Audiences

Create Audience -> Upload a list: Company/Contact

Give the audience a name

Upload a CSV file following the exact naming conventions (it's easiest to download the provided template)

Agree to the terms & upload
After your list is matched – this may take up to 48 hours – you can go back to Account Assets -> Matched Audiences and find your list there. When you click it, you will get to the insights view (see above screenshot).
Spying on your competitors' ads
Did you know that you can see the LinkedIn ads of your competition? Simply pull up their LinkedIn company page, navigate to Posts and the sub-category Ads: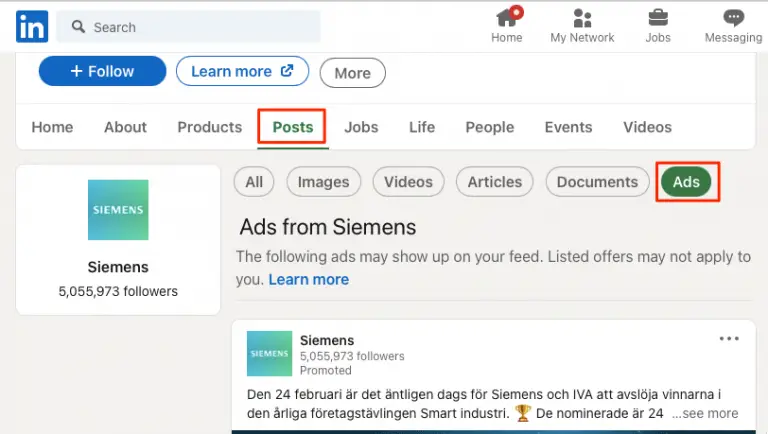 Even if you don't run ad campaigns you can still get insights into their paid media messaging and offerings.
Uncover the forecasted CPX
LinkedIn doesn't easily spit out a CPX you can expect for your campaign. Depending on your campaign's objective this might be for example the Cost Per View, Cost Per Click, Cost Per Lead, or Cost Per Send. 
While you get the forecasted results and can somehow calculate your own CPC, for instance, it's not really accurate. Especially, because you will see a range, depending on your targeting parameters and budget.
A clever LinkedIn ad trick is to go to the Bidding section in the campaign set up process and select "Target cost". You will see a recommended target cost per result and a range of similar results.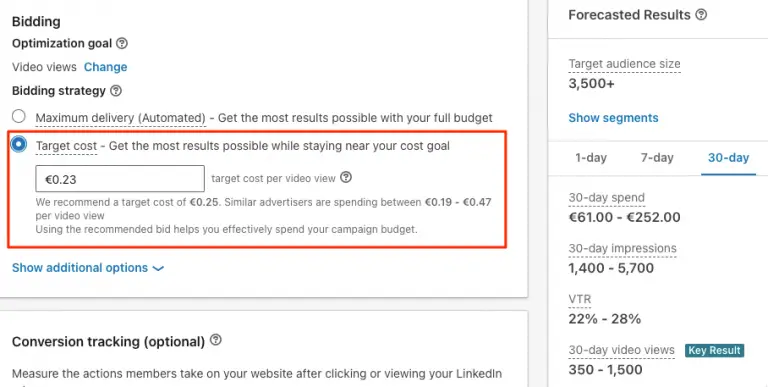 Please note, you don't have to select the target cost bidding strategy, it's just a hack to uncover the recommended CPX. 
Sometimes, it makes even sense to not run a campaign if the CPC for example is very close to your daily budget or even above it. It's possible that the average CPC of similar campaigns is $12. If you are planning to only set a daily budget of $10, I would advise against running the campaign.
Analyze your website visitors
Regardless of whether you run any LinkedIn advertising campaigns or not, placing the LinkedIn Insights Tag onto your site and creating a website audience is beneficial to analyze personas engaging with your website content.
You can access this information in your LinkedIn campaign manager under Website Demographics: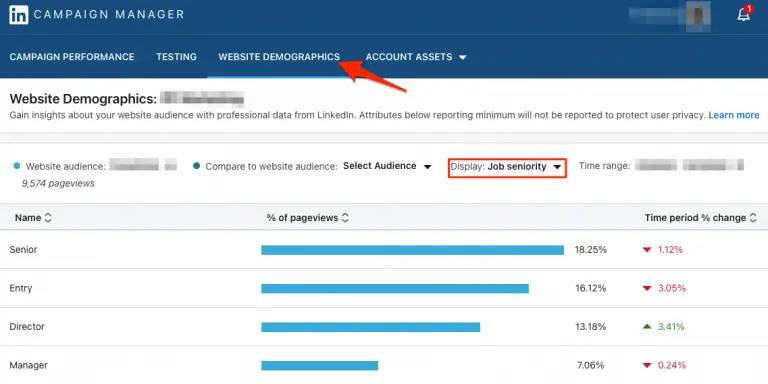 You can look at most audience attributes you could also target or conduct a LinkedIn search for:
Job function

Job title

Company

Job seniority

Company size

Location

Country/Region

Country
Just keep in mind that LinkedIn needs to match at least 300 website visitors with active LinkedIn users before they display any data.
One word of caution: When you implement the LinkedIn Insights Tag, make sure to update your website's privacy and cookie policies.
Audience creation: Website remarketing
In order to leverage the LinkedIn Insights Tag beyond the website demographics, you can also remarket the website visitors with paid promotions. 
Unlike Google's remarketing where your targeting is limited to the engagement and format (display or video), you can tweak the audience parameter on LinkedIn very well.
For example, you could run two different lead magnet campaigns, one focusing on senior and CXO level employees and one targeting entry and manager seniority. 
The website demographics audience remarketing can be customized and even personalized based on available audience attributes.
Audience creation: Video remarketing
Another often unutilized LinkedIn ads trick is to build a custom audience pool of people that have engaged with your video ads. Based on the video view rate you can build an audience: 25%, 50%, 75%, or 97% video view completion rate. Whenever someone watches 15 seconds or more of your 1-minute long video advertisement, this user will be added to the audience with a 25% completion rate.
When the audience reaches a size of minimum 300 users, you can target this audience pool with another ad. 
This technique can help you to build a LinkedIn campaign funnel that regularly converts leads.
In order to create a custom audience, go to the …
Campaign Manager 

Account Assets

Matched Audiences 

Create Audience 

Video
Demographic insights of ad campaigns
When running ad campaigns you can analyze the audiences who are exposed to the creatives by selecting the campaign and opening the Demographics:

You can break the data down in the same way as the Website Demographics.
Usually, there shouldn't be any surprises when it comes to the demographics and firmographics and it should align well with your targeting settings. However, if you use audience extension, you should closely watch the demographics as it can be different from what you expected. This brings me to the next LinkedIn ads tip.
Don't use audience extension
LinkedIn wouldn't support this, but the reason why you pay a premium for LinkedIn ads compared to other social channels like Facebook is due to the targeting capabilities. If you know your buyer persona, there is no reason for you to tick audience extension when creating an ad campaign.
I only recommend enabling this feature for very broad targeting and awareness stage campaigns.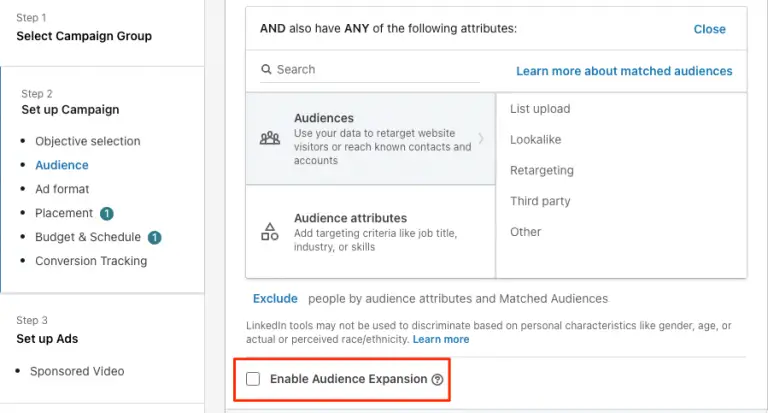 Use subtitles for video
Many people browse their LinkedIn feed on mobile devices or without any sound on a desktop. Therefore, it's always recommended to use subtitles in your video marketing – organic & paid.
Upload a custom thumbnail
Even though the video thumbnail is optional when uploading a video, it's best practice to upload a custom image. If the video doesn't auto-play, a great thumbnail can make the difference of getting a view or not.
LinkedIn video thumbnail specs are:
File format JPG or PNG

Max file size of 2 mb

Dimension should match the aspect ratio and resolution of the video
Always upload an image to a messaging campaign
The last LinkedIn advertising tip is to always upload an image to a sponsored messaging campaign. While the image is only displayed in the actual inbox on the desktop, it's still a missed opportunity if you don't leverage that feature. In fact, it may be possible that LinkedIn will display another display ad instead of yours.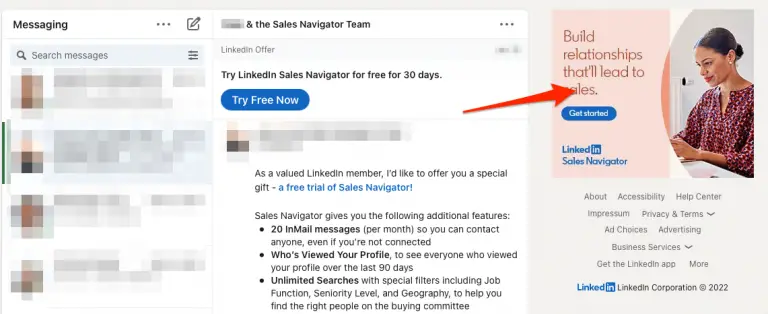 The recommended image specs for sponsored message ads are:
JPG or PNG file type

2mb maximum file size

300 x 250 pixel dimensions
Grow your business, increase brand awareness and enhance your lead generation campaigns. It's not just the ad copy and ad format but also the tiny things that make a big difference. Leverage LinkedIn's B2B Marketing power.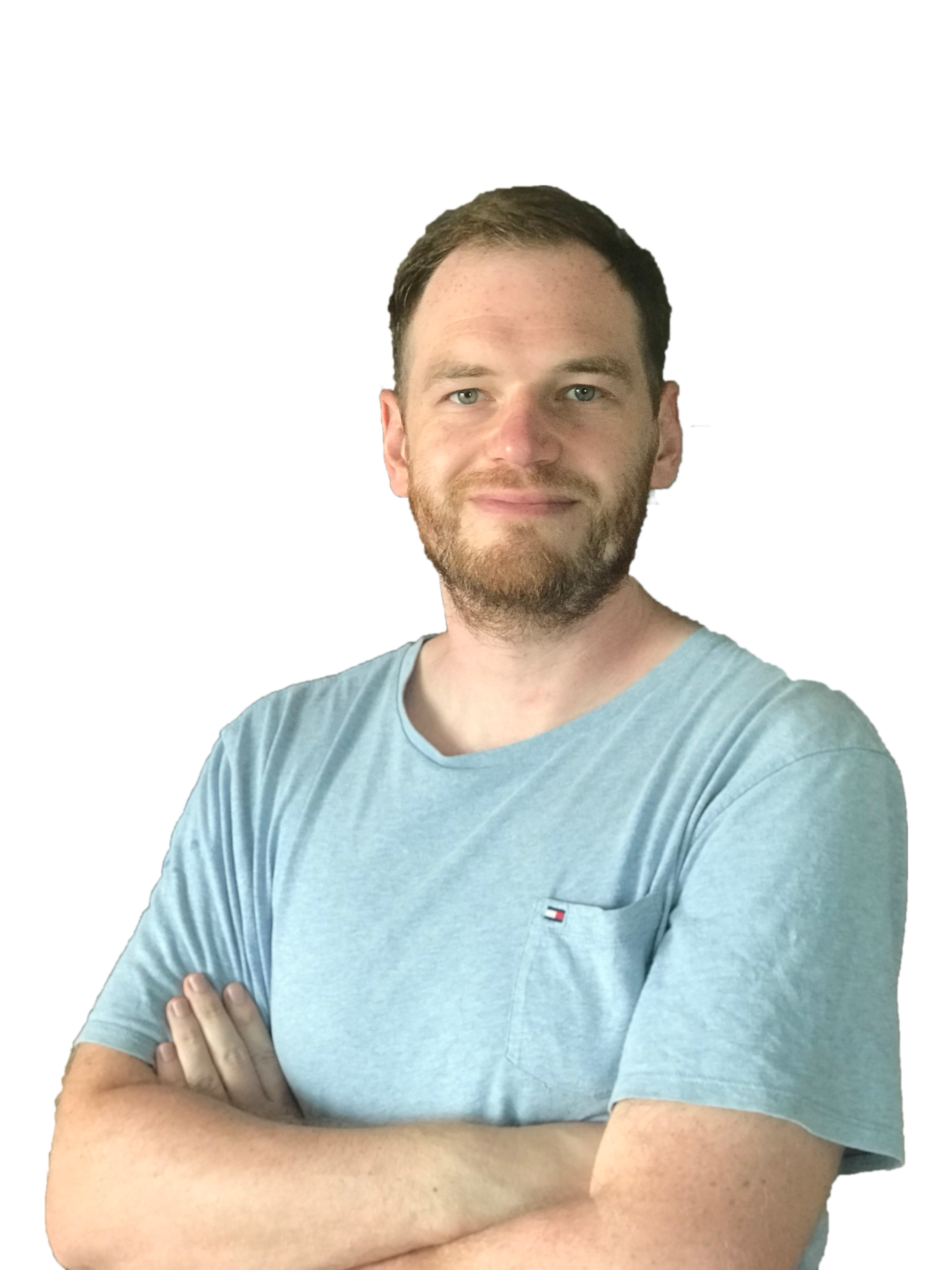 Sascha is a Lifecycle Marketing Consultant with over 8 years of digital marketing experiences in Silicon Valley, the UK, and Germany.
After leading the demand generation for a 100+ million company, he decided to venture out on himself. He's now helping clients to attract and convert more leads and customers.
His main focus are SEO, paid media & marketing automation – all with the focus to tie marketing campaigns to revenue.
Sascha has been featured in industry publications.