Ultimate Guide to Chatbot Conversational Marketing
What is Chatbot Conversational Marketing?
Chatbot Conversational Marketing is the promotion of services and products via chatbots. The bot functions conversationally in providing information and guidance on websites, social media profiles, or text messages.
Chatbot Conversational Marketing or also short Chatbot Marketing uses preprogrammed chatflows or live chat features. The chatbot is the technology medium to facilitate the conversation.
Chatbots aim to solve three main pain points: Engagement, navigation, and converting. With great, personalized welcome messages (hooks) they increase user engagement and enhance the website experience. Easy and conversational chat structures allow the user to find the resources they are looking for (navigational) and ultimately convert website visitors into leads. Chatbots can double your website conversion rates.
Chatbot use cases
Chatbots can have many goals like increasing website engagement, converting website visitors, connecting users to the right team member, or creating support tickets. However, Chatbot Marketing is more focused on the marketing and sales aspect rather than technical support or customer service.
Further use cases for chatbot conversational marketing:
Website navigation, e.g. help users find the right resources on the website

FAQ, e.g. answer the most common questions on social media, Facebook messenger, or the website

Lead generation by converting visitors into leads by collecting contact information

Appointment scheduling, e.g. sales demos but also table reservations for

restaurant marketers

, or dental cleanings

Content download for

gated content

pieces

Newsletter signups

Promoting related content on informational pages, such as blogs

Event or

webinar

registration

Live chat with a team member like

SDR

or product specialist
What problems does a chatbot solve?
Chatbots resolve a time delay and allow the website or social media visitors to have a conversation with the brand or shop. Additionally, chatbots replace website forms.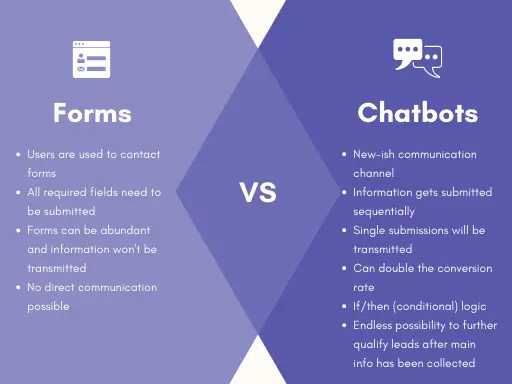 Chatbots replace contact forms
A common problem in inbound marketing is to select the right number of form fields for the website forms. Generally speaking, the fewer forms a user has to fill out, the higher the conversion rate. The downside of forms is that the information only gets transmitted once all fields are filled out and the user submits the form. Information of abandoned forms will never be registered. Moreover, marketers don't have consent to market to the user. Consent is usually given when submitting the form.
Chatbots usually ask for consent in the beginning when someone joins the chat. Additionally, every submitted answer or response is collected. 
On top of that, if/then branches allow asking questions based on previous answers, which allow for higher quality responses.
Lastly, chatbots make it easy to collect the most important information first and then keep asking more nice to have questions, that would not make the cut into a website form. This helps in preparation for human interaction, qualifying leads, routing the leads correctly, as well as automating and personalizing further marketing messages.
Conditional logic for chatbots
It's easy for online marketers to apply conditional logic in multiple ways for chatbots. We mentioned already if/then branching: When a user selects one applicable option or types in certain keywords, response-related next questions will be displayed.
Conditional logic also applies to user behavior like how many times the user has visited the website, visits a specific page, or has completed a previous noticeable action.
The benefit of using conditional logic is two-folded: First, it ensures a better user experience and hence a higher engagement rate with the bot. And secondly, collects more relevant information.
Let us assume your products or services serve different markets differently. For example, based on your clients' technology stack, vertical, or company size, different solutions may apply to them. Let us take a marketing technology example. If the potential customer uses a specific CRM system that needs to be integrated, another team would be responsible.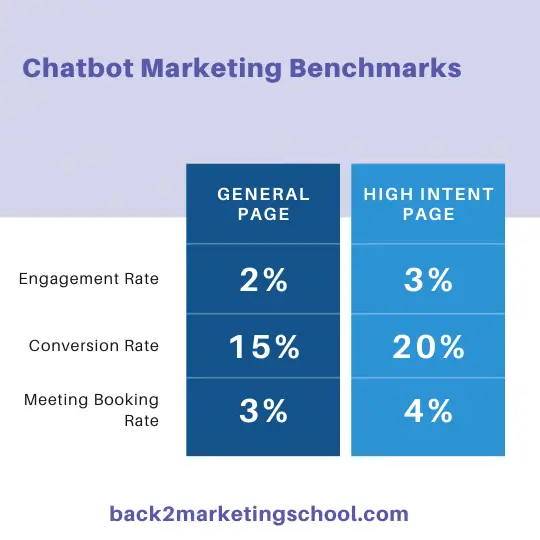 Chatbot development methodology
When developing your chatflows you want to keep some key points in mind:
Hook: The hook is one of the most important steps in every chatbot. It's the first message a user sees. The hook or welcome message should aim to create engagement and start a conversion. A good chatbot success metric for the hook rate is between 2 – 3% depending on the intent of the page. General pages like the homepage have lower intent than pricing pages, for instance.

 

 

Easy navigation

: The chatbot should make it easy for the user to navigate the website. I recommend using other terms than your main

navigation links

. For example, instead of suggesting "solutions" you can use the problem that the solution solves.

 

 

Converting as quickly as possible

: You should ask for the users' email address as quickly as possible. As soon as you have collected the email address, you can ask more qualifying questions. A good email capture rate is between 15 – 20% depending on the intent of the page. The email capture rate is measured by emails captured of started conversations.

 

 

Routing the chatbot to a live chat

: If you have a team that can handle live chats, it's best practice to let the chatbot handle the conversation as long as the user engages with the bot, or reached a stage where human interaction would be more beneficial. However, don't hook people with a live chat if you don't have one. Your hook rate might be high but your conversion rate will drop.

 

 

Booking a meeting

: Most chatbots allow for a calendar booking feature. This is great because users can select a time that works best for them for a product demo or any other live conversation. This will save time with email back and forth and increase the actual meeting rate. The benchmark for meetings booked is between 3% and 4%. However, you need to know your chatflows. If only one path allows for the meeting booking feature and other paths don't, that number might be lower.

 

 

Goals, status, and tags: Assign conversations tags, goals, and lead status depending on the engagement and answers. This will help you and your sales team to work the leads. It's also crucial to trigger follow-up campaigns like an email nurture stream. Additionally, it will help you with your chatbot analytics.

 

 

Don't set and forget: Chatbots are easy to forget and sometimes hard to optimize. However, you should evaluate your chatbots and optimize the engagement constantly with some chatbot marketing hacks. Think about it that way, you optimize your ad campaigns to bring down the average CPX (whatever your cost model is) by $0.20 but don't optimize the conversion rate on the landing pages. That's wasting a lot of opportunities. If you have 10,000 website visitors and a chatbot engagement rate of 2%, email capture rate of 15%, and meeting book rate of 3%, that means you capture 30 leads and book 0.9 meetings. If all rates stay consistent but you increase the hook rate from 2% to 3% your marketing funnel increases to 45 leads and 1.35 meetings. That's a 50% increase in leads.
Chatbot advertising
Chatbot Conversational Marketing isn't just limited to your website or social media profile, it can also be an advertising format. LinkedIn for example has a messaging format that interacts as a chatbot with conditional logic.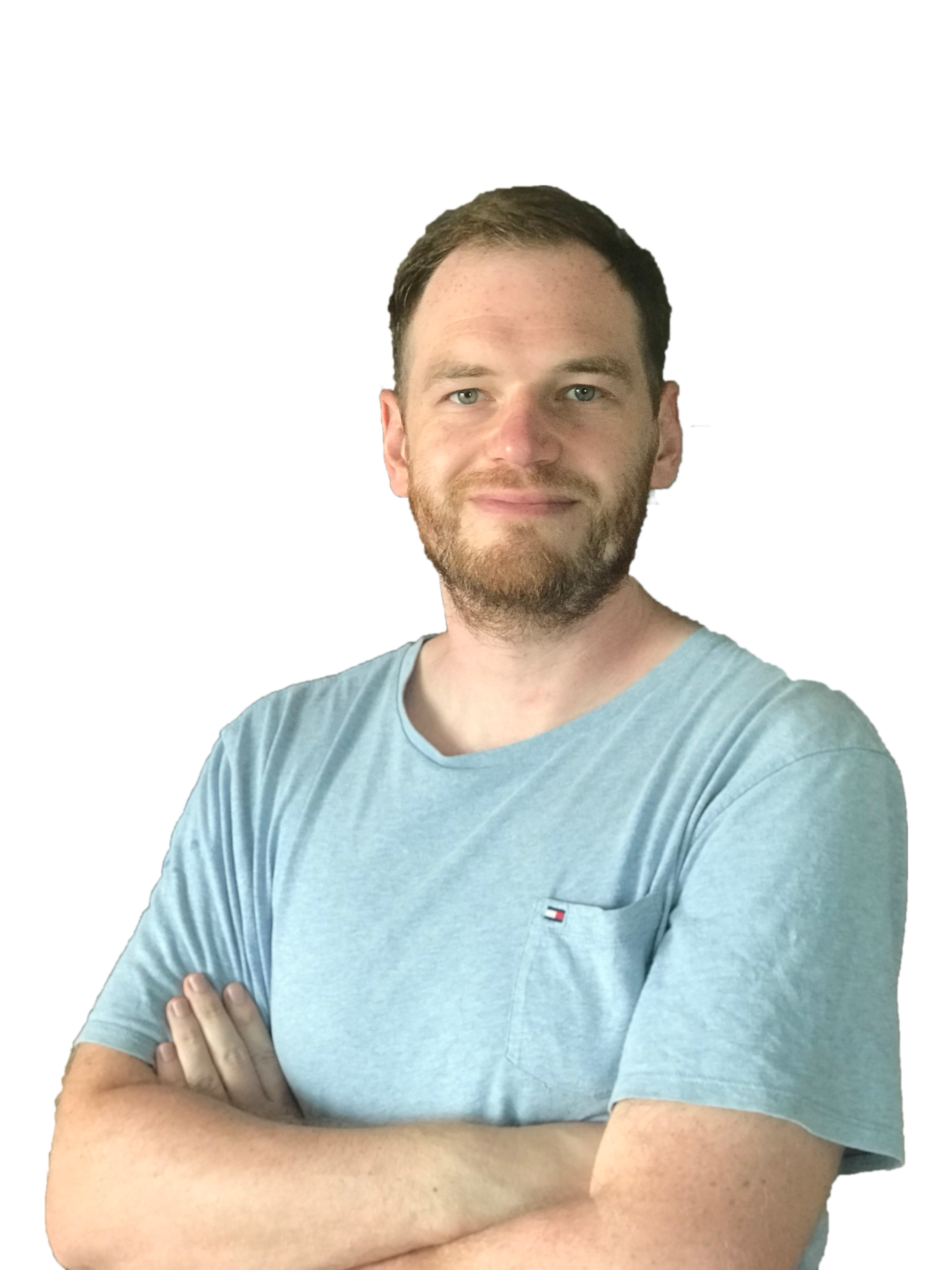 Sascha is a Lifecycle Marketing Consultant with over 8 years of digital marketing experiences in Silicon Valley, the UK, and Germany.
After leading the demand generation for a 100+ million company, he decided to venture out on himself. He's now helping clients to attract and convert more leads and customers.
His main focus are SEO, paid media & marketing automation – all with the focus to tie marketing campaigns to revenue.
Sascha has been featured in industry publications.