Easy SEO Internal Link Analysis & Audit
An internal linking strategy is very important for your search engine optimization. Links signal the importance of a page to website crawlers. As a general rule, the more incoming links point to a certain page, the more valuable the page in your website structure. Additionally, the higher the anchor text relevancy to the keywords on the page, the higher is the association with those keywords. 
More so, internal links are important for the user experience to guide them through your page. This in return may boost your keyword ranks due to great page experience signals.
Check out the best practices for SEO cross-linking to learn more about why and how to set internal links correctly.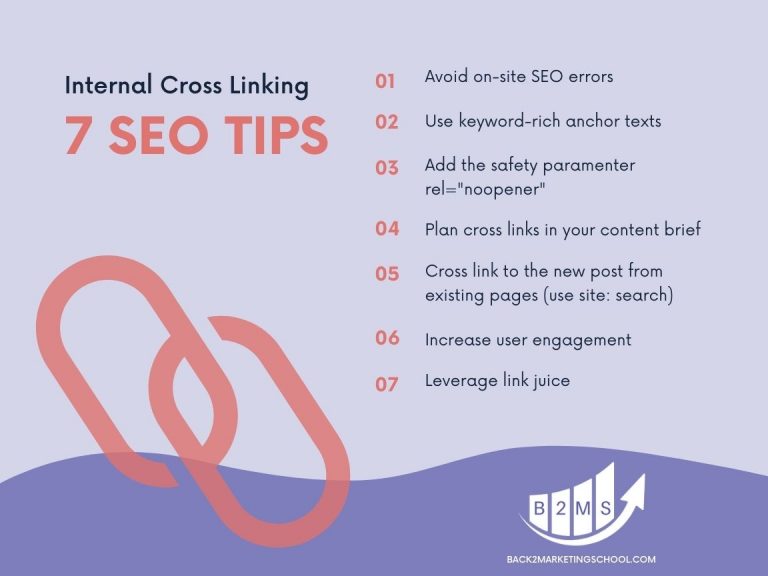 Anyways, an internal link analysis is more than cross-linking.
What is an internal link analysis?
An internal link analysis consists of a site audit by looking at your pieces of content marketing, link-building opportunities, and URL structure.
3 Different types of internal links
There are three different types of internal links: Navigational and footer links, contextual links, and image links.
Navigational and footer links
As the word already describes navigational links are the links that help users navigate your site. Those are most commonly placed in the main navigation and the footer of the page. The benefit of those links is that the linked pages receive an incoming link with a meaningful anchor text from every page of your website that has the navigation bar and footer enabled. 
The downside is, that the space is limited and you can possibly include every important link. You will have to make a judgment call between link boosts and clean navigation.
Anyways, navigational internal links are not limited to the navigation bar and footer menu. You can also have sidebars and other widgets. 
For example, blog posts can have recommended links next to the content or related blog posts after the article. 
Sidebar links: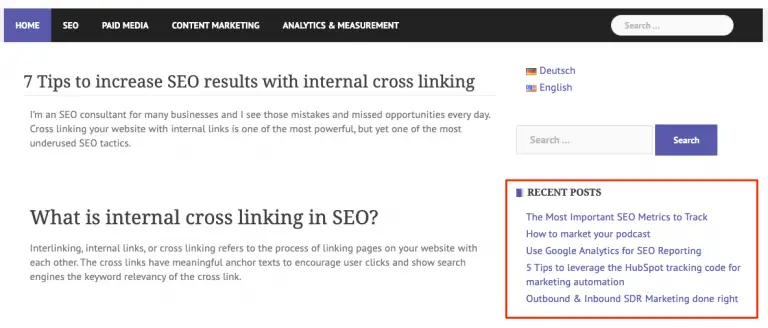 Related/recommended links:
Dynamic vs static navigational internal links
There is a difference between static and dynamic navigational internal links on your website. The above examples from Back2MarketingSchool are dynamic inserted links. They change based on the criteria the widget pulls them in.
For instance, the most recent posts are always the newest posts and change over time. Similarly, the related post widget uses algorithms to determine the most relevant posts. 
This works great to give new posts a little extra link boost, but it doesn't give you much control about the links. 
That being said, navigational sidebar links can also be static like quick links or top content picks:

Static links, on the other hand, give you full control over which links you are implementing. Links in the main navigation and – mostly – the footer are static. Of course, you can implement dynamic widgets like recent posts into the footer.
 

Advantages

Disadvantages

Static Links

Full control over links & anchor texts

Stay consistent and will always boost the linked-to page

Can be unrelated to the content

Dynamic Links

Boost fresh content with extra links (might help with indexing the content)

Related to the content

Might impact the page load time due to additional widgets/ algorithms
The recommendation is to use both types of navigational links in a ratio that makes the most sense for your unique situation. A content-heavy website like a blog may use this differently than an e-commerce store in their Shopify Marketing.
Contextual internal links
Contextual internal links are cross-links from one page to another on your website. Those links are great SEO signals, but also help your readers to learn more about a specific topic. It's important to leverage contextual internal links but not to overuse this tactic. 
For example, let's look at this very blog post and what I've done so far:
I have placed three contextual links so far. Two of them are great examples, one not so much.
Linking to the 7 tips to leverage cross-links it's highly relevant and a great link for my internal SEO, as well as a great resource for you, the reader.


Linking to an article on how to optimize page speed time makes sense to learn more about how speed impacts the SEO



Linking to Shopify marketing tips is probably only relevant for a few people reading this article. It also isn't really related to any points I made. Normally, I wouldn't have placed that link – I use it for illustration only.
Image links
Images can include links to other resources, similar to contextual links. However, they are most commonly used to link to an external resource, e.g. the internet source.
Internal Link Analysis Tools
We will mainly use 4 tools to analyze your internal links: Google Analytics, Google Search Console, SEO Tool like SEMRush, and WordPress.
Internal Link-Structure Analysis
The link structure audit could be its own blog post. If you lay the focus of the following 5 points, your URL structure is healthy and competitive:
Don't use too complex and long URLs

Think about a

clear URL structure

(permalinks) when planning your website.

Avoid dates for evergreen content if possible

Use breadcrumbs for the reader, as well as website crawlers

Cite external resources. (I know this seems misplaced in an internal link analysis but this will give

your

link/content more authority)
How to find internal links and linking opportunities?
Internal Link Analysis in Google Search Console
Google Search Console is the best internal link analyzer tool. It reflects the data that Google sees. Certain links or web pages might not be indexed by Google, but SEO tools have identified them.
Where to find internal links in Google Search Console? 
You can locate internal as well as external links in the left main navigation bar at the bottom just above the settings.
You'll find two columns for the internal and external links. Let's quickly go over the three external link tables. External links are backlinks from other domains linking to your website:
Top linked pages

: Which pages have the most backlinks. If you click "more" you can see the number of links and sites. Sites are the number of domains. This number is different because one site can link multiple times to the same URL of your website.

 

Top linking sites

: Which sites have the most links pointing to your domain. If you click on "more" you can see how many links each site has across how many targeted pages on your website. By clicking on each external site, you can get a detailed breakdown of which pages the external site links to.

 

Top linking text

: Which anchor texts have been used for the external links. Unfortunately, you can't get more insights like how often, or from which site you received which anchor text in this report.
Why do we talk about external links in the internal link analysis?
Backlinks are like an "upvote" for a page on your website. The external link tells search engines that the linked-to page is valuable and authoritative. This signal can be inherited by other pages.
The so-called link juice will give your other pages a leg-up. Whenever you link from a page that has many backlinks to other internal pages, you increase their link equity and SEO potential.
Internal Links in Google Search Console
You can see the top internally-linked pages and get a detailed view of which pages link to that page by clicking on the URL.
You will see that the static navigational links will result in the highest count because they are receiving links from every page. 
What to look for in the internal link analysis report? Filter by ascending instead of descending and look for pages that only receive one or a few internal links. Increase links to those pages.
Internal Link Analysis in Google Analytics
The internal link analysis in Google Analytics is less to show the number of links and anchor texts, but to identify opportunities for contextual links. One goal of contextual links is to boost user engagement. By looking at SEO Google Analytics reports, you can find pages with high exit and bounce rates. Bounce rate could mean a wrongly matched search intent, that all answers have been answered, or no clear call-to-action to keep engaged.
Internal Link Analysis in your CMS & SEO Tools
This link audit varies from CMS and SEO tools. In WordPress for example, you can see all incoming and outgoing internal links in the post dashboard.
Ahref has other features and metrics than SEMRush or Ubersuggest. In SEMRush, for example, you should pay attention to the ILR Score (Internal LinkRank Score).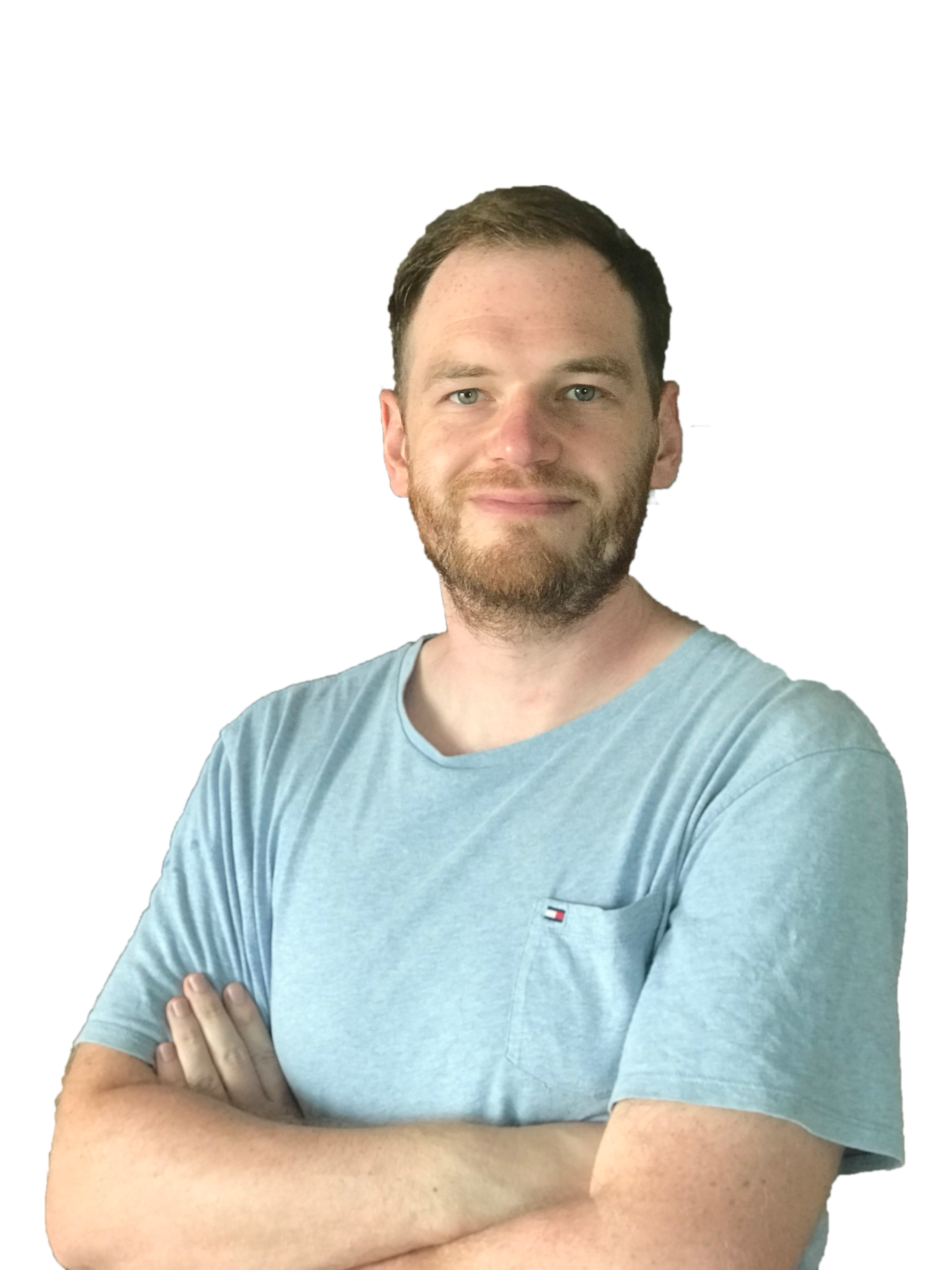 Sascha is a Lifecycle Marketing Consultant with over 8 years of digital marketing experiences in Silicon Valley, the UK, and Germany.
After leading the demand generation for a 100+ million company, he decided to venture out on himself. He's now helping clients to attract and convert more leads and customers.
His main focus are SEO, paid media & marketing automation – all with the focus to tie marketing campaigns to revenue.
Sascha has been featured in industry publications.