The complete guide to automated webinars for your lead generation
Though automated webinars can never replace the authenticity of live webinars, they're the dream tool for lead generation and brand recognition. 
From consistent high-quality videos to higher attendance rates, automated webinars are a great choice for both small and established businesses due to the value they bring to a brand. 
In this article, we discuss everything you need to know about self-driven webinars, including their benefits, automated features, and the best software to use. Let's dive right in!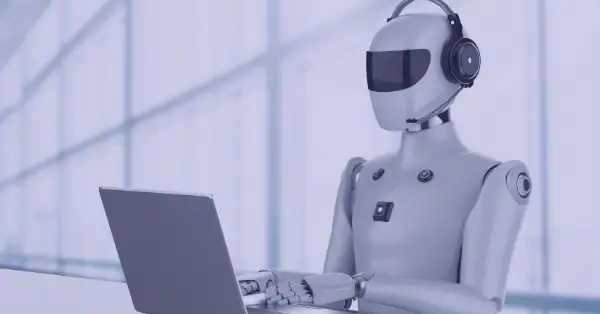 What Is an Automated Webinar?
An automated webinar, also known as an evergreen webinar, is a webinar that's been set up in advance to run without a host on demand or a recurring schedule. 
It often has pre-programmed tasks to run at specific times throughout the video, like handouts, questions, polls, and CTAs (Call to Action). All of these tasks run on autopilot without user intervention. 
For an automated webinar to be a success, it must have three main characteristics: a pre-recorded video, automated start times, and pre-set interactions. 
Whether it's set on a recurring schedule or available on demand, the session should start automatically like a live video. Webinars are usually categorized as gated content. All your audience has to do is complete the registration form to attend the session.
Viewers aren't required to press "start" to watch the webinar. Once the webinar ends, the attendee can replay the video from the beginning. 
Automated webinars simulate a live webinar environment. The viewer can ask questions in a chat, participate in polls, or will be presented with "real-time offers". However, those aren't live interactions. In fact, the organizer can collect all the data and respond in a timely, personalized way after the webinar. The trick to a successful automated webinar is to create the experience of a live webinar so that the viewer isn't even aware that this same webinar runs every week.
The best thing is, that automated webinars work with one attendee or 1000 people watching it at the time, every time you want. Unlike live webinars, it's scalable.
What Is an Automated Webinar Funnel?
An automated webinar funnel is an automated webinar that guides a viewer through a series of steps that eventually leads to a sale. If done right, the automated webinar funnel will passively generate leads and increase ROI over time.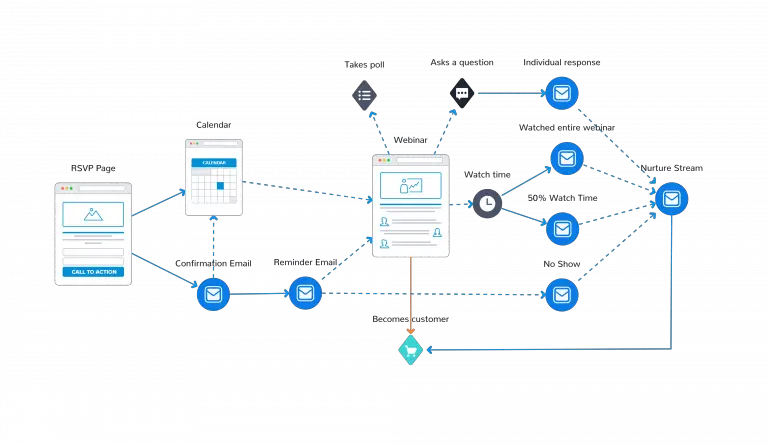 This type of funnel comes with several advantages. For one, it gives you almost all the benefits of live webinar marketing at a fraction of the cost. Since it's pre-recorded, it can keep generating leads without direct user intervention.  
Secondly, pre-recorded webinar funnels will almost always be of higher quality than live webinars. 
Irrespective of your live video production rig, there's little you can do to guarantee the final result of your live videos. You might experience technical glitches during the stream, like a sudden drop in internet speed, power outage, unwanted background noise, and general disruption. 
This isn't the case with automated webinar funnels. You can shoot and re-shoot until you get the desired results and quality you're seeking, and film it in a way that'll attract potential leads. 
Another big advantage of those conversion funnels is to send automated emails triggered by interactions. For example, you can send emails to viewers who watched the entire presentation, reinforcing your offer. On the other hand, people that left halfway may have not seen your offer. You can introduce it with a follow-up series.
Autopilot webinar funnels take care of the entire process, from registration to reminders to running the webinar and ultimately personalized follow-up emails. All you have to do is to monitor the analytics dashboards and optimize your learning curve for the next on-demand experience.
That said, an automated webinar funnel does have some disadvantages, with the biggest being that no content is truly timeless. 
Things are always changing, especially in today's society. What's relevant this week isn't likely to be relevant next week. For this reason, creating content that's relevant even with the changing in time can be extremely difficult. 
Unlike live webinars, you can't include time-sensitive references, as they could harm the longevity of the webinar. The same is said with news, dates, and historical events, as certain references, could become less relevant as time goes on. 
Finally, automated webinar funnels create less opportunity for viewer engagement. Live webinars can make your viewers stick longer, which gives you more chances to advertise or market your products.
What Are the Benefits of Automated Webinars?
If you're still on the fence about automated webinars, here are some advantages to consider: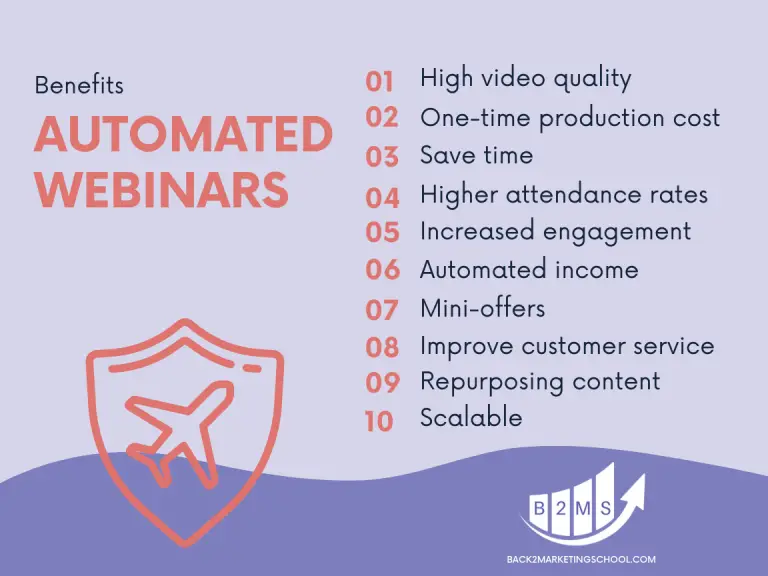 Consistent High-Quality Videos 
Unlike live webinars, automated webinars give you better control over how content is being presented.
With automated webinars, you can edit, cut, and retake the video as many times as you like until you're satisfied with the results. You don't need to worry about technical glitches, managing live chat, or environmental noise. 
Since these webinars can be edited, it allows you to add music, filters, graphics, and effects in post-production, which makes the webinar even more interesting to the viewers. It allows you to add that "wow" factor to your videos, especially if you're willing to invest some time and money in the pre-produced content. Anyway, don't go overboard with post-production. You want your webinar to be seen as a live webinar.
One-time Production Cost
Automated webinars are generally more expensive than live webinars because of their higher production value. 
But since they're pre-recorded, you get to produce and pay for the webinar only once and use them indefinitely. You won't have to constantly write a new script and juggle your time for a live video.
Save Time
Another great advantage of automated webinars is how much time they save you. 
Since everything runs on autopilot, you won't have to be there live to manage and present the video on the spot. It also lets you make as many webinar sessions as you need without having to spend hours of your time in front of a camera and managing live chat.
Higher Attendance Rates
Due to dynamic adjusted and more frequent available time slots as well as ad hoc webinars, the time from registration until the online-event is cut shorter. Therefore, more people are likely to attend. Additionally, you can offer the automated webinar in the time zone of the attendee.
As a benchmark, ThriveMyWay says that the average attendance rate is between 40 and 50 %.
In combination with on-demand webinars, it allows people to get their video content at more convenient times. The more available times you offer, the higher the chance that people have time.
Increased Engagement 
Live webinars allow hosts to interact and open a dialogue with their viewers in real-time. But did you know that you can actually do the same with automated webinars? It might seem counterintuitive, but it's true—especially when planned properly and run with the right automated webinar software. 
Apart from the occasional Q&A, live webinars are generally passive when it comes to audience participation. The hosts might answer a question or two in the middle of the presentation, but they won't be able to do it more than a couple of times to keep the show going. 
During live webinars, the hosts must follow a script so they can stick to a pre-written schedule. 
That's not the case with automated webinars. 
Though the hosts won't be able to interact with their audience live, they'll still be able to add polls, tips, handouts, questions, and links during the presentation. These interactions are pre-programmed, so hosts can add however many as they want as long as it doesn't get too distracting to the viewers. Chat messages will be automatically forwarded to the hosts' email and can be answered personalized. This is a great way to interact one-on-one after the webinar.
Automated Income
As a result of increased viewership, automated webinars can help boost your company's revenue. After all, more views equal more potential customers. 
Since automated webinars allow you to reach larger audiences than live, time-gated webinars, you'll be able to sell your company products and services more effectively. 
By utilizing the funnel method, you can successfully lead your customers to click on the purchase link during the presentation without them leaving the webinar.
Mini-offers
Not everyone is ready to purchase your big ticket item from you. Live and automated webinars are a great way to promote mini-offers. This might be a smaller digital education program for online course sellers, a free trial for SaaS companies, or a high-value email newsletter. The sky is the limit. Use this opportunity to keep people engaged.
Improve Customer Service
Though live chat is usually disabled during automated webinars, viewers can still enter a private chatroom with customer service and ask questions as they watch the webinar. 
Your team would answer the question via browser notification or email, allowing anyone online to respond to the question ASAP. 
With the proper setup, every inquiry will receive a response from your team. It's not like live chat, where the host would answer one or two questions out of the dozens they receive as they present. In this way, automated webinars offer better customer service than live webinars.
Better Opportunities to Repurpose Your Content 
Since automated webinars are pre-recorded and follow a script, they allow you to repurpose your content and schedule them in other places. 
You can easily split them up into clips and distribute them on your social media page or video-sharing website like YouTube to draw in more prospective clients. 
This way, clients won't have to watch an hour-long live video to know more about the product you're offering. They'll also be able to share the edited clips or videos with a friend or family member that might be interested in the service, which equals more leads.
Scalable
Automated webinars work for you every time you schedule them, for as long as you have them live. Regardless, if one person registers and doesn't show up, only one lead attends, or 100 people show up.
What Are Use Cases of Automated Webinars?
Automated webinars have several use cases, such as: 
Welcoming new clients

Selling or offering a product 

Improving relations with new and old customers 

Educating customers on product features 

Demonstrating expertise in the field

Building brand authority

Promoting a launch

Recurring online meetings
Generally, automated webinars work best for companies that have explainable products and interact in complicated niches. For example, a webinar about a dog hairbrush doesn't need a webinar. A SaaS technology debugging common mistakes in their industry, however, is a great content piece. It's also great for companies that need to build a relationship with their buyers and create trust. Service providers like agencies or individuals like coaches, freelancers, or consultants can benefit to establish themselves as experts – on autopilot.
Automated webinars vs on-demand video
If automated, evergreen webinars are pre-recorded, why wouldn't I just use videos instead of faking a webinar? The answer is simple: Webinars have a higher engagement rate than videos. For webinars – even the automated ones – the viewer needs to take out some time to attend. On the screen, there are additional interaction opportunities, videos simply don't offer.
But here's the kicker: You don't have to use one or the other, you can combine the two tactics. You can lead with the webinar and then later offer the on-demand webinar or a video training version for people that left early or didn't attend. It's a great way to repurpose the content.
Top 4 Automated Webinar Tools
Here are some of the best webinar tools to help you create top-tier automated webinars for your website:
EverWebinar
Developed by Genesis Digital, EverWebinar is an automated webinar platform that offers solid scheduling functions, email reminders and follow-ups, HD presentation quality and audio broadcasting, and engagement features such as polls, file sharing, announcements, and quizzes among others. 
It likewise offers various attractive (and editable) templates to match your brand colors. 
Other notable features include simulated webinar attendees, simulated sales notifications, and simulated chat. 
WebinarKit
WebinarKit is an all-in-one auto webinar solution with high-converting registration and thank-you pages, instant-watch webinars, browser-based HD video quality, and unlimited webinars, funnels, registrants, and attendees. 
Unlike EverWebinar, WebinarKit offers a live chat that lets you interact with your viewers as they watch your webinar. Similarly, it gives you the option to send clients customizable email notifications and text message notifications to maximize turnout and engagement.
WebinarJam
WebinarJam is another all-in-one automated webinar software that offers flexible webinar scheduling and repurposing of recordings. Sticky announcements to promote content offers, promotions, or your solution/service. WebinarJam also lets you run live webinars with additional features like chat and Q&As. It also has an attendee spotlight to integrate your viewers.
Like all tools, WebinarJam also has an easy-to-use page builder to create high-converting opt-in pages. On top of that, you have access to a full email and SMS software to automate your webinar funnel.
WebinarGeek
WebinarGeek is a sales-focused webinar program that specifically targets individual marketers, such as coaches, course creators, freelancers, and the like. 
WebinarGeek offers solid webinar features, such as recurring schedules, in-time registrations, multi-camera conferencing, and instant replays. 
Furthermore, it supports live chat and post-webinar questions by email, though it doesn't allow you to activate both at the same time. 
For interactions, WebinarGeek supports polls, event invitations, quizzes, and CTAs.
Final Thoughts
Automated webinars are pre-recorded webinars that help businesses reach larger audiences over a certain period of time. Since they're fully automated, they're much more time efficient than live webinars. Plus, they allow viewers to watch the webinar anytime, anyplace, without the fear of missing out. 
All in all, automated webinars are the ideal solution for lead generation and building relationships with potential clients. They greatly focus on maximizing webinar marketing and communication efforts to build trust and maintain a bond until the audience is ready to purchase a product. 
With the help of gathered information through polls, quizzes, and other interactive features, automated webinars can provide a better customer satisfaction experience for their viewers.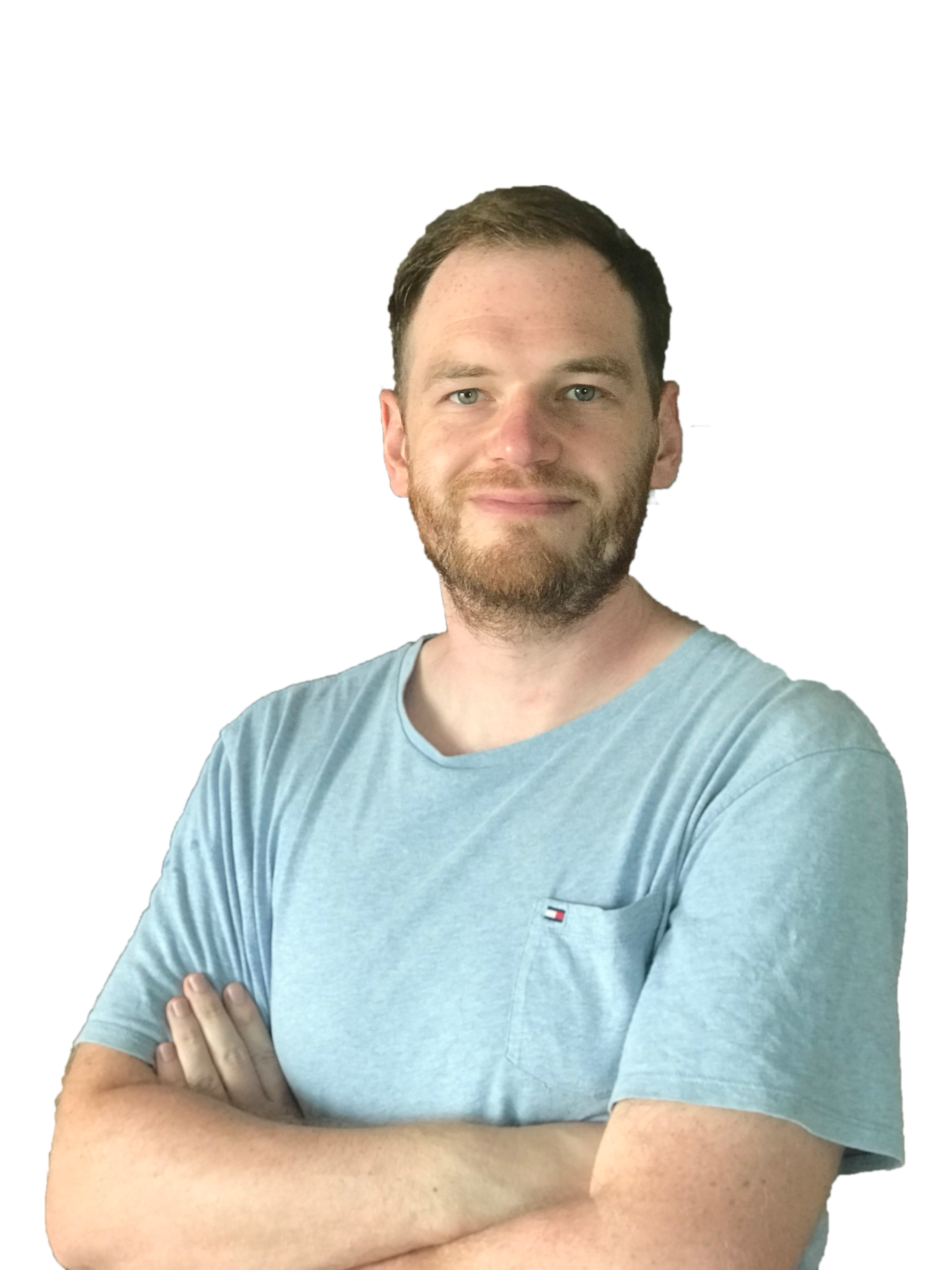 Sascha is a Lifecycle Marketing Consultant with over 8 years of digital marketing experiences in Silicon Valley, the UK, and Germany.
After leading the demand generation for a 100+ million company, he decided to venture out on himself. He's now helping clients to attract and convert more leads and customers.
His main focus are SEO, paid media & marketing automation – all with the focus to tie marketing campaigns to revenue.
Sascha has been featured in industry publications.