How does a Video Rank Tracker work? – 3 Best Tools (Free & Paid)
Video SEO is completely different from text-based SEO. Though both offer the same concept—optimizing your content to be indexed and ranked high on search engine results pages—they follow different methods and techniques. One such technique is the use of video rank trackers. 
To help you choose the best video rank tracker for your videos, I've reviewed three of the best video SEO tools in the industry. Some can be downloaded and accessed for free, while others require premium subscriptions. 
How Can I Check My Video Ranking?
If you want to check your video ranking, you need to use an online video rank tracker to help analyze your video performance. Free video rank trackers require you to enter the video's URL alongside relevant keywords to pinpoint how well the video performs against other videos on the same topic. 
However, free video trackers only provide you with surface-level information, like how many views it's received compared to other videos. Plus, they're not really all that accurate. They're good tools for casual YouTubers that aren't all that concerned about views or ranking but are still curious to see where they stand in search results. 
If you want to push your videos to the limelight, you need to invest in a premium video checker. Premium video checks provide insights that'll help you improve your video ranking, like keyword distribution, top ranking related keywords, location-wise position, and the like. You can use the given information to ensure your content appears in video results in the organic Google SERP.
3 Best Video Rank Tracking Tools 
When it comes to YouTube rank tracking and analysis, these three exceed expectations.
TubeBuddy 
TubeBuddy is video optimization and management software that helps you generate SEO-friendly content, manage your comments, edit videos, and rank higher in search results. It's used by over 10 million YouTube creators and brands, including notable names such as BBC, Nickelodeon, Intel, and Fox Sport.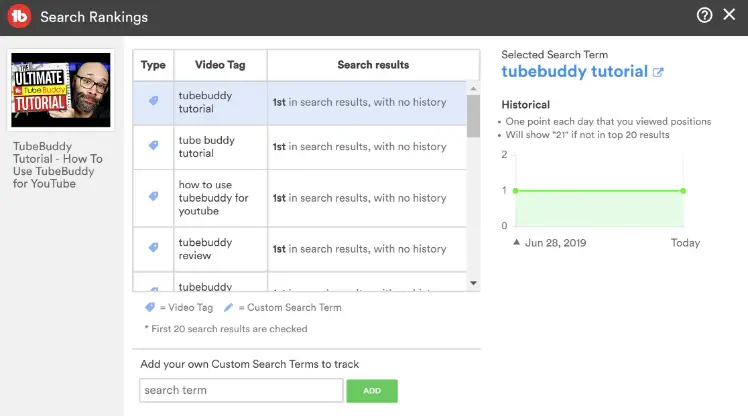 TubeBuddy is a freemium service. You can get it for free as a Chrome extension, but it doesn't offer anything more than basic stats that you can easily access on your YouTube page. Premium subscriptions provide insights like custom search terms, targeted keywords, keyword rankings, historical position, video tag, video type, and the like. 
SEMRush Video Rank Tracker 
Though mostly known as a keyword research tool for websites, SEMRush also has a dedicated YouTube rank tracker that you can access through your SEMRush paid account. However, it's an add-on to your already paid subscription.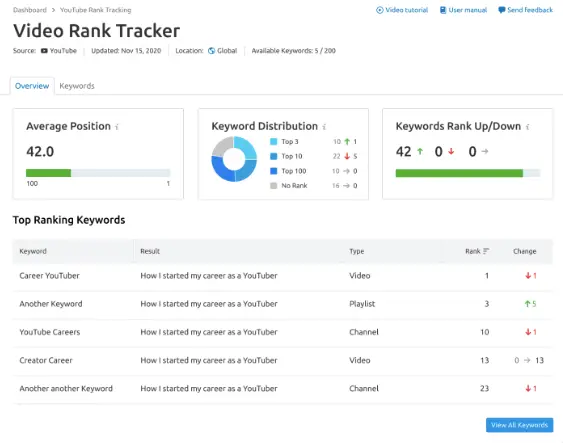 The app lets you monitor not only your channel's weekly search ranking but also your channel's performance on up to 200 keywords. It displays your channel's average rankings on YouTube, keyword distribution, and top-ranking keywords into a neat, easy-to-read chart, so you can consult it anytime you upload a video. 
Unfortunately, you can't get the SEMRush Video Rank Tracker for free. It doesn't have a trial option, either. You'll need to subscribe to a SEMRush bundle to gain access to the video tracker, which might not be worth it if you're only using the software for YouTube SEO purposes.
vidIQ
vidIQ is more than just a video rank tracker; it's an advanced growth tool that gives you access to important YouTube metrics, strategies, and techniques to grow your channel and gain more views. It gives you insight into what's trending and compares views with competitors.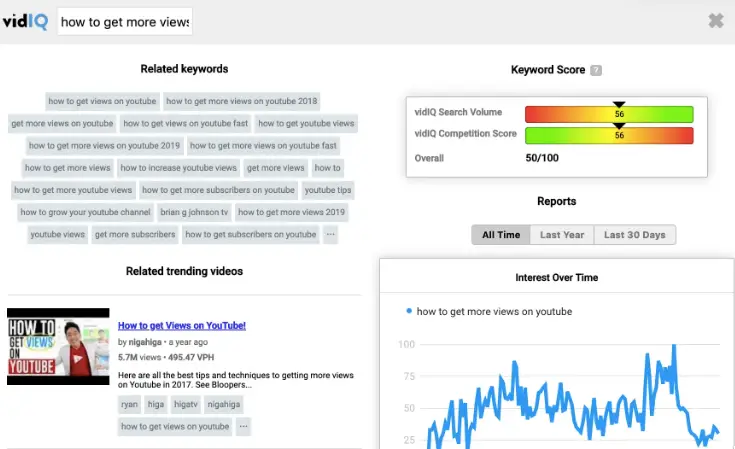 On top of that, it gives you daily ideas for your next YouTube video or video titles. This way, you won't have to constantly brainstorm for ideas; vidIQ will do it for you. Every idea is 100% personalized to your channel so it'll resonate with your audience. 
vidIQ comes with a free and premium plan. The free plan offers basic features like Likes to Dislikes ratio, views per hour, competitor's views per hour, and video ranking. The premium plan has more personalized and advanced options, like historical analysis, keyword tools, trend alerts, thumbnail generator and the like.
Final Thoughts 
To track your video's performance on YouTube and Google's search results, you need to use a dedicated video rank tracker like TubeTuddy, SEMRush, and vidIQ. These YouTube rank checkers closely monitor the performance of your videos and YouTube channel to provide you with some insight on how to optimize your video SEO. They'll also give you some suggestions on how to improve your ranking if your videos don't appear as high as you'd like them to be.
YouTube is the second-largest search engine, therefore video SEO should be taken seriously.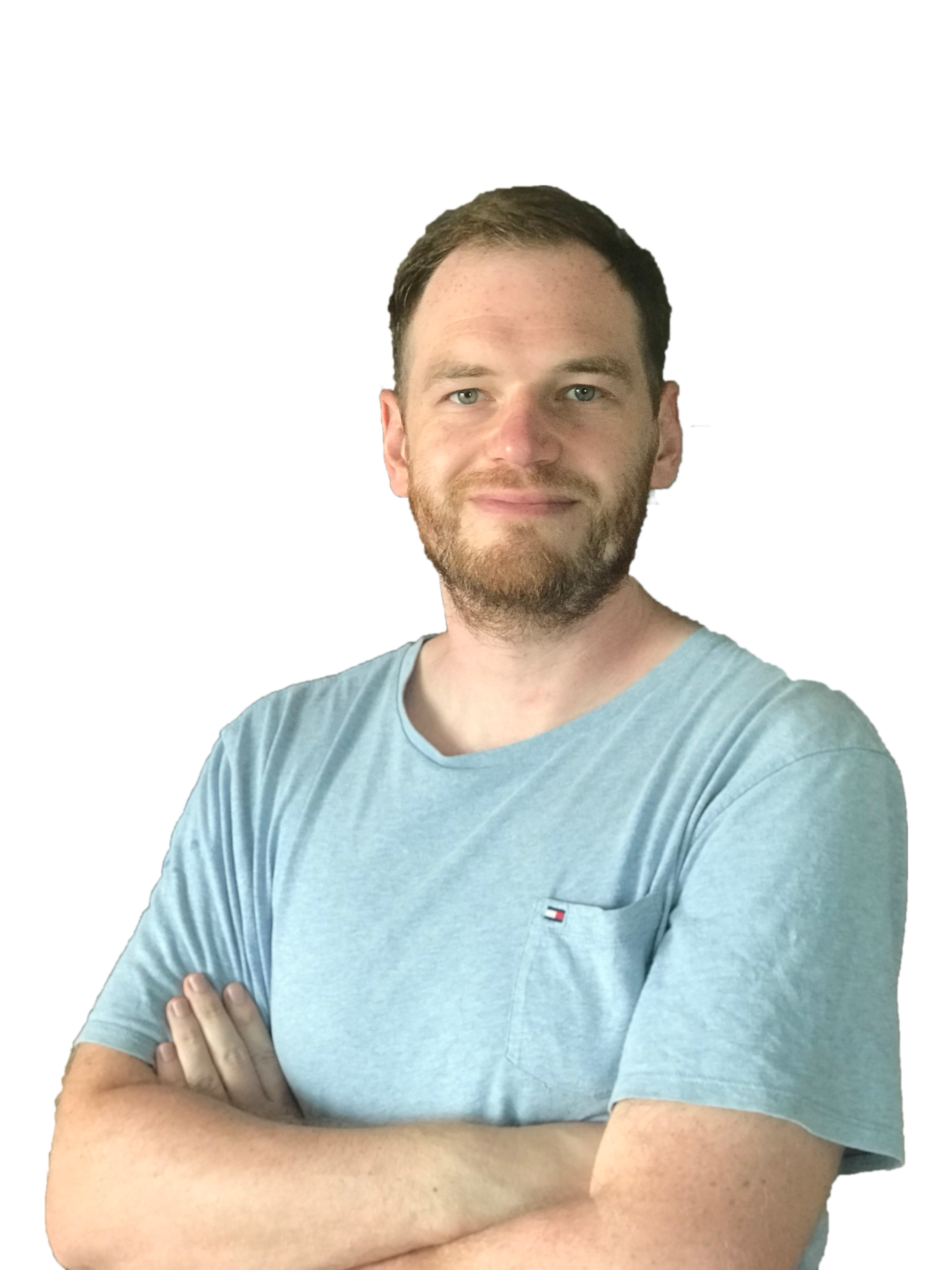 Sascha is a Lifecycle Marketing Consultant with over 8 years of digital marketing experiences in Silicon Valley, the UK, and Germany.
After leading the demand generation for a 100+ million company, he decided to venture out on himself. He's now helping clients to attract and convert more leads and customers.
His main focus are SEO, paid media & marketing automation – all with the focus to tie marketing campaigns to revenue.
Sascha has been featured in industry publications.