What is the best Grammarly German alternative?
Does Grammarly support German?
Unfortunately, Grammarly is not available in German. Currently, Grammarly only supports English spelling and grammar. However, the good news is that there are numerous alternatives. The best alternative for grammar and spell checking is LanguageTool. LanguageTool is available in several languages and most importantly, it is also available in German. LanguageTool is, like Grammarly, also available for free.
Besides LanguageTool, there are other Grammarly alternatives for German spell checkers.
LanguageTool – the best Grammarly alternative for German
LanguageTool is a free online tool for checking spelling, grammar, and style. It is very easy to use it for German (or any of the other 20+ languages available). There is a browser version where you simply type or paste the text into the box and LanguageTool does the rest.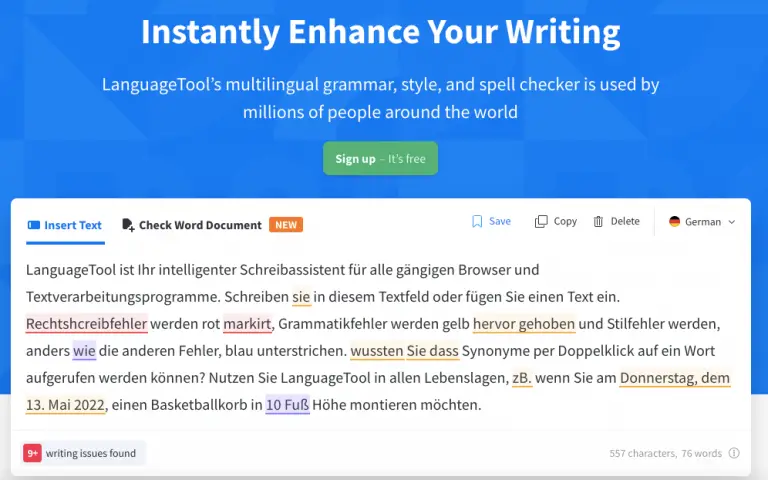 Similar to Grammarly, LanguageTool shows you the errors and suggestions for improvement in color, which you can then implement with a simple click. In addition, LanguageTool provides an explanation because this is a mistake – every day is a school day.
Another very useful feature is the suggestion of synonyms: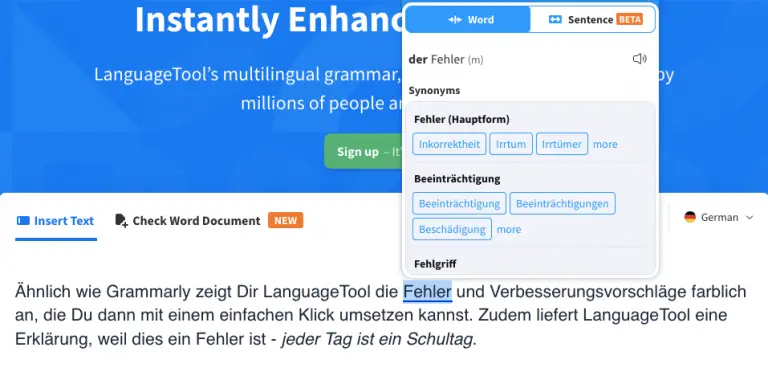 With a double click, the German Grammarly alternative shows you synonyms to improve your text.
More features of LanguageTool
LanguageTool is really the best alternative to Grammarly for German spell-checking. However, there are other features that distinguish the tool and set it apart from other market competitors:
Intuitive user interface

Personal dictionary

Rating system to evaluate the entire text (similar to Grammarly)

Dark or light user interface
Use LanguageTool like Grammarly anywhere without distractions
Grammarly especially took browsers by storm because it was accessible, and could be used anywhere on the computer or on the Internet. Whether writing emails, posting on Facebook, or writing blog articles, Grammarly integrates almost everywhere through browser extensions. Best of all, LanguageTool does this just as well.
There's the web version, where users go to the website and paste the texts, checking their German grammar and spelling. But there are also browser extensions for the most popular systems: Chrome, Firefox, Safari, Opera, and Edge.
You don't want a browser extension? No problem, there are also direct plugins for Google Docs, MS Word, OpenOffice, Gmail, and Thunderbird.
There are also apps for iOS, macOS, and Windows.
As you can see, LanguageTool has the right solution for every workflow so that no spelling faux pas will happen to you.
What do users say about the Grammarly alternative LanguageTool?
LanguageTool advertises on their site that over 1 million users use their tool. A look behind the scenes confirms this: The Chrome extension alone has been installed by 1 million + users. There are currently over 8000 steadily growing customer reviews, all of which are positive.
LanguageTool Premium and for companies
LanguageTool is a free Grammarly alternative. However, the free plan is somewhat limited – but this should not be a problem for the regular user. As a free user, you can have up to 10,000 characters per text field checked for German spelling and grammar. In addition, you can use the A.I.-based sentence reformulation up to three times a day.
If this is not enough or if you have a team, you can also book the Premium package. There are, of course, other functions, such as recognizing incorrect names and salutations in e-mails.
5 more German Grammarly alternatives
LanguageTool is not the right alternative for you? We have five more Grammarly alternative solutions:
Duden Mentor
Duden Mentor is also a fantastic alternative to Grammarly. Duden is the best-known spell-checking software in Germany and is used by many organizations and institutions. Duden takes into account not only orthographic errors but also grammatical, stylistic, and typographical standards.
Online spelling and grammar checking is included in the Standard German Dictionary, which can be used with a browser add-on or mask. However, only 800 characters are available for unregistered guests. With free registration, you can extend your character limit to 1,500 characters. If you want more support, there are 20,000 characters for 10 € per month. However, this is very expensive, especially compared to LanguageTool, and we do not recommend it.
Rechtschreibprüfung24
Rechtschreibprüfung24 is a good but limited free option for a German spellchecker that can check up to 20,000 characters and supports multiple languages. What makes Rechtschreibprüfung24 stand out beyond its spell and grammar checking is its readability, word density, and filler word count checking. You can save documents in PDF or other formats to the cloud after signing up for a free guest account. The standard edition is free, but additional features are chargeable. Add-ons for Chrome, Firefox, and Microsoft Word are available starting at 4.95 € per month; a personal dictionary helps with text optimization, and all of this is ad-free up to 40,000 characters in length.
German Corrector
German Corrector
is an online tool that lets you quickly correct small texts. Copy or write your text into the field and click on "Check". You can also activate autocorrect to get additional help. Thanks to minimal advertising, not only are the spelling and grammar checkers free, but users also have access to style suggestions. For this purpose, the program uses LanguageTool, Hunspell, and Diction software. But then why not use LanguageTool directly?
Online Spellcheck
Online Spellcheck can be used free of charge with advertising and does not require registration. It checks not only spelling but also grammar. You can also upload document files in various formats (PDFs, Word documents, images) or enter a URL to have the program check for errors. The website also supports 20 other languages.
SpellBoy
This free program checks for spelling, grammar, and punctuation errors not only in German but also in other languages. SpellBoy can be used online via a web application or downloaded as an app.
Conclusion: The best alternative for Grammarly in German
The best alternative solution for Grammarly in German is LanguageTool. It's free, easy to use, very accurate, and versatile. If Grammarly does not release a German version soon, LanguageTool will be the standard.
However, for alternative spelling and grammar checkers, we also recommend Duden or Rechtschreibprüfung24.
Spell-check tools should be included in your marketing workflows. Regardless if you write SEO meta descriptions, create Google Ads, or refresh articles.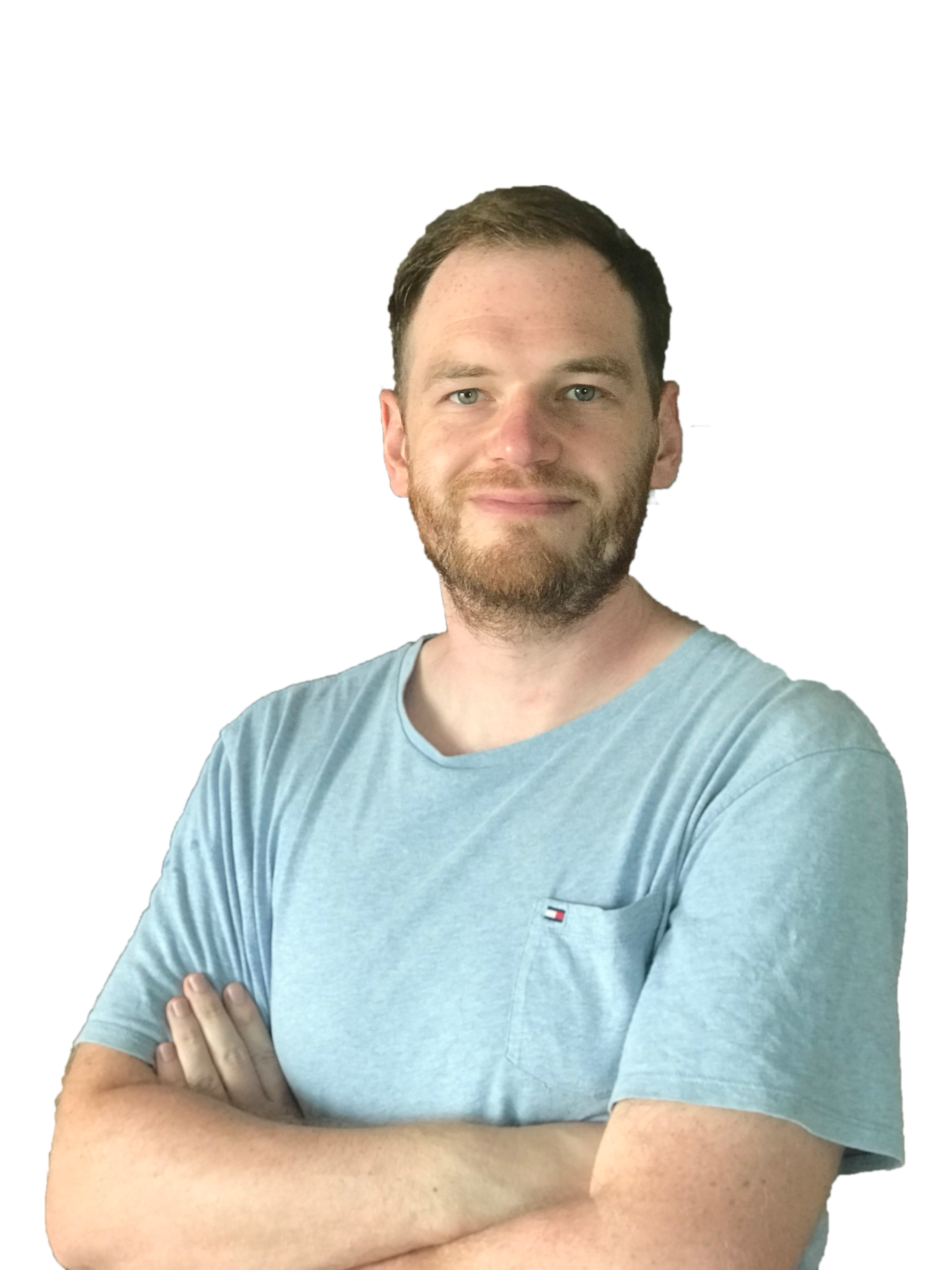 Sascha is a Lifecycle Marketing Consultant with over 8 years of digital marketing experiences in Silicon Valley, the UK, and Germany.
After leading the demand generation for a 100+ million company, he decided to venture out on himself. He's now helping clients to attract and convert more leads and customers.
His main focus are SEO, paid media & marketing automation – all with the focus to tie marketing campaigns to revenue.
Sascha has been featured in industry publications.