Rank Tracker vs SEMRush: Which SEO Tool is better?
SEMRush is widely regarded as one of the strongest, if not the strongest, SEO software solutions in the industry. With over 10 million registered customers and 400,000 monthly active users, it's often hailed as the best of the best—that is, before Rank Tracker. 
Available at a fraction of the price, Rank Tracker has been getting more and more attention from big-name companies because of its intuitive functions. It's said to have been used by Commonwealth, Adidas, Red Bull, and even Apple. But is it really better than SEMRush? 
In this Rank Tracker vs SEMRush guide, we put that question to rest. We compared the two in a head-to-head battle to see which one is suited for your brand.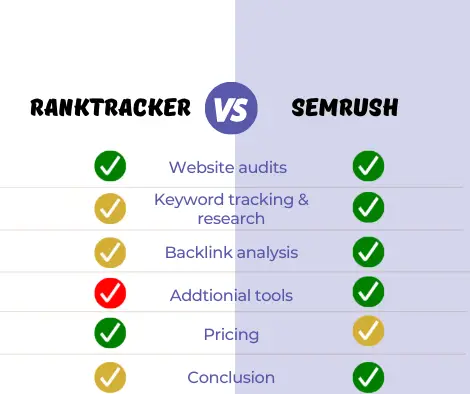 What Is Rank Tracker? A Brief Overview
Developed in 2014 by SEO specialist Felix Rose-Collins, Rank Tracker is an all-in-one SEO tool that offers highly specialized SEO rank tracking and content monitoring to help improve your website visibility. It has a clean and beginner-friendly interface, with color-coded tables, graphs, and lists. 
Rank Tracker's primary purpose is to evaluate the rank of a website and list recommendations on how to improve it. It features one of the best in-depth site audits we've ever seen, on par with some of the more expensive SEO tools like SEMRush. 
Here are some of the most notable features of Rank Tracker: 
Competitive analysis

Analytics integration

Link management 

Keyword research and tracking 

Audit management 

SERP checker and simulator

Actionable SEO Tasks
Unlike some SEO tools that track rank from only one search engine (read: Google), Rank Tracker tracks website rankings from almost every search engine and location across the globe. It also tracks real-time fluctuations and ranking changes, so you're always guaranteed up-to-date information.
What Is SEMRush? A Brief Overview
SEMRush is one of the oldest and most popular SEO software solutions in the market. It was developed in 2008 by IT engineers Oleg Shchegolev and Dmitri Melnikov with the hopes of creating an all-in-one SEO marketing tool. 
Over the years, SEMRush has garnered over 10 million registered users, most of which are paying customers. 
SEMRush is different from other SEO tools because of two main factors: it's an extremely in-depth analysis and a massive keyword database. 
To date, we've yet to review a digital marketing tool that offers as much real-time information as SEMRush. As for its database, SEMRush has 20+ billion keywords, 40+ trillion backlinks, 800+ million domains, and 140+ geo databases. In comparison, Rank Tracker only has about 5 billion keywords. Still impressive, but certainly not as jaw-dropping as SEMRush. 
SEMRush has the following important features: 
Audit management

Content marketing 

Competitive analysis

Keyword research 

On-page SEO

Backlink tracking and link building

Rank tracking 

Social media management

Google Ads Keywords

(including of competitors)
Rank Tracker vs SEMRush: Side-by-Side Comparison
Now that we've discussed the basic premise of both tools, let's take a lot at how they compare with one another:
Site Audit 
A site audit is a process in which a website is given a full "health check" to track how well it's doing in terms of search engine ranking and overall page quality. It helps website owners discover hidden issues that hinder their online visibility and fix the problem according to the recommended solutions given by the SEO tool. 
On this front, both SEMRush and Rank Tracker perform wonderfully. They analyze overall site health, missing information (meta descriptions, title tag, image alt attributes, etc.), HTML element usage and page structure, and general ease of navigation. They also check technical SEO issues like broken links and unresponsive or outdated XML sitemaps and robots.txt files. 
Like most audit software, SEMRush and Rank Tracker provide you with some improvement measures in the audit report and rank them from the highest priority to the lowest priority. 
Keyword Position Tracking 
As you might expect from an SEO tool called "Rank Tracker," there's little to complain about its website tracking feature. With it, you can get an instant overview of the most important SEO metrics related to page scores. 
Rank Tracking regularly updates its information in real-time and monitors any fluctuations that would occur after a certain period of time. It also provides useful ranking details of your keywords, competitors, vital metrics, and other essential aspects. The number of keywords you can track for each given URL differs from package to package, but you'll generally be able to track up to 100 keywords a day. 
SEMRush does much the same, but on a grander scale. Apart from website and search rankings, the SEMRush tracking tool offers geographical location comparisons, project device types, local competitor performance, and others. The given information is updated every 24 to 47 hours, so you'll get up-to-date results every time.
Backlink analytics and link building
Both tools have robust backlink tools to uncover the backlinks of any given page, and they help craft a link building strategy and campaign, as well as backlink audits of your own domain. You can monitor the performance of your incoming links.
Final Thoughts 
SEMRush and Rank Tracking are both fantastic SEO tools, but they're definitely for two different types of businesses. SEMRush is best suited for established businesses and companies with multiple websites, while Rank Tracker is more targeted towards start-ups and small businesses.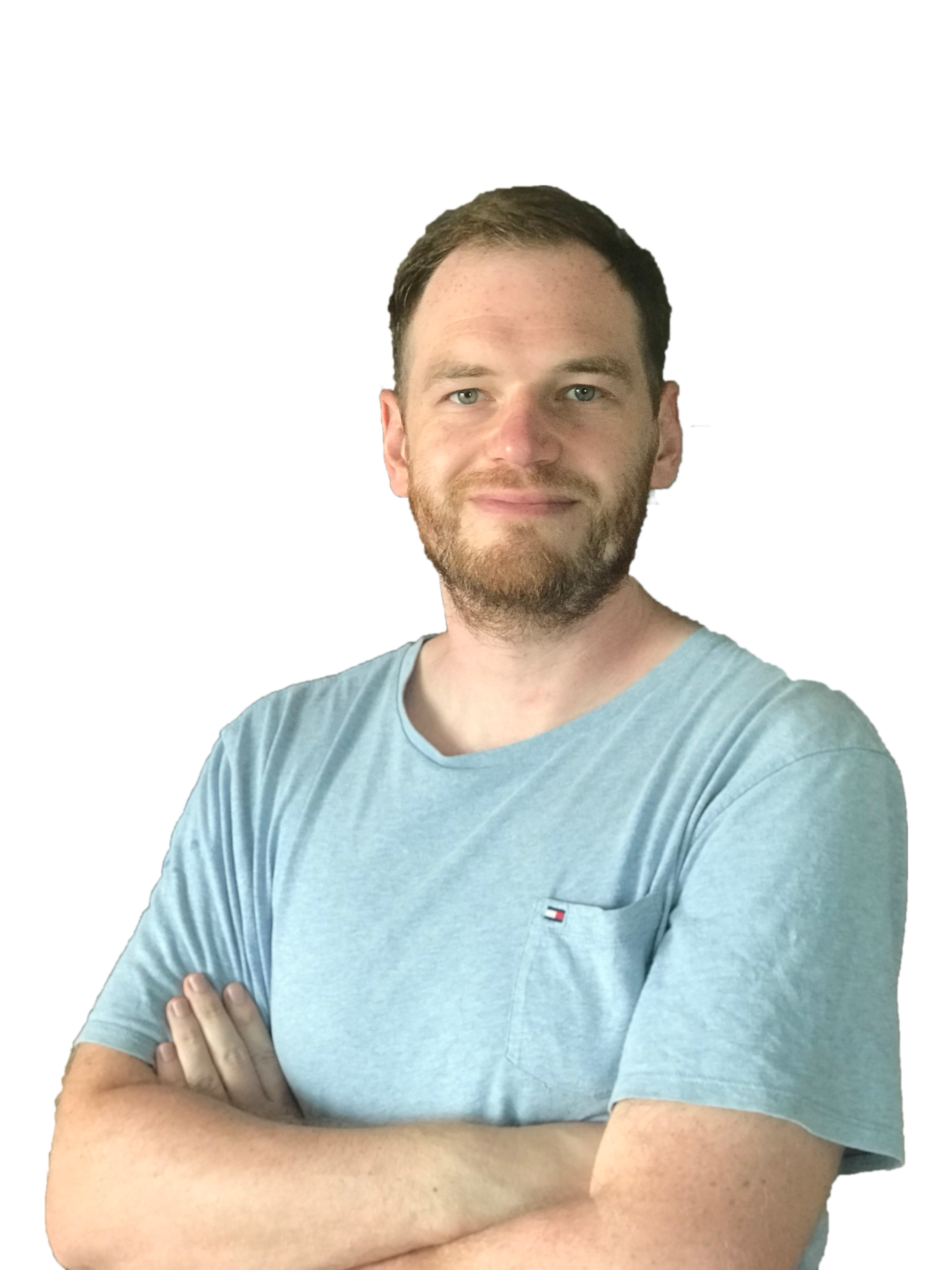 Sascha is a Lifecycle Marketing Consultant with over 8 years of digital marketing experiences in Silicon Valley, the UK, and Germany.
After leading the demand generation for a 100+ million company, he decided to venture out on himself. He's now helping clients to attract and convert more leads and customers.
His main focus are SEO, paid media & marketing automation – all with the focus to tie marketing campaigns to revenue.
Sascha has been featured in industry publications.