Full Guide: SEMRush Backlink Analysis & Audit
The SEMRush backlink audit can be conducted in two different ways and for many reasons. But two main reasons would be to improve your website's authority as part of your SEO project, another could be to spy on your competition to see what's required from you to beat their rankings. Yet another could be to look at pages unrelated to your website just to see what's working for them.
How to conduct a backlink audit in SEMRush?
In SEMRush you have mainly two ways to conduct SEO backlink analysis and audits. The first is by creating a project in your management dashboard. Secondly, you run backlink analytics on any domain without creating a project. The backlink audit (project) has some additional insights you can't get out from the basic backlink analytics.
The most common case why you would create a backlink audit is to improve your SEO results. For that, let's run through my proven 3-Step process of a competitive Backlink Analysis with SEMRush.
1.  Conduct Backlink Analytics of your website
In the Link Building section on your navigation panel, select Backlink Analytics, type in the website you want to analyze, and hit the button.

Most of the data is very self-explanatory but I will show you how I interpret it and use the data for my backlink portfolio and SEO strategy. For illustration, I use the SEMRush domain results.
1a. SEMRush Backlink Analytics Overview

In the top panel you see general data:
Authority score

: this is the overall domain authority. Domain Authorities (DA) will be mentioned later again when we look at the DA of the referring domains. I see a little trend chart next to the score. I mainly want to see a constant (if it's a high DA like SEMRush's example of 79, or an upward trend if it's a lower score like 10)

Referring Domains

: Referring domains are the total number of unique domains that link back to the website. One domain can have multiple backlinks. I want to see an upward trend there, too.

Backlinks

: The number of backlinks itself is less important than the number of referring domains. It's ok to have a negative trend (like SEMRush) if your overall DA score and referring domain number are consistent or increasing.

Monthly Visits

: Monthly visits are an estimate of how many visitors come to the site.

Keywords

: This is the number of keywords that rank in the top 100 of Google's search results. Both, keywords and traffic data you can get through the competitive research reports like organic research or domain overview.

Outbound Domains

: This is a fairly new metric provided by SEMRush in the overview. It shows the

outbound links

referring from your domain to an external website. It's important to have fewer outbound links than incoming referring domains.

Toxicity Score

: The toxicity score is only available for sites that you've added as a project and ran the backlink audit tool (more on that later).
I then scroll further down the report and look at the data. For my own domain, I'm interested in the trends but in order to build a competitive set, I'm looking into the following:
Categories of referring domains

DA of referring domains

Backlink types (text vs image)

Top Level Domain (TLD) Distribution
Alone those numbers probably don't mean much to you. That's when I put them in context to my competitors.
1b. Competitor Backlink Analytics in SEMRush
In order to see how high my DA, how many referring domains and backlinks I need, I first need to understand the competitive landscape and their backlink profiles. If all my competitors only have a domain authority of 15 and 10 backlinks, I probably need to put in that much effort to beat their rankings (of course, SEO-optimized content is required). 
Pro Tip: Use my SEMRush Keyword Research process and the SEMRush Content Template for the best possible results.
In order to analyze the backlinks of my competitors, I start the SEMRush Backlink Analytics all over again for each competitor. I take my main competitors, I've already identified, but I also look at those that are currently competing with me the most:
After I build my list, I create a simple spreadsheet and take the information over.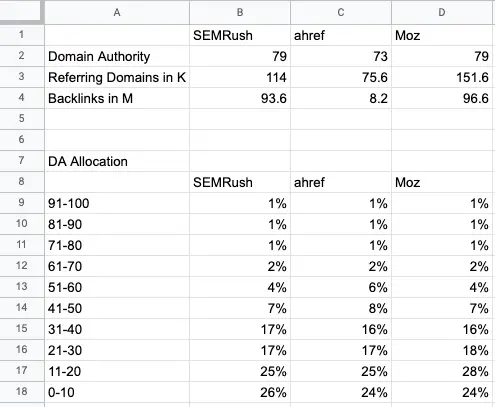 I look at the information mentioned in Step 1a.
Here's a table of what I'm looking for in each dataset:
Backlink Dataset

Looking at

Possible actions

Domain Authority

Compare the total score. 

Identify the best DA and see what they are doing right and those that are slightly above me so I can increase my results.

Referring Domains

Total number

Identify a total number gap I should to close

Backlinks

Total number, but more focus on referring domains

Similar to referring domains

DA of referring domains

The allocation of DA buckets compared to my website

Either, 

1) continue building backlinks as is (if my allocation is already better), or 

2) potentially level down to get more links with the same resources, or 

3) increase the DA of referring domains

Referring categories

Do I get the same or similar referring categories?

Either, keep doing the backlink outreach or switch to other relevant categories.

TLD

Do I have the same kind of top level domains linking to my site?

Either, keep doing the backlink outreach or switch to other TLDs.

Link Attributes

Does my rel attributes follow to nofollow ratio align with my competitors?

Keep doing what's working or increase DoFollow links
Now that I know my gaps and improvement opportunities I can incorporate the findings into my SEO backlink strategy. But before I start my outreach, I'll audit my backlinks with SEMRush.
2. SEMRush Backlink Audit
The SEMRush backlink audit goes deeper than the analytics. One main aspect is the toxicity score of referring domains and backlinks.
Toxic backlinks can harm your site and should be disavowed. This means – in a nutshell – to tell Google that you don't want to be associated with those links and that they should not consider them when evaluating your site.
SEMRush makes the process to disavow toxic backlinks very easy. You can get a report of the toxic domains and links, add them to a disavow list, export it as a TXT file, and submit this to Google Search Console.
2b. Backlink Anchor Text Audit
Another dataset I look at in the SEMRush Backlink Audit is the anchor text.
The main goal is to have a good ratio of anchor types that do not seem unnatural and could harm your site. Money and compound anchors are great but in moderation.
3. Taking action
After cleaning up your backlinks (disavowing toxic links) and identifying your backlink strategy, you can now take action and build more backlinks.
You can use tools like SEMRush's backlink gap or link-building tool.