SEO-Friendly Content Brief Template with Semantic Keyword Research
What is an SEO-friendly content brief?
An SEO-focused content creation brief should include various aspects and research that help you target a specific keyword with your piece of content like a blog post. Many marketers conduct quick keyword research and know which keyword to target for the selected topic. But they ignore important factors like semantic keyword research that will help your article to rank higher on search engines like Google.
The goal of an SEO-friendly content marketing brief is that the content creator can take the brief and fill in the words.
Before we dive into what you need to include in your brief, we need to detour and discuss a crucial part of the process: Semantic Keyword Research.
What is semantic keyword research?
Semantic keyword research is the process of identifying the context of your targeted keyword. This research is the foundation of a content marketing brief. Basically, we look at the top SERPs (search engine result page) for the main keyword and identify what the top results have in common to give our content a competitive edge.
The goal of semantic keyword research is to tell you what you have to do to rank as high as possible for the targeted keyword by taking into consideration what currently works best.
The research includes semantically related keywords, optimal length, matched search intent, required backlinks.
Semantically related keywords are the best way to improve your SEO ranking.
Why are semantically related keywords so important?
In order to understand the importance of semantic keywords, we need to understand how search engines "read" a page. When going online it was ok to keyword stuff a page with the main keyword and search engines would only consider keyword count and maybe later keyword density. Those times are long gone.
Google and Co. understand the context of a page. The crawlers look at the keywords that surround and support the main keyword. For example, a blog post about Kim Kardashian homeschooling her kids could be about homeschooling or about Kim Kardashian. Only the context can tell.
SEO Content Brief Template
What should be in a content brief?
When creating an SEO-focused content brief you should include all of the following points:
Primary targeted keyword
Optional: additional targeted keywords
Main search intent
Ideal length
Keyword difficulty
Main competing SERPs
LSI/Semantically related keywords
Long-tail keywords
Negative keywords
Answer targeting
External links (backlinks)
Internal links & anchor texts
Optional: Custom image, video, content offer requirements
Optional: Brand voice (crucial if you hand the brief over to outside writers)
We've identified 11 – 14 aspects that should be included in your SEO content brief. Let's look into each of the sections:
Targeted keywords
Write down the primary and if applicable secondary targeted keyword. It's important for the writer to use the keyword in the SEO title, H1, meta description, and throughout the body and further headings.
Main Search Intent
This is something a tool can't tell you. Simply look at the page one search results (SERPs) and identify the intent of the search: Is it educational or product-focused (purchase intent)? You can also add your target audience or buyer personas here.
Ideal length
Google and other search engines usually match the search result to the optimal length, also incorporating the search intent. Stay within the suggested word counts of other top-ranking results. Longer is not always better, and sometimes you need to add a few ideas.
Keyword difficulty
Many semantic SEO tools rate how difficult it is to rank for a specific keyword. The more difficult the keyword score is, the more effort and originality needs to get into the content production.
Main competing SERPs
List the top 2-3 search results to see what's performing well right now. Don't copy or steal, just get an idea and ideally identify how to optimize the given information in your content.
LSI (Latent Semantic Indexing) or semantically related keywords
What are LSI keywords?
Latent Semantic Indexing (LSI) keywords are semantically related keywords to the search term you are targeting.
LSI vs Long-tail keywords
The difference between more commonly known long-tail and LSI keywords is that long-tail keywords are usually longer key phrases of the targeted keyword. They are more specific but usually have less search volume. For example, a long-tail keyword for the term homeschooling could be "how to homeschool my kids" or "homeschooling pros and cons"
Semantic keyword examples
Examples of semantic keywords for homeschooling are standardized tests, traditional school, school system, or certified teacher.
The keywords are not necessarily any phrases of the search term but set the context around the keyword.
Long-tail and negative keywords
Long-tail keywords for content briefs should include key phrases that you also want the content to be associated with. Some SEO experts call this keyword jacking (not to be confused with keyword hijacking). You add short- and long-form keywords to the content to increase your overall search relevancy as well as targeting more specific terms with usually lesser search volume. Resulting, however, in a wider targeting to boost your content further.
It's also a good idea to think about keywords to exclude or avoid from the content piece (negative keywords). This could be due to already existing content to avoid keyword cannibalization, or you are planning a specific article about a long-tail keyword and also want to prevent potential cannibalization.
It's advised to check your SEO keyword tracking tool and Google Search Console for long-tail keywords when creating the content brief.
External and internal linking
Tools like SEMRush or Ubersuggest give you insights into how many backlinks you should generate for the targeted keyword.
In my opinion even more important is a sound internal linking structure. Include links and anchors in the content brief to our resources of your own website. Linking should be part of your SEO strategy.
Content offers, custom images, or videos
If you create or include further types of content offers make sure to include the requirements in the brief.
How to write an SEO content brief?
Use a variety of available free and paid SEO tools but also simply Google the keyword and read through the page one results. Semantic keyword research helps you to understand what's currently working for high-ranking SERPs.
Fill in each of the template sections.
SEO Content Brief Example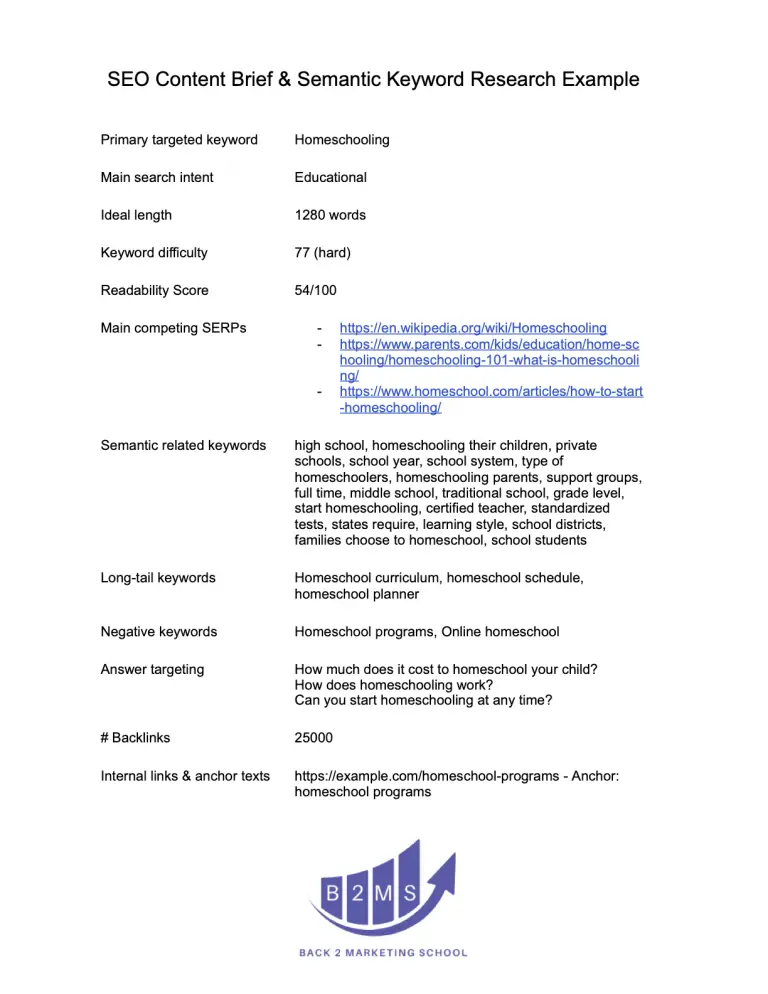 When to use a content brief or SEO content template?
You should create an SEO content brief every time you write a new piece of content or update an existing article to target a specific keyword. The brief can be sent to a content writer. It also streamlines the process and limits the revisions.
SEO content briefs should be part of your everyday content strategy to help you close keyword gaps.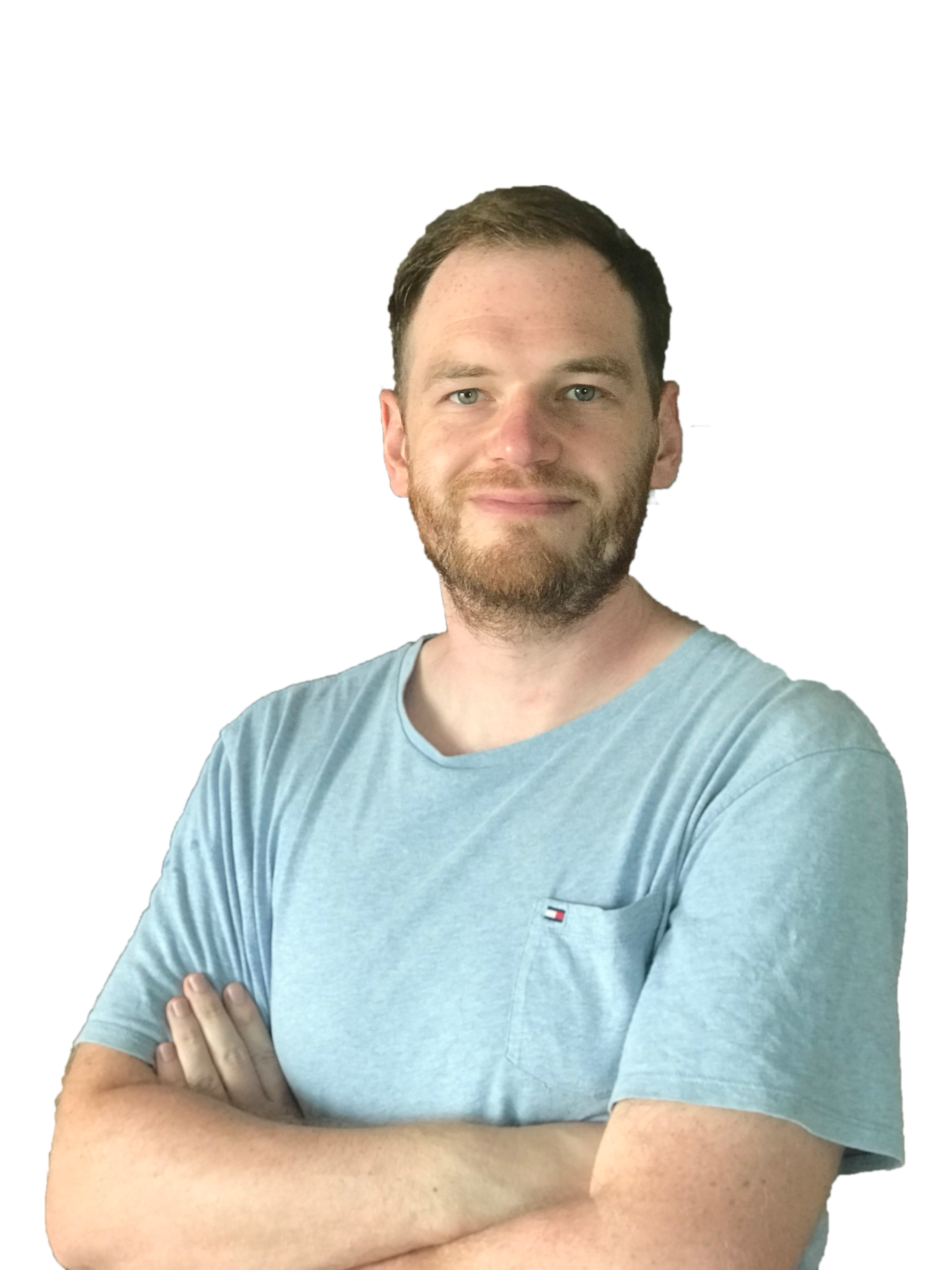 Sascha is a Lifecycle Marketing Consultant with over 8 years of digital marketing experiences in Silicon Valley, the UK, and Germany.
After leading the demand generation for a 100+ million company, he decided to venture out on himself. He's now helping clients to attract and convert more leads and customers.
His main focus are SEO, paid media & marketing automation – all with the focus to tie marketing campaigns to revenue.
Sascha has been featured in industry publications.