Geotagging Marketing for Local Businesses
What is geotagging?
Geotagging is the process of attaching geographic latitude and longitude coordinates in the metadata to media files. Often, geotags are added directly from a mobile device. Geotags can be applied to photos, videos, websites, text messages, and QR codes, and can also include timestamps or other contextual information.
Geotagging can thus be used directly on the website, social media, and other marketing channels and is often used in local marketing.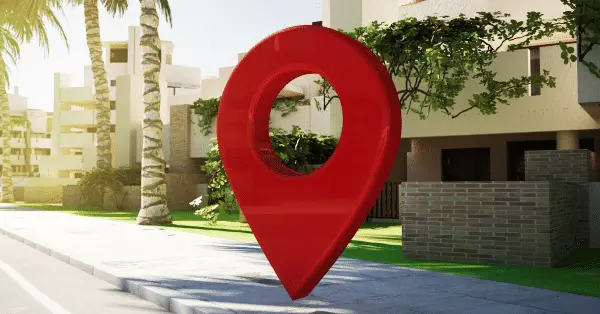 What is local marketing?
Local marketing is a marketing strategy that aims to increase awareness and sales of a geographic location. Unlike national or international campaigns, local marketing only covers a relevant, local area.
Local marketing is used primarily by companies and businesses that support their customer base locally or only from a specific area. Some lawyers, for example, can't go statewide. Similarly, a small painting business also gets its orders from the immediate proximity. A cafe or hotel needs to focus on geographic location even more, as visitors logically need to come onsite.
Location-based marketing campaigns could also consist of advertisements in the focus area to sell products and services. Additionally, it can be combined with gamification in combination with point-of-sale marketing efforts.
Why do I need geotagging in local marketing?
Geotagging is important to be found locally. Local and small businesses can therefore rely on platforms and channels that enable geotagging to achieve local reach.
Social media marketing with geotagging
Social media has the ability to publish your own location with a post. Instagram allows an actual location/place and the use of a hashtag for additional reach.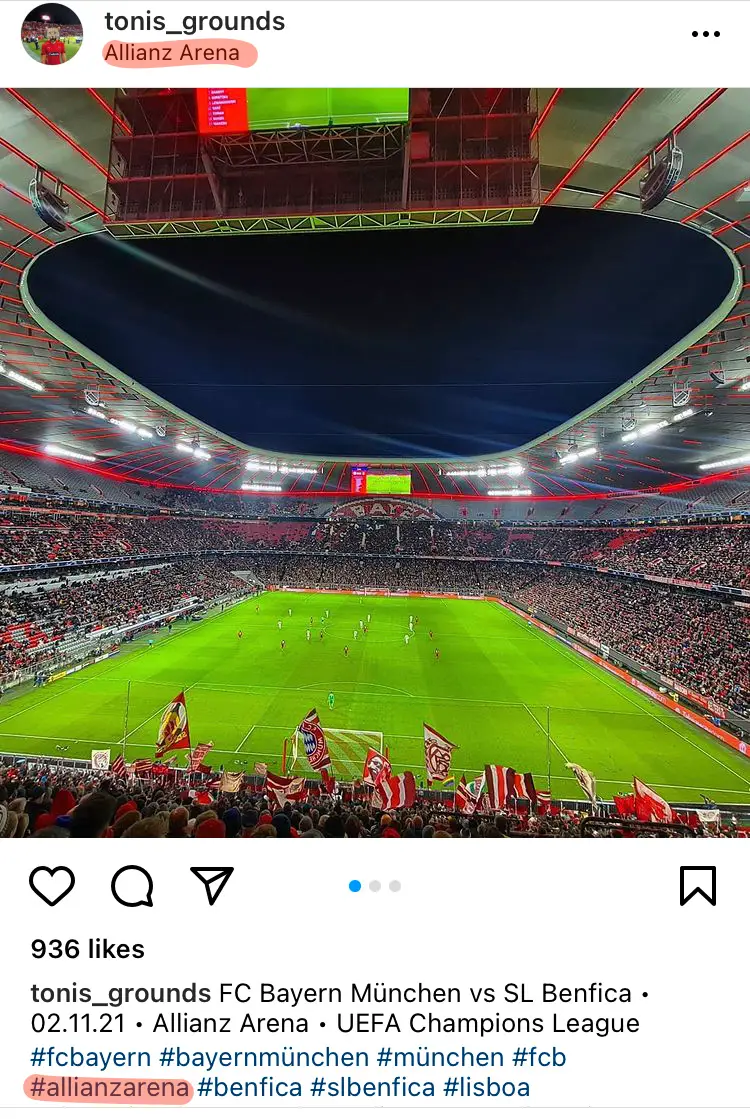 Photo Source: @tonis_grounds Instagram
Let's take the example of the Allianz Arena in Munich, Germany. The location information and a hashtag can be used to gain optimal reach.
Local businesses like cafes or painting companies can adopt this form of geotagging in their social media marketing.
Geotagging on Google My Business
Google My Business is your Google business profile for local and exact name searches. The GMB profile shows up on Google Maps, in the 3-pack for local search results, and on the right knowledge panel for exact business searches in the desktop browser.
Many theories say that geotagging increases the organic ranking of the GMB profile. You have the option to add photos to the profile. It is often claimed that geotagged photos increase the relevance for local search queries and thus promise a better rank. However, there is no evidence for this and on the contrary, there are some findings like Tim Kahler's case study to disprove the theory.
For local search results, proximity to a specific location plays the main factor. Therefore, marketers try to send more information to Google through geotagging and signal that they have a physical location where they have indicated it. But here's the sad truth, Google uses the address data in the profile to do this. You don't need additional geotags.
Instead, focus on proven Google My Business tips for local marketing.
Website geotagging for local SEO
Unlike Google My Business ranking, websites do not have a unique location via Google Maps pin. Of course, Google can understand through contact information and also strategically placed local keywords that a lawyer is located in San Francisco, for example.
The question is, does geotagging help the website rank higher in local SEO? Unfortunately, there is no clear answer. Geotags allow search engines to process more information through added metadata and thus, in theory, establish a better geographic connection between a local search query and a website.
Since this measure does not 100% ensure better SEO results, I would focus on the basics first and see geotagging as a bonus.
How do I add geotags to a website?
You can't geotag a website directly, you can only upload photos or videos with location data. For this to work, the files must first have the geographic data assigned to the metadata before uploading them to the website. There are websites and apps to help you with this process. Those services will add the GPS data of your mobile device or allow you to add external GPS data manually.
Another type of geotagging – although not defined as such – can be the embedding of the Google Maps location widget for example on the contact page.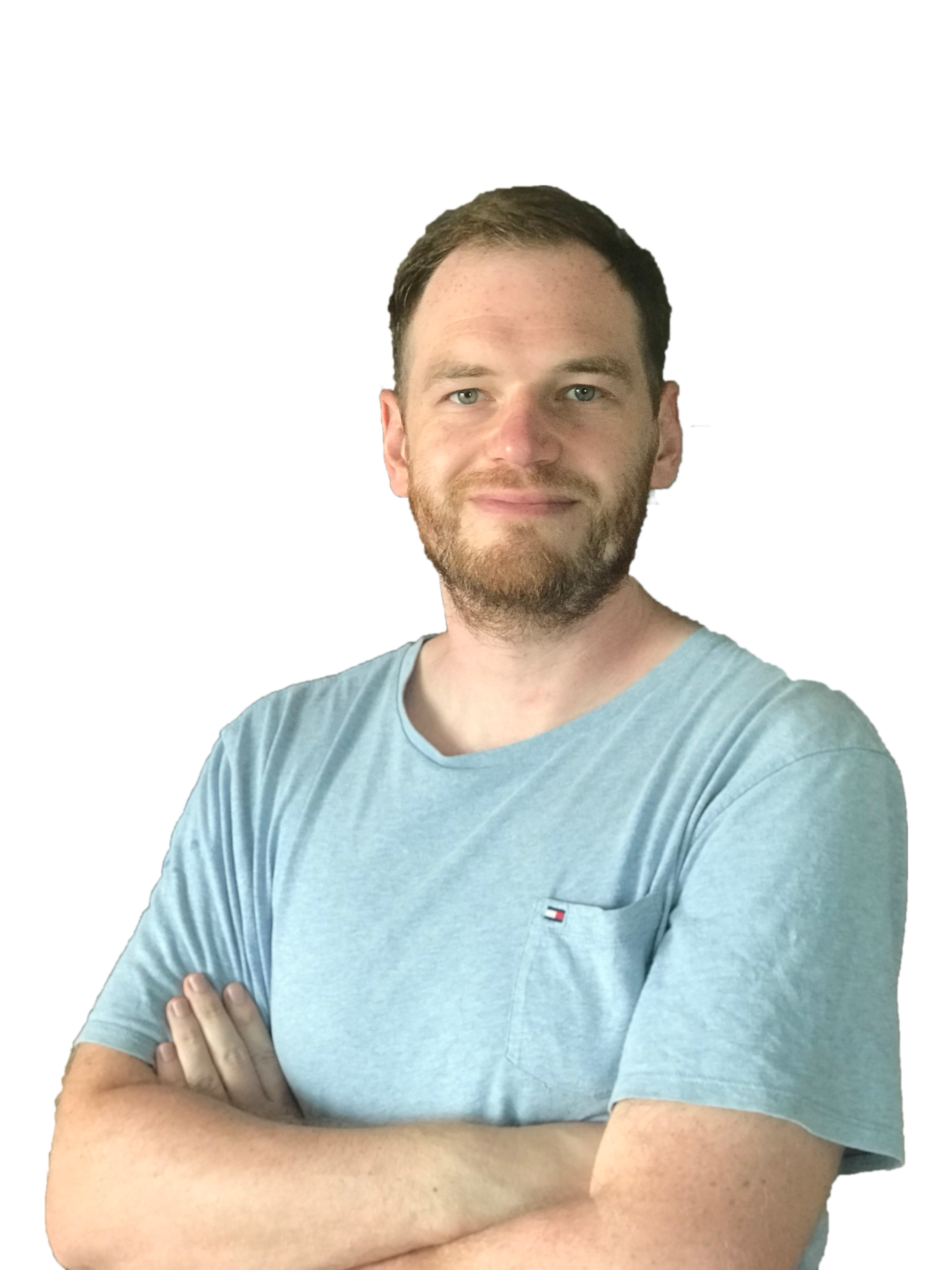 Sascha is a Lifecycle Marketing Consultant with over 8 years of digital marketing experiences in Silicon Valley, the UK, and Germany.
After leading the demand generation for a 100+ million company, he decided to venture out on himself. He's now helping clients to attract and convert more leads and customers.
His main focus are SEO, paid media & marketing automation – all with the focus to tie marketing campaigns to revenue.
Sascha has been featured in industry publications.