7 Local Business GMB Optimization Tips
Your local business needs a GMB listing
"Is GMB for me?", asks every small business owner. The short answer is YES. 
Google's own research indicated that 76% of local searches resulted in a store visit within 24 hours. More importantly, 28% of these searches resulted in a purchase. 
Before I jump in, let's define what Google My Business or short GMB is:
Google My Business is a tool provided by Google. It helps businesses to manage their online identity on Google Search and Google Maps. It helps local businesses to be found, promotes offerings, provides useful information like business hours, or a website link, and allows potential customers to engage with the business. Customers can call, message, navigate or leave reviews through Google My Business.
Do I need a Google My Business Account for my local business?
Simply put, GMB is a major traffic and lead source for local businesses. People are lazy and call the businesses they can easily find online.
Besides having an SEO optimized website to appear in the top searches, Google My Business listings appear in the top, right, and Google Maps, too. 
In some cases, it's even recommended to have a Google My Business listing for online shops.
(If you know all this skip ahead to the 7 tips to rank your GMB listing higher)
In this blog post, we will use the example of a local scuba diving center in Hawaii.
Where can my local GMB listing appear?
There are 3 areas where information about your business can appear:
1) The top – or for more accurate naming "3-Pack" – GMB search results
I just googled "Honolulu scuba diving" and the first I saw was Google Maps and the so-called 3-pack. The 3-pack is the top three Google Business rankings: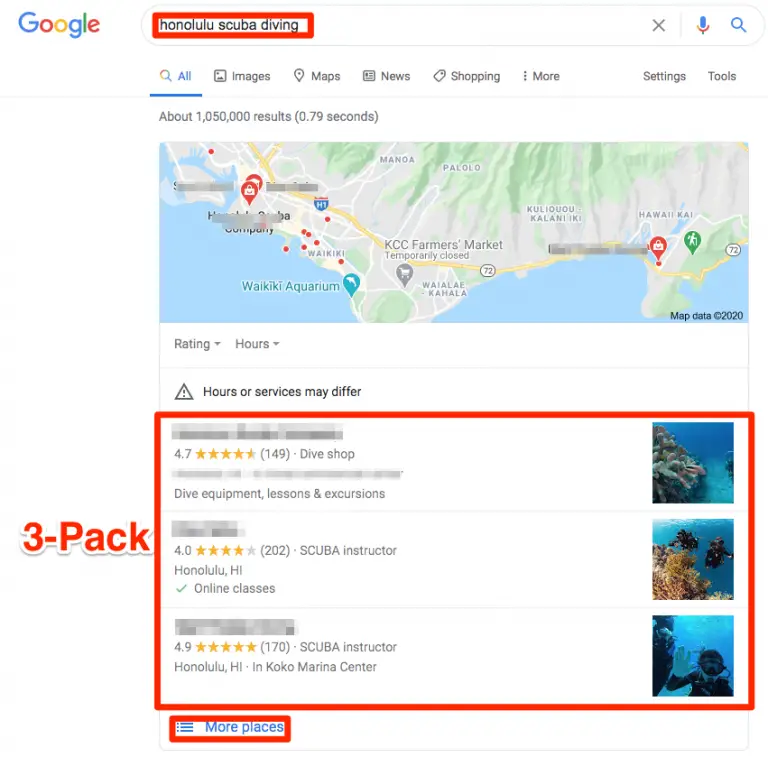 Google believes that these three search results are the most fitting for the search query. The 3-Pack is mainly displayed on mobile devices and in local SERPs. A local search usually contains a location like a city or neighborhood, as well as location parameters like "near me".
Please note, that there could be Google Advertising search terms above the Maps/GMB results.
Why should I be listed in the 3-pack?
In the map preview, you can see more than three places (red dots). One way to see these results is to click on the map or on "More places" just below the 3-pack.
This is equivalent to having your organic website ranked on page 2. People usually don't go that far. Your local marketing goal should be to be listed in the 3-pack.
An estimated 44% of all clicks are going through the 3-pack. Google Ads and the top organic results take the majority out of the remaining 56%. (Source: Moz)
Especially, on mobile devices, Google's search engine promotes products or services that are in close proximity.
2) The right, next to search results or for better references the actual Google My Business listing.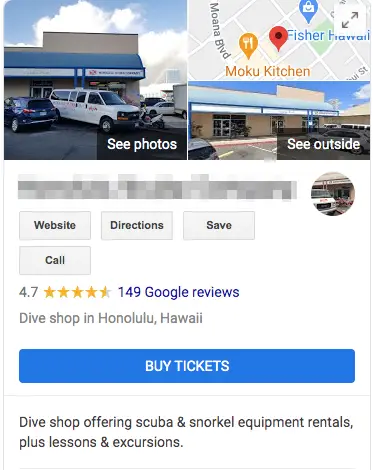 The GMB listing is the perfect place to share information about your local business: Location, phone number, operating hours, website, services you provide, special promotions you offer, and much much more.
The exact listing usually only shows up on the right-hand side for the exact company name search. Anyways, if your name is really related to the users' search term and Google believes they are looking for your business, you may show up.
The listing itself is also accessible when clicking on the name/link in the 3-pack or "more places" results. So even if just a small number of users see your direct result, you still want to optimize your Google Business listing. It's your company profile you want to keep updated and optimized. It's like your brick-and-mortar storefront.
3) Google Maps listing
This is your local business listing's biggest shot outside of the 3-pack to be seen. Not just on the map as a dropped pin but also on the left-hand side: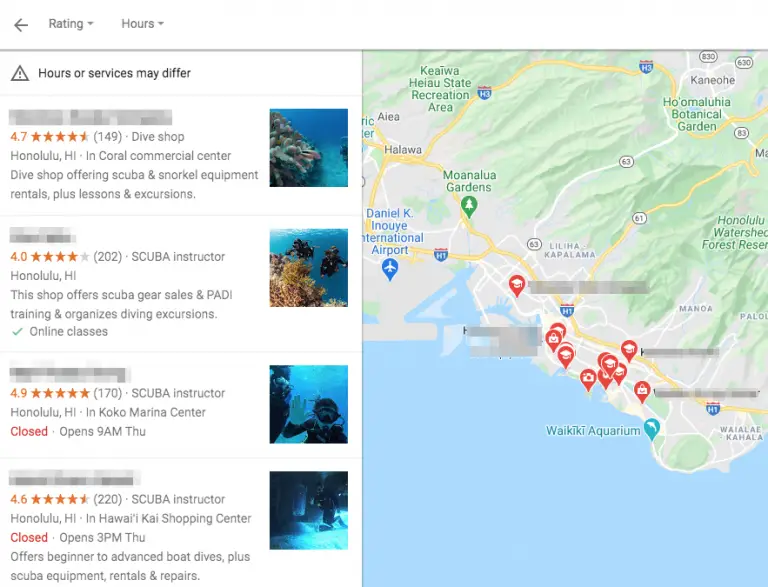 The left sidebar has many listings and pages, your local marketing goal should be to rank as high as possible.
Notice the different icons on the map? Those are symbols for different categories Google has to offer. This is the perfect segway to our first Google My Business tip.
7 Google My Business tips for local businesses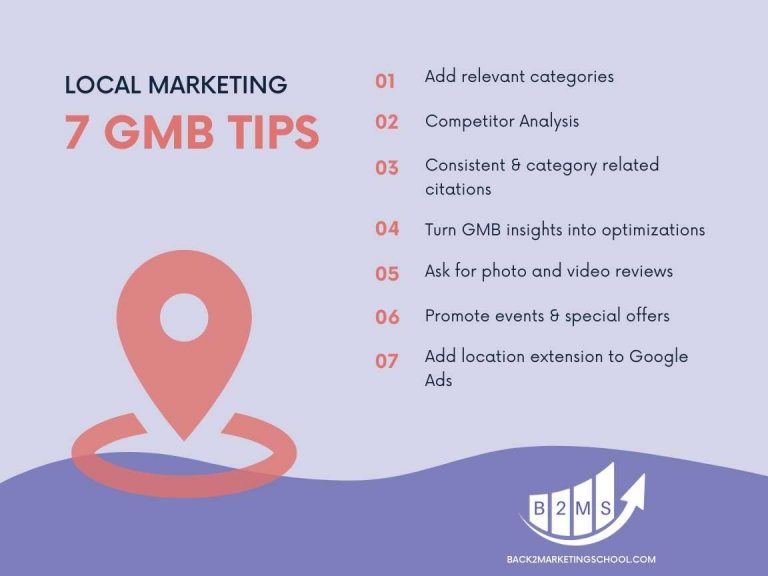 Tip 1: Categories
Pick multiple categories for your GMB listing.
You HAVE to choose a main category when creating your profile so Google understands what your business is about. Anyways, you can use multiple categories and Google releases more and more over time. Here is a quick snapshot as of this writing related to scuba diving:
Diving Center

Diving Contractor

SCUBA Instructor

SCUBA Tour Agency

Water Sports Equipment Rental Service

Outdoor Activity Organiser

Outdoor Sports Stores

Boat Tour Agency

Hunting and Fishing Store
Of course, some are very far from the main business but if the scuba shop offers boat tours or fishing trips as well, they may want to consider adding another category to set themselves apart from the competition.
The logic applies to other local businesses. In hotel marketing, there are many categories for accommodation providers. More, there are also related categories like cafe, restaurant, or wellness spa.
Tip 2: Competitive Insights
Watch your competition. A good horse only jumps as high as needed. But how do you know how high you have to jump? Look at your competition and see what they are doing. 
Do they all have hundreds of reviews and pictures? Do they have long descriptions? What's the tone of their writing? What contact options do they have – call, book a tour, send a message, click to the website?
Tip 3: Consistency and citations
There are many sites and lists where you can list your local business. For Google, however, it's important to match the NAP (Name, Address, and Phone Number). Treat the NAP as a unique identifier like your company's VAT number.
Many people don't pay attention to this. Hence, please, audit all listings and align the NAP. Tiny inconsistencies like writing the state name vs abbreviations (Hawaii vs HI), or two different phone numbers matter.
It's also recommended to be listed on the right citations.
Turn your penalization of messy citations into an opportunity. Every cleaned-up citation brings you a tiny step closer to the 3-pack. See them as backlinks to your GMB listing.
Tip 4: Analyze and use the GMB Insights
GMB has a whole Insights section available for your GMB profile. Take advantage of it. For instance, Google My Business Insights tells you how many calls you received, how many pictures have been viewed compared to similar businesses, and which search queries lead to profile clicks. 
You can also automate a Google My Business Dashboard export and send it directly to your inbox with a small trick.
It's one thing to know these insights, but yet another to take informed actions based on the findings. For example, if you see that people came to your listing for the search query "snorkeling" you maybe want to double down on the search term by adding more pictures related to snorkeling, include it in your profile description, and maybe even ask people for their experience. This brings me to tip number 5.
Tip 5: Ask for photos & videos instead of reviews
This works great for dive shops but also applies to other local businesses. Many divers take GoPros or other underwater cameras on their dive trips. Ask to share their most amazing picture on your profile. EVERYONE asks for reviews, but think about how powerful photos and videos of other divers could be. Sure, reviews are super important but people also like to get credit for their photos. Remember a picture tells a thousand words. 
Additionally, make sure to respond to reviews – good or bad.
Tip 6: Promote special offers or events
If you run a promotion like 2 for 1 or host a coral bleaching workshop, promote those in your Google Business listing. Those need to be updated regularly (usually every 7 days), but events and promos stay active if they have an expiration or event date.
And remember tip 4. Look at your insights after a promotion is over and see its impact. Learn over time what resonates best with your community and what should be promoted elsewhere like Social Media.
Tip 7: Add the location extension to Google Ads (if you run any)
This will allow your ads to be seen on Google Maps, the 3-Pack, and add an extension to your search ads. You can also get detailed reporting on the local ad extension with the Google Ads platform.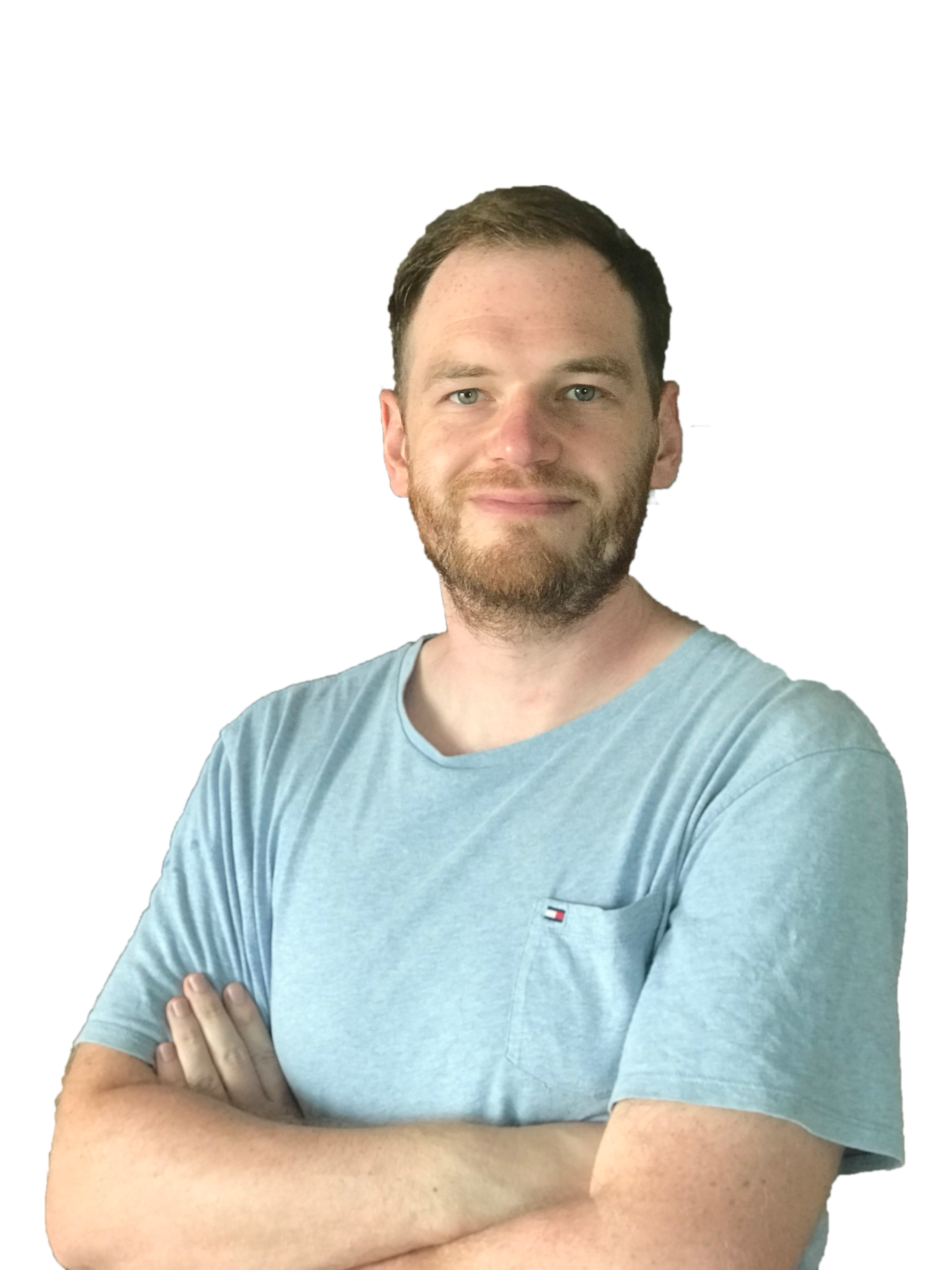 Sascha is a Lifecycle Marketing Consultant with over 8 years of digital marketing experiences in Silicon Valley, the UK, and Germany.
After leading the demand generation for a 100+ million company, he decided to venture out on himself. He's now helping clients to attract and convert more leads and customers.
His main focus are SEO, paid media & marketing automation – all with the focus to tie marketing campaigns to revenue.
Sascha has been featured in industry publications.