Google My Business Reporting Tool – Export Data via Email
You can export Google My Business Data via an API to Google Data Studios and subscribe to get updates straight to your email inbox.
How to connect Google My Business Reporting to Google Data Studio
Google Data Studio gives you the option to connect to your Google My Business Insights data via 3rd party API integrations:
In Google Data Studio create a new report -> 1) connect a new data source -> 2) Search for "Google My Business" -> 3) Connect one of the available Partner Connectors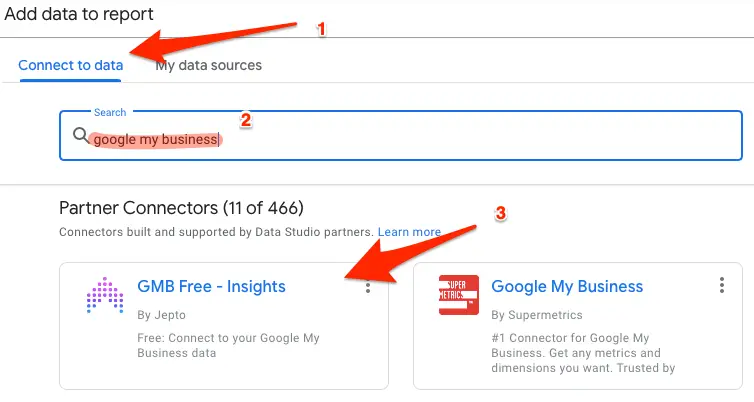 I used the first one "GMB Free – Insights". You can have up to 10 GMB profiles for free.
However, you need to create a connector ID with the developer Jepto and allow access to the API. Please, read the documentation and terms.
After clicking through, creating a connector token, and linking GMB as a data source you can export the data into the Data Studio reporting tool.
Build a Google My Business Reporting Tool in Data Studio
Now it's time to build the dashboard that's most useful for your marketing or client reporting.
Some common reporting metrics are how people found your Google My Business listing, like the number of times your GMB profile appeared in direct, branded, or discovery searches. Additionally, customer actions like phone calls, website clicks, Google Maps direction actions, and photo views are most reported. But you can customize reports that are most relevant to you.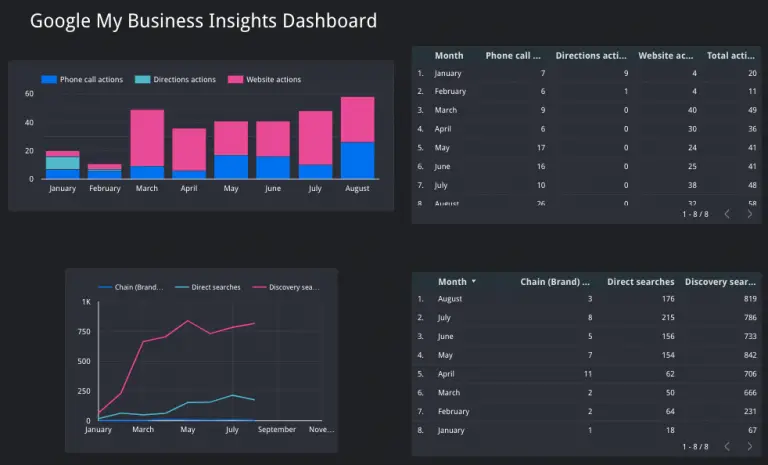 Export and Send Google My Business Insights via Email
You can share and export the Google My Business data as a pdf file or Google Data Studio link.
Also, you can schedule that Google My Business exports data automatically and send the GMB insights to your email inbox.
When editing the dashboard, navigate to the down-arrow next to the Share button.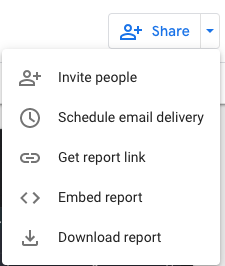 Schedule GMB Insights reporting to your email
In order to receive automated GMB data into your inbox, you need to "schedule email delivery".
You can customize the email delivery settings:
From name

Recipients

Subject line and message (optional)

Start date and time (when the first email report will be sent)

Cadence/Repeat: You can pick daily, weekly, monthly, every weekday, or custom. You may need to use custom if you don't want a daily or every weekday delivery because Data Studio picks the current day of the week and month as the weekly or monthly date. For instance, if you create the automated GMB data export on the 3rd Tuesday of the month, Tuesdays and the 3rd Tuesday of the month will be the recurring delivery default options.
GMB Insights Email Data Report
The dashboard will be displayed in the email body and a pdf export will be attached. Unfortunately, Google Data Studio cannot process the Google My Business data export as a CSV or Excel file.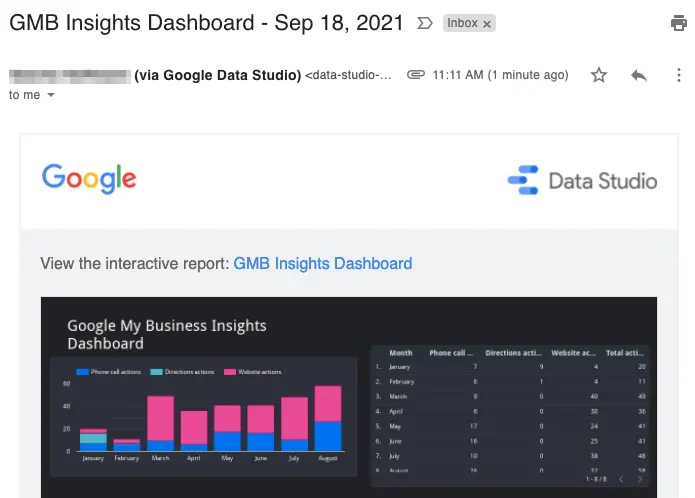 Important tip when creating the GMB report template
Our Google My Business reporting tool works fully automated and sends you and potentially your clients' exported data straight to your inbox. You theoretically only have to create and customize the Google Data Studio dashboard once.
However, for some reports, you may want to pick a specific date frame. If you pick a static reporting period in the individual charts the automated report will fail its mission. You need to make sure to either include enough time in advance or use rolling reporting time frames. For instance, use this year instead of January 1 to September 1.
This error is especially important for white label agency reports. You don't want to report not up to date map views, customer GMB actions, and other GMB results.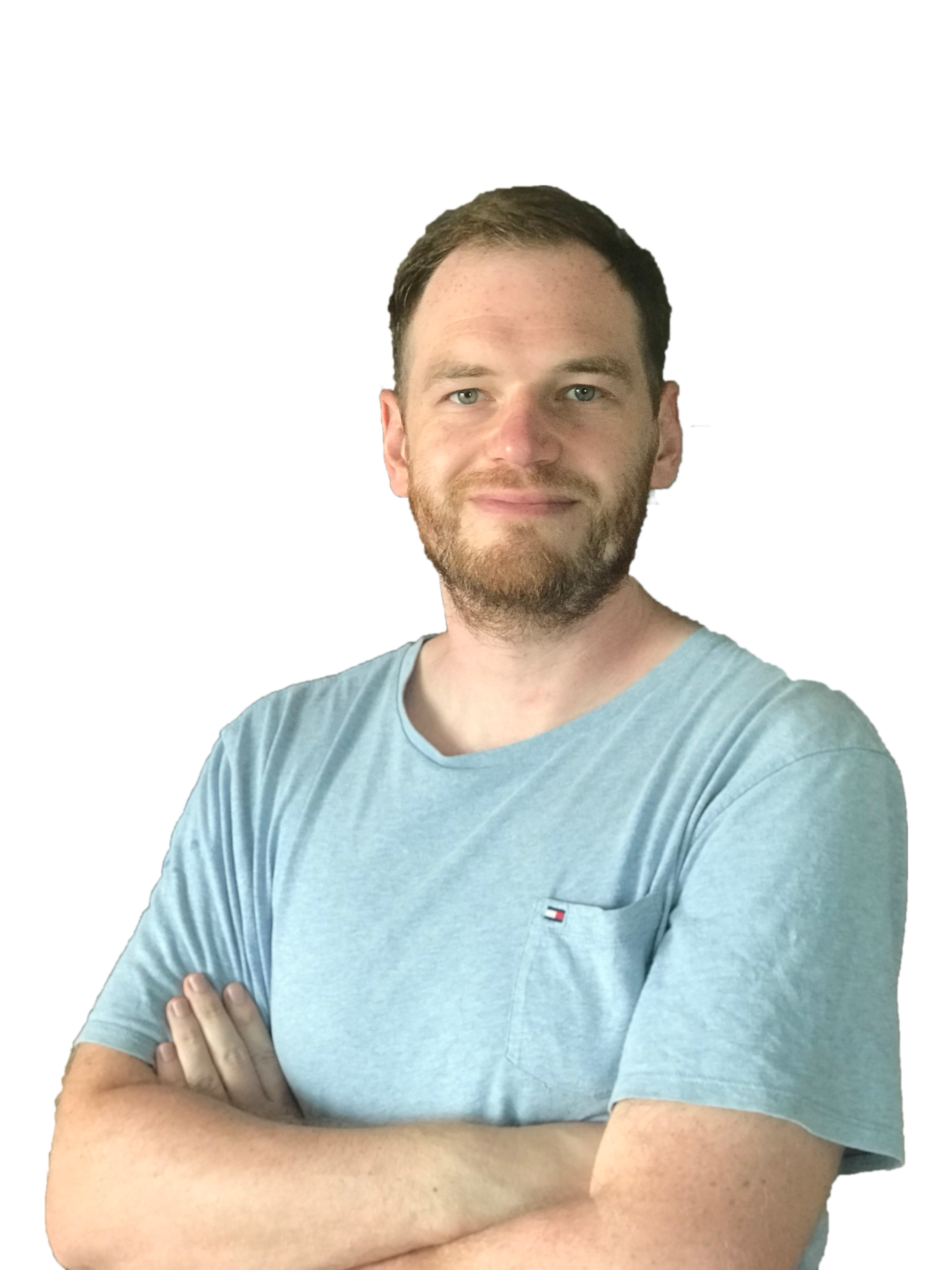 Sascha is a Lifecycle Marketing Consultant with over 8 years of digital marketing experiences in Silicon Valley, the UK, and Germany.
After leading the demand generation for a 100+ million company, he decided to venture out on himself. He's now helping clients to attract and convert more leads and customers.
His main focus are SEO, paid media & marketing automation – all with the focus to tie marketing campaigns to revenue.
Sascha has been featured in industry publications.