Why is Social Media an Important Part of Inbound Marketing?
This question is so important that HubSpot asks it in their exam:
(A) Social media is a one-to-one medium you can use to market in a direct, human way.
(B) Social media helps you reach millions of people in distant countries.
(C) Users have the best customer service experiences in social media.
(D) Social media has better advertising options than traditional media.
The correct answer is A – it's a one-to-one medium that lets you communicate in a direct, human way with your target audience.

Let's dig in a little deeper.
How does Social Media relate to Inbound Marketing?
Inbound marketing is a strategy that focuses on bringing customers to your business. It's based on the idea that it's more effective and efficient to put all of your time and energy into attracting customers than it is to spend time and money trying to get people who aren't interested in your products or services.
It's about focusing on the things that will make you stand out from the crowd, getting found by potential clients, and then converting them into leads.
Social media marketing is the use of social media platforms to promote a product or service. It's best practice to get your content in front of the right people for maximum exposure and engagement. Instead of traditional channels, communication can be bi-directional. Email, Advertising, and even Content Marketing are usually a brand talking to potential customers.
On Social Media, the table has turned. Smart brands understand to have a conversation through valuable content with their audience. How HubSpot says "Social Media is a one-to-one medium you can use to market in a direct, human way."
It's not enough to solely rely on search engine traffic to reach inbound marketing goals.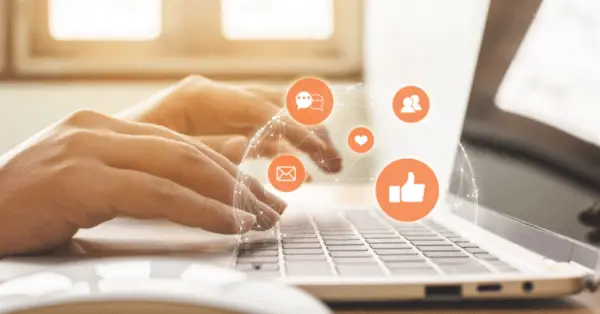 Best practices for Social Media Inbound Marketing
Social media has become an inevitable part of our lives. We use it to connect with people we care about, post updates on our daily activities, and share content that interests us. The social media channels that we use range from the more professional networks like LinkedIn to the more casual ones such as Snapchat and Instagram. There are plenty of channels in-between like Facebook or Pinterest.
The number of social media users is increasing day by day. This makes it difficult to ignore the importance of social media for business promotion. There are many strategies that can help you achieve your business goals on social media.
For example, Facebook has almost 2 billion active monthly users. That means if you're not using Facebook to promote your content like blog posts, then you're missing out on a large audience that could potentially buy from you.
There are plenty of benefits when using social media for digital marketing purposes. The most important one is that it's free and accessible for everyone in any industry. It also allows you to show a personal side of your company and build trust with your audience in a way traditional marketing efforts cannot do.
However, just because you can access each social platform easily, it doesn't mean you should market on all of them. Think first about your Inbound Marketing goals and target audience. Find the best social networks that align with these the most.
Align with Social Selling
Many sales teams actively practice social selling. Marketing and Sales alignment helps to support each other.  Marketing can drive engagement through social media posts that Sales can use to convert people to leads with direct communications.