Everything You Need to Know About LinkedIn Social Selling Index
LinkedIn isn't just a website to find jobs anymore. It's transformed into the top business social media platform in the world.
According to Statista, LinkedIn will have 828 million users by 2027. With all these recruits joining the platform, new opportunities to make sales are constantly opening up.
Because of this, LinkedIn has come up with the social selling index (SSI) to help its users measure their marketing efforts. 

What Is the Social Selling Index (SSI)?
The social selling index is a rating used to measure the impact of your interactions on LinkedIn with other users and brands in comparison with your peers. 
The score has four main components:
Establishing your professional brand
Finding the right contacts
Engaging with insights
Building relationships
Today, simple social media marketing is no longer enough to close deals. You need to use social selling and smarketing tactics to compete!
A high social selling index score means you're actively building relationships with your targets. It raises your chance of making sales in the long run.
Why Does Social Selling Index Matter?
According to LinkedIn, users with a high SSI have a 51% higher chance of reaching their quotas versus those with a low SSI.
However, the social selling index is merely a guide. It's valuable as an activity gauge, but it doesn't help you close deals.
Social selling leaders in various industries don't make sales because they have a high SSI. They get customers because they follow LinkedIn's social selling tips.
These actions organically raise their social selling index.
How Do I Find My Social Selling Index SSI Score?
The social selling index is a score provided in your Sales Navigator dashboard. Anyway, also non-subscriber can view their SSI here: www.linkedin.com/sales/ssi
What Is a Good SSI Score?
LinkedIn users get rated from 0 to 100. A good SSI score would be 75 and above. This score usually puts you in the upper percentage of people in your LinkedIn industry.
Is your SSI low? Don't worry. There are several ways to raise your score.
How to Improve Your Social Selling Index on LinkedIn?
There are four ways to boost your SSI according to LinkedIn. Here's what you need to do.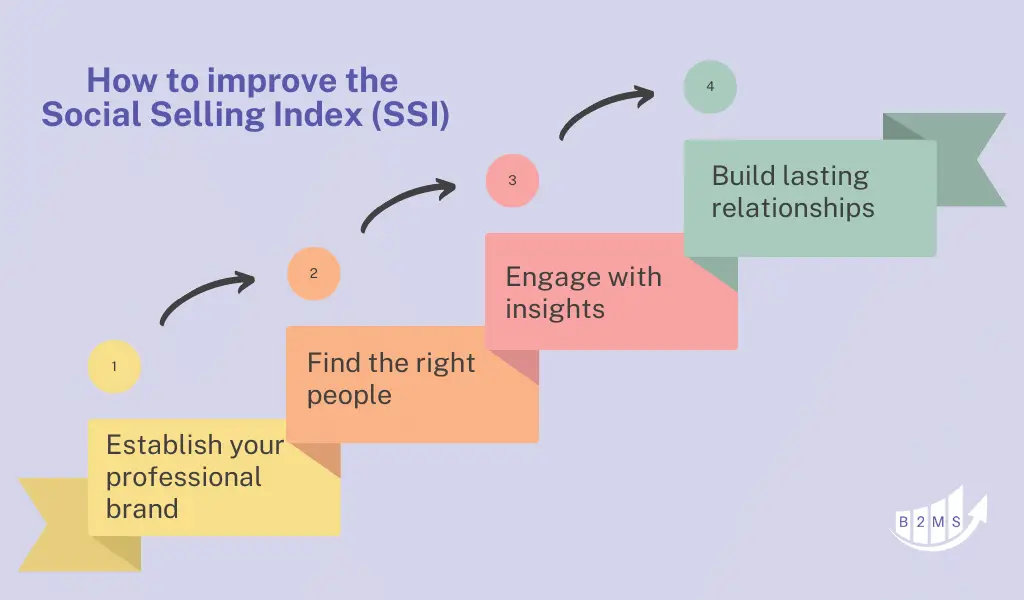 1) Establish Your Brand
Establishing your brand involves two steps. These are:
Build your LinkedIn profile
Publish posts to engage your audience
The first step means that you have to complete the information details on your profile. A good tip is to use keywords that increase your searchability. 
The second step is a bit more complicated. You'll need to make posts regularly throughout the week. According to HubSpot, the best time to post is Monday, Tuesday, and Wednesday from 12 noon to 9 pm.
Moreover, you should also consider following the 5:3:2 rule. It means that for every 10 posts you make, five should be shared content related to your field. In addition, three of your posts should be original content, while a couple should be more personal and fun.
2) Find the Right People
Finding the right people on LinkedIn means proactively reaching out to new prospects.
You can do this by buying the LinkedIn Sales Navigator to see who's viewed your profile. You will also notice, the more you post and interact with people, that your network grows organically. 
3) Engage With Insights
Engaging with insights means interacting with people on your feed – regardless if it's your own post or someone else. Comment, like, share, and message people that are active on LinkedIn. A good starting point is your own posts. Reply to comments and shares. You can also connect with people in that way and grow your network. 
4) Build Relationships
Building relationships with your audience can help strengthen your network. It's also important to keep the role and impact of your network in mind. LinkedIn says to improve the relationship component, you should establish trust with decision-makers. 
You noticed that the social selling index components build upon each other. It's a flywheel. The more active you are, the more will LinkedIn boost your posts and increase your reach. You will also appear in more searches. After all, it's in LinkedIn's interest to promote an active social network for business contacts. 
Best Practices for Social Selling on LinkedIn
In LinkedIn social selling, the best practices involve going beyond the usual social media marketing.
Be authentic with your engagements
Personalize messages to your audience
State facts to build credibility
Start conversations with your community by making meaningful posts
Don't be too salesy. Offer help and don't just pitch. If you are a trustworthy resource, social selling will become a well-oiled inbound marketing channel.
Benefits of Social Selling
Why should you do social selling? Some of the perks include:
It drives people closer to the action stage of your LinkedIn conversion funnel.
Social selling influences decision-makers in other companies to buy your products or services.
You get to establish your professional brand and become visible to more customers.
Personal branding also has benefits for the company, as they will be seen as a thought leader with great talent.
Social selling in a B2B environment
In B2B Marketing and Sales, the sales cycles are usually longer, and more people are involved in the decision-making processes. Social selling with people involved in the buying process can shorten the time and also impact the decision in your company's favor. 
It's also crucial to establish relationships with your Account Based Marketing targets. 
SSI FAQs 
What is social selling?
Social selling is a sales strategy that involves using social media platforms to connect, engage, and build relationships with potential customers. It leverages the power of social networks to identify, interact with, and nurture leads, ultimately leading to increased sales and revenue.
Rather than relying solely on traditional sales techniques, social selling emphasizes building meaningful and authentic connections with prospects. Sales professionals use various social media channels such as LinkedIn, Twitter, Facebook, Instagram, and others to share relevant content, engage in conversations, and address potential customers' needs and concerns.
The key components of social selling include:
Personal branding: Salespeople establish themselves as industry experts or thought leaders by sharing valuable content, insights, and expertise in their field.
Listening and monitoring: Social sellers keep track of conversations and activities related to their brand and industry to identify potential leads and understand their pain points.
Engagement: Instead of pushing sales messages, social selling focuses on meaningful interactions with prospects through comments, likes, shares, and direct messages.
Building relationships: Sales professionals work to cultivate long-term relationships with potential customers, nurturing leads over time rather than making immediate sales pitches.
Targeting the right audience: Social selling involves identifying, segmenting, and connecting with individuals or businesses that are most likely to be interested in the products or services being offered.
Providing value: The content shared through social selling is designed to educate, inform, and offer solutions to the target audience's problems.
What Does SSI Mean in Marketing?
SSI in marketing means building relationships with your audience in addition to promoting your products.
It drives sales up because customers know they can trust you to deliver the best services.
Conclusion
The social selling index is a great guide to building your LinkedIn profile.
SSI is a vital aspect of marketing, and there are many ways to increase your score. Raising it will give you an advantage over your competition.
We hope you'll follow our suggestions to boost your sales strategy, gain traffic, and enhance your services.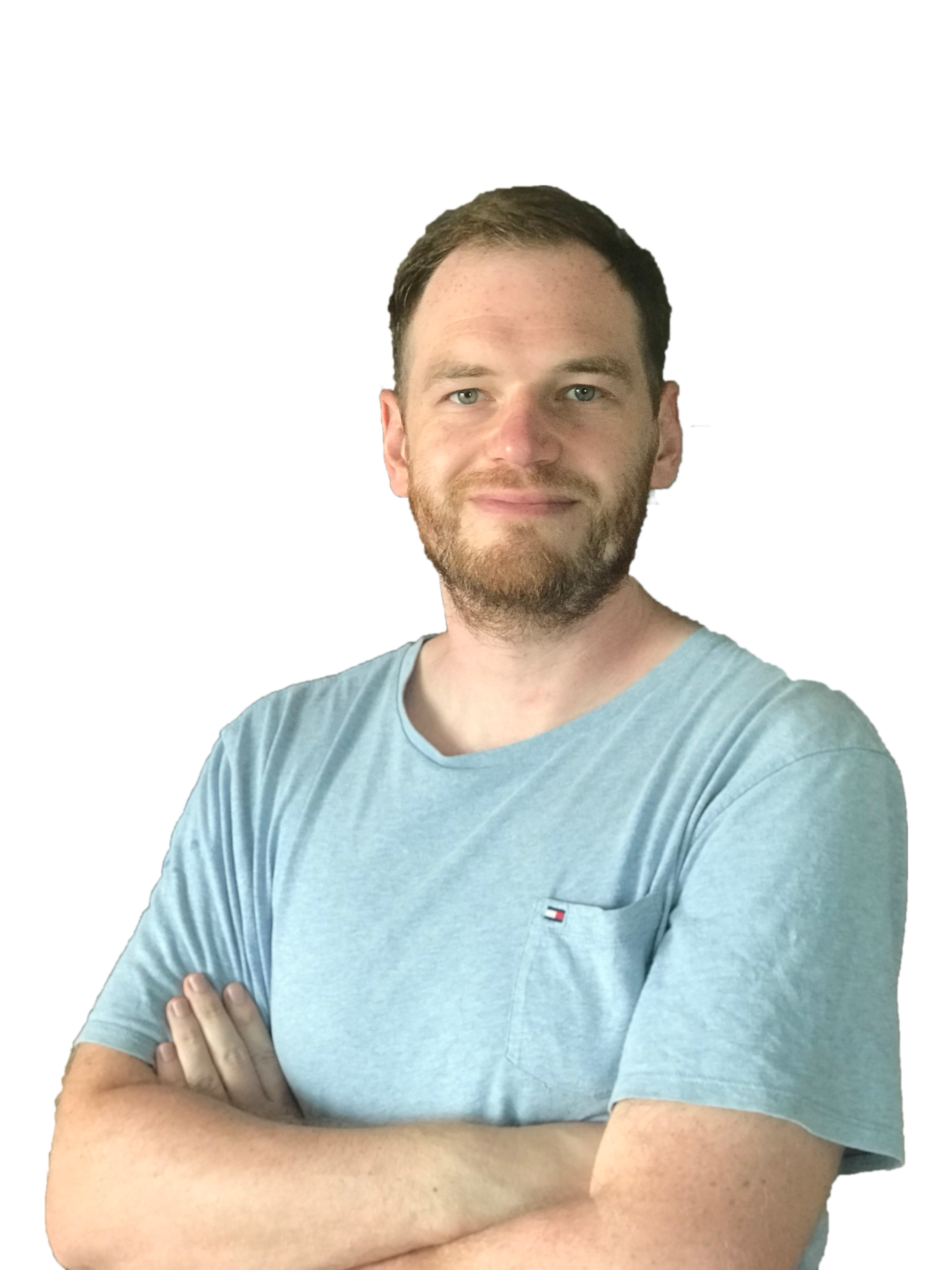 Sascha is a Lifecycle Marketing Consultant with over 8 years of digital marketing experiences in Silicon Valley, the UK, and Germany.
After leading the demand generation for a 100+ million company, he decided to venture out on himself. He's now helping clients to attract and convert more leads and customers.
His main focus are SEO, paid media & marketing automation – all with the focus to tie marketing campaigns to revenue.
Sascha has been featured in industry publications.