How to Do Affiliate Marketing on Pinterest
Most affiliate marketers use websites, blogs, YouTube channels, or TikTok to promote their offerings. Often overlooked – or just a tiny piece in your puzzle is Pinterest.
Pinterest can be one of the most effective marketing platforms for affiliate marketers. It's a platform you can use to learn about new products and brands, as well as find potential customers. In this article, we'll explain how to do affiliate marketing on Pinterest so that you can start earning money from your pins in no time!
Why is Pinterest Better Than Other Social Media Sites for Passive Income?
Pinterest is a great site for passive income because it has millions of users who want to share their interests with other people, whether it's fashion or food, or whatever else they are interested in. When you post content on Pinterest, you can make money from it by having other people click your affiliate links and complete a purchase. Pins also have a long-lifespan, other than Instagram posts or Tweets, for example, that disappear in the user feed after a short time.
The site had over 433 million monthly active users as of 2022, with over 240 billion Pins created. What's more, Pinterest has an average engagement rate of about 19 percent, which makes it an excellent place for affiliates to promote their products and services.
The best thing about Pinterest is that it's free to use. You can create an account and begin promoting your products or services right away.
From a marketing perspective, Pinterest also has its own platform which makes it easier for you to reach customers who are interested in products related to your niche. It also helps drive traffic back to your website where you can convert these visitors into sales leads or customers if they opt in for more information about your offerings.
But how do you get started? In general, there are two ways to promote affiliate links on Pinterest: With your own website or without a blog.
Promote a landing page on your website
If you're unfamiliar with the term, a landing page is a web page dedicated to one specific content offer, such as an eBook or free course. A landing page can be a stand-alone domain, part of your website, or living on a subdomain. When someone clicks on a link on Pinterest (or anywhere else), they are taken to your landing page.
Why do we need a landing page? Well, simply put: it helps us increase conversions! When people see exactly what they'll get and how much it costs when they click through from Pinterest, their interest will likely be piqued enough that they want more details and sign up for whatever it was that caught their eye in the first place. Here's where you promote your affiliate link.

Affiliate marketing on Pinterest without a blog 
How do you promote affiliate links on Pinterest without a website? Start creating Pins with affiliate links and direct potential buyers to the provided sales pages of your affiliate partners.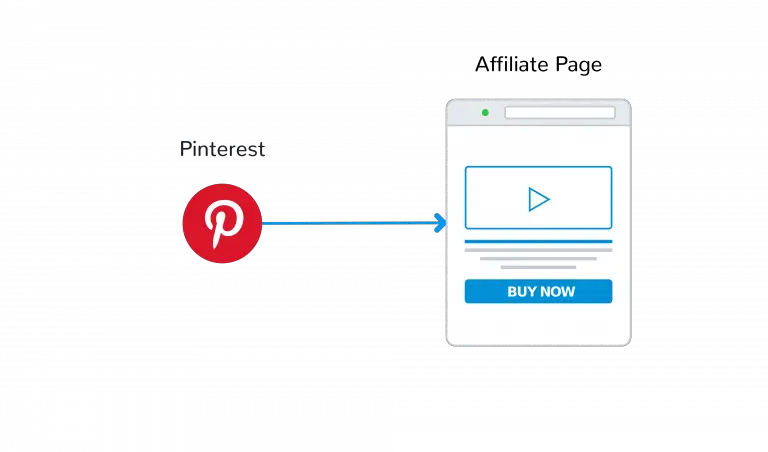 Just make sure to read the guidelines of your affiliate partners before applying this strategy. Some programs don't want you to use social media platforms, advertising, or email marketing to promote their affiliate links directly. If that's the case you need to leverage strategy number one and create a landing page that links to your affiliate offering.
Is it legal to promote affiliate links on Pinterest?
Yes, it's legal to promote affiliate links on Pinterest. This is not a violation of the platform's terms of service. However, check your affiliate partner's terms, too.
Pros and cons of promoting affiliate links on Pinterest without a website
Advantages:
Don't need a website, can start right away

Cheaper: don't need a domain, no hosting

Less work

Fewer conversion steps: Every time a user needs to take an action within a conversion funnel, there's a drop-off

Leverage already high converting assets: Your affiliate partners created already the sales pages and probably optimized them
Disadvantages:
No control over the sales page content

Can't build your own audience: If you create a landing page with an opt-in, you will collect email addresses. That can help you to promote that very affiliate offering, if they haven't purchased, up-sells, and other related affiliate products or services.

No differentiation: The most successful affiliate marketers create a special offering for themselves and give people a reason why they should use their affiliate link. For example, this could be templates or training on how to make the most of the purchase.
You don't have to use it one way or another. For example, you could start without your own website and later create one, if you see success. You can always test what tactic converts better, and ultimately earns you more affiliate commissions.
Pinterest Affiliate Marketing Best Practices
If you want to leverage the power of this website, you need to use it right. Here are some best practices for successful Pinterest (affiliate) marketing:
Keep up with the trends
Your first step to creating the perfect pins is to keep up with the trends, so you know what your audience is most likely to be interested in.
You can use Pinterest analytics and see what's currently trending. You can also use it as a tool for analyzing your own niche and seeing which topics are most popular. This is where Pinterest really shines: it allows you to easily find out what others are doing right!
Another great way to stay on top of trends is Google trends. You can find out when topics or keywords in your niche are trending, but also what current new trends are rising.
Join a group board that suits your niche
Group boards are a great way to promote your products and services. Groups are a great way to connect with other people who share similar interests, which means that you can find plenty of potential customers. Groups also allow you to learn about new products and services so that you can recommend them when relevant.
They are also an excellent way for people in your niche to get feedback on any new ideas or products that they're working on.
Lastly, they also help you to keep up with trends.
Create great visuals – obviously
Pinterest is a visual platform, therefore it's crucial to create appealing visuals. It's also important to find your branding. You want people to recognize your visuals. Being consistent is a huge part. That doesn't mean you can try new designs and experiment with colors but move gradually to new visuals.
Offer your own add-on
Promoting an affiliate link is one thing but really intensivizing someone to use yours is a completely different game. The best affiliate marketers offer an add-on to their affiliate product. This can be a special discount or additional content that helps the user after the purchase like online training, templates, or how-to guides.
This works best when you direct people from your Pinterest content to your website as a bridge page before you send them to the affiliate offering.
Pinterest SEO 
We all know Search Engine Optimization (SEO) to get more Google traffic, but in fact, every platform has their own algorithms to map results to search queries. YouTube has a complex algorithm to show and suggest videos, and so does Pinterest. Learn about Pinterest SEO and use it to be discovered and grow your profile.
One advantage about Pinterest SEO compared to website search engine optimization is that new Pins usually rank immediately. Especially, new websites are kept inside Google's sandbox and it can take months before you see results.
Interact with other users
Respond to comments

. While it may seem like a lot of work, responding to comments and engaging with other users is one of the best ways to build up your reputation on Pinterest.

Use hashtags.

In order to get noticed by more people, you need to be using

hashtags

—and lots of them! The more you use, the better chance you have of getting seen by new users.

Use boards for collections and topics that are specific to your niche or business model.

This will help you develop a

target audience

around those topics and make it easier for them to find your pins later down the road when they're looking for similar information or products themselves.

Use the Pin It button

when sharing links from outside sources so that those who click on these links will see what other Pinterest users have said about them.
Focus on the same or related products
Don't spread your content too thin. Focus on one product or very related products to promote. Your audience doesn't want to be spammed by affiliate offerings. They want to learn about the solution to a problem they have and don't mind the affiliate link. If you promote dog products, a B2B marketing course might not sit well with your audience – you get the point.
Promote your channel outside of Pinterest
Embed affiliate pins in your blog posts. This has two effects: One you promote your Pinterest profile, but also the affiliate link in a clever way. Because the click-through-URL of the Pin could still be the affiliate link.
Optimize your Pinterest profile
Pinterest users are looking for you, so you should make sure your profile is optimized.
To set up your Pinterest profile:
If you are willing to make it personal and show your face, add a profile photo that includes your face and looks professional.

Add a cover photo that shows off what you do or sell. Be sure to use the same logo as on other social media sites and media outlets.

Add a bio with keywords related directly to the products/services offered by your business and include links back to those pages wherever possible.
Pinterest advertising
After you know your conversion rates and nailed down your audience, it's time to test some paid promotions. Pinterest PPC advertising is a great way to reach additional audiences that are interested in your affiliate promotions. You just need to keep a finger on the pulse to always have a positive return-on-ad-spend (ROAS).
Conclusion
Affiliate marketing isn't the easiest thing to do, but it can bring in some serious revenue! The best way to start is by choosing a niche and finding products or services within that niche. From there, you will want to create content that connects readers/viewers with those products or services. 
Pinterest is a great way to promote images to engaged audiences within your niche. Another great advantage of Pinterest affiliate marketing is that you can start without your own website or blog.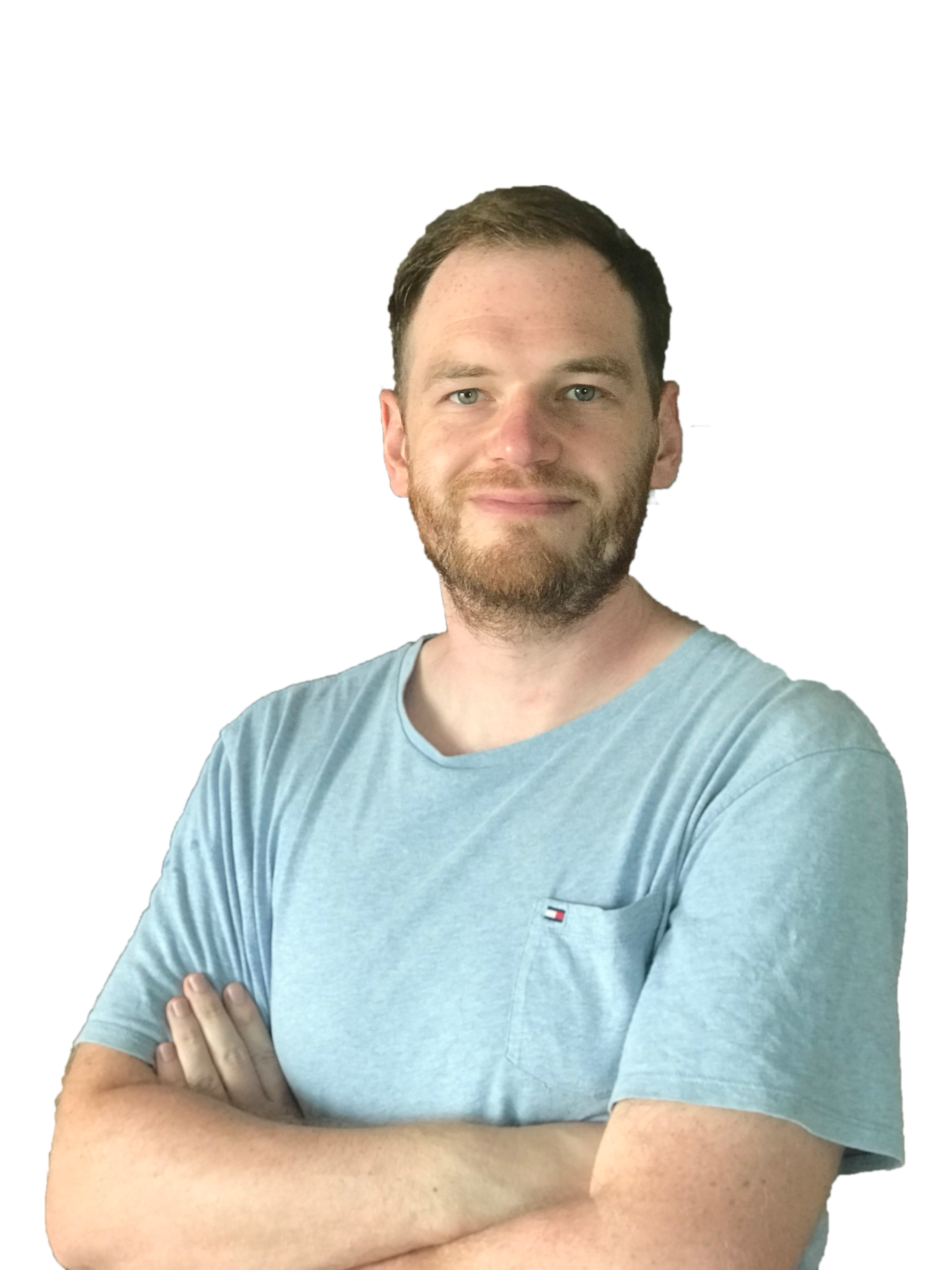 Sascha is a Lifecycle Marketing Consultant with over 8 years of digital marketing experiences in Silicon Valley, the UK, and Germany.
After leading the demand generation for a 100+ million company, he decided to venture out on himself. He's now helping clients to attract and convert more leads and customers.
His main focus are SEO, paid media & marketing automation – all with the focus to tie marketing campaigns to revenue.
Sascha has been featured in industry publications.