Increase conversion by 3x with Buyer Intent Marketing
Did you know that 94% of companies use intent data to meet their business goals? Moreover, buyer intent data can increase conversion rates by over 200%. This statistic only proves how well-sought-after buyer intent marketing is in the business world.
Now the question is, what makes this type of marketing so special? Let's dive deeper into the fundamentals of buyer intent marketing and how to use it for optimizing strategies.

What Is Buying Intent?
Buying or purchase intent refers to the likelihood of a customer buying an advertised service or product within a specified timeframe. This probability depends on how a consumer goes through the purchase decision stages, commonly known as the buyer journey.
When B2B marketers have access to buyer intent data, they can optimize strategies for new and existing services or products. It also allows them to boost sales and marketing performance by increasing conversion rates.
What Is a Good Purchase Intent?
Good purchase intent results from a customer yielding to conversion while being satisfied with the product or service they bought. Since analyzing B2B intent data considers the entire buying cycle, the customer's satisfaction after an evaluation is just as important as the purchase itself.
Customer satisfaction is the key driver in buyer intent marketing. That's why a marketing team must utilize satisfaction surveys to gain a competitive advantage.
The happier the customers are, the less likely they'll look for other brands or competitors.
How Complex Can a Purchase Decision Be?
A purchase decision's complexity highly depends on the customer's involvement in the decision-making process. In such cases, you also need to consider factors, such as:
Return on investment (ROI)
Cost of the product or service
Product durability
Usability of the product or service
Recommendations
Customer feedback
We refer to all of these put together as complex buying, and what makes it intricate are the risks involved in the process. The higher the customer's engagement, the more the mentioned factors matter.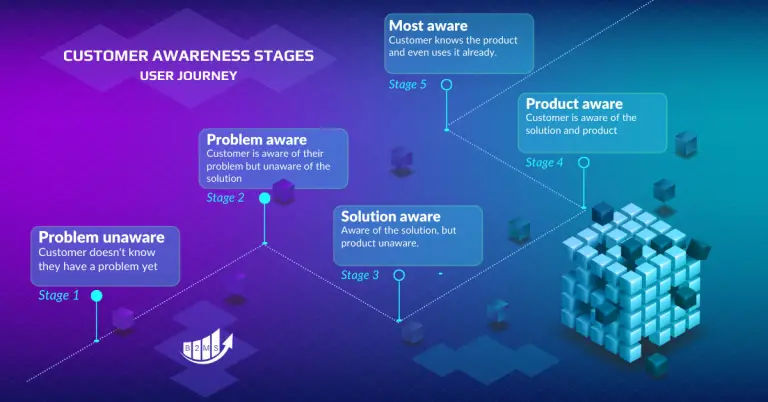 What Are the Different Stages of Buying Intent?
The different stages of buying intent are essential analysis tools for understanding your customer. 
These stages measure their level of awareness regarding pain points, your product, potential solutions, and your product's capability to solve their concerns.
These are the five stages you need to consider to understand buying intent:
Problem unaware: When a customer's unaware that they have a problem, and are usually not ideal marketing targets.
Problem aware: A customer who's aware of their problem but unaware of the solution.
Solution aware: A customer who's aware of the solution but doesn't know your product.
Product aware: When a customer is aware of your product but unsure if it's the solution to their problem.
Most aware: A customer who has a lot of knowledge of your product but needs more details and buying signals.
How Can We Identify a Customer's Buying Intent?
The buyer intent of a customer can be identified by different behavior patterns.
First, a distinction is made between first-party and third-party intent data:
First-Party Intent Data: a method of capturing intent data that occurs directly on the website through traffic, sales, engagement, and other marketing efforts.
Third-Party Intent Data: uses third-party software to collect intent data.
Online intent data can be collected through contextual signals. For example, when a user reads articles about a particular problem or even a solution. The higher and more salient this research is, the greater the chance that the buyer is now ready to buy. Bombora calls this surge, when online behavior increases with intent to buy.
In addition, there is also seasonal, weather, or local intent data. If someone is in a region for skiing in January, accident insurance or ski service advertising can be very successful.
How to Use Buying Intent in Your Marketing Strategy
Buying intent data helps marketers shorten sales cycles and retain B2B clients. It's a modern strategy of sales and marketing working together. While the data itself is already valuable, what matters most is how you incorporate it into a marketing strategy.
Here are four useful applications of buying intent to boost sales and marketing:
Locate relevant buying intent keywords your prospect uses and apply them to your SEO (search engine optimization) strategy to increase organic traffic.
Develop a lead scoring system to assign potential customers to where they're at in their buying journey.
Create blog posts, videos, and infographics based on the intent data to ensure they stay relevant to your prospects.
Implement trigger-based marketing automation when someone revisits your website, for instance, deploy an email follow-up.
Personalized sales promotions that are only offered to the right leads at the right time. In conjunction, artificial scarcity can be applied to limit an offer for a specific time.
Create sales battle cards in cooperation with the business development team, to address the real issues a lead is concerned about.
What Software Can Help Track and Analyze Purchase Intention?
Now that we know more about buyer intent marketing, let's look at some popular intent data providers. These are some of the most useful software programs that can help gather intent data and find prospects that are ready to buy:
Leadfeeder by Dealfront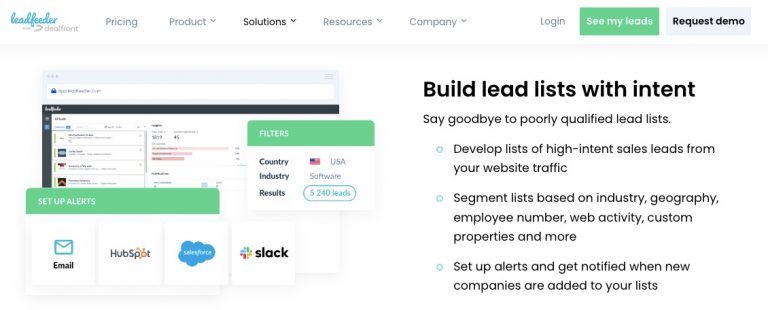 Leadfeeder helps companies identify B2B buyers that visit your website using their IP address. 
Once identified, the software matches the info with their contact database, allowing for data analysis.
This platform aims to reduce the time and budget spent on filling out traditional forms that have no conversion assurance.
Happierleads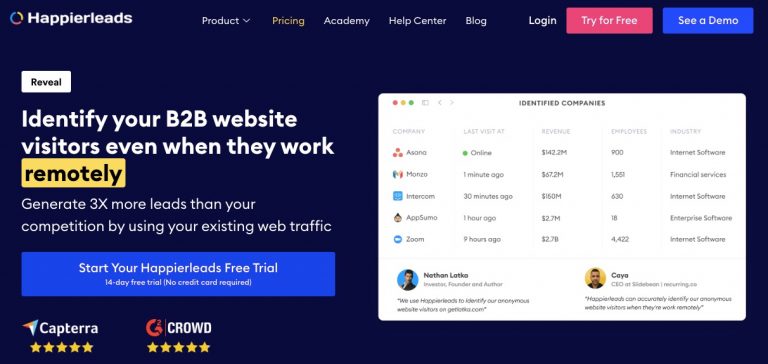 Happierleads boasts of tracking anonymous leads and prospects using IP addresses with the help of their enterprise network. However, this software doesn't follow the traditional way of tracking IP addresses.
Even if the website visitors work from home, they track the business domains of various platforms and match them with an employee's home IP address.
If you have privacy concerns, it's worth noting their data gathering doesn't include information such as names and email addresses.
ZoomInfo Intent Data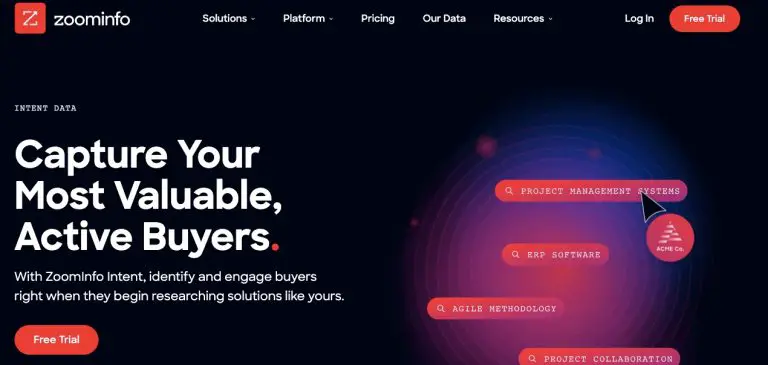 ZoomInfo helps turn B2B intent data into revenue by capitalizing on buying signals. The software utilizes an intent engine that tracks signals from over 300,000 publisher domains and multiple keyword-to-device pairings.
Bombora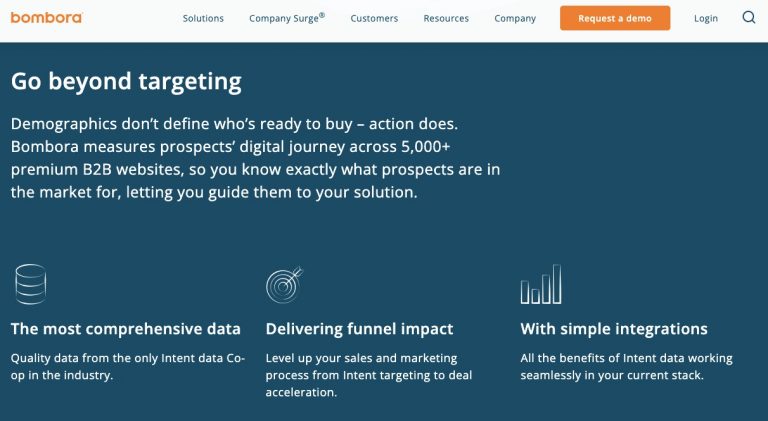 Bombora gathers fully consented data from the company's partnered B2B publishers to find leads and customers with the potential intent to buy. The software's cooperative system of intent data gathering captures signals from over four million unique domains.
Thanks to Bombora's coverage of recording buying signals, B2B marketers can focus more on evaluating content consumption.
Conclusion
Buyer intent marketing is an essential data source for understanding your customers better. 
With such a methodology, you gather intent data, turn the results into strategies, lead more prospects to landing pages, and increase the conversion rate.
It's a cycle that keeps giving to the business and its customers. Plus, the more useful data you gather, the better and faster the cycle's rotation will be.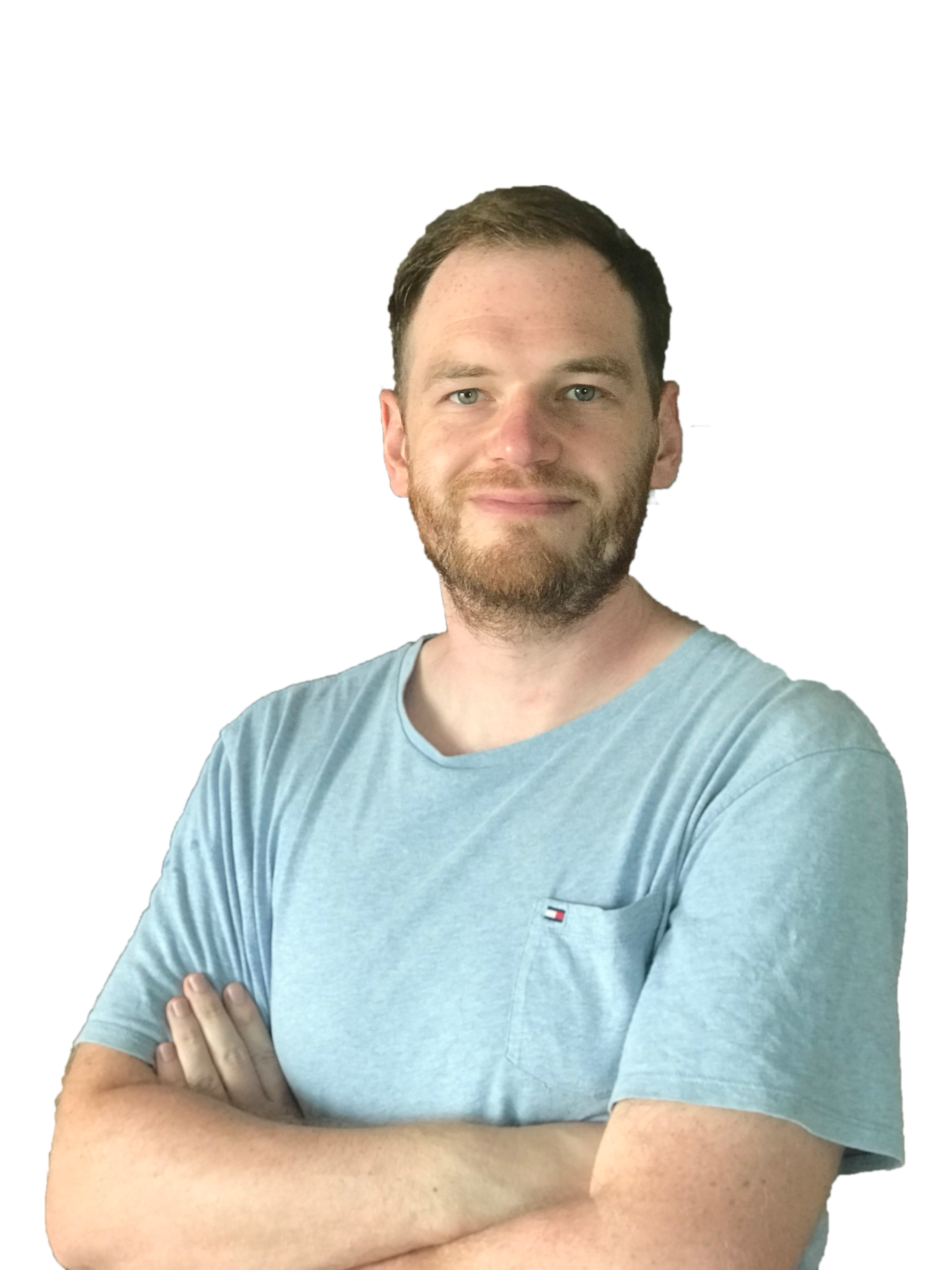 Sascha is a Lifecycle Marketing Consultant with over 8 years of digital marketing experiences in Silicon Valley, the UK, and Germany.
After leading the demand generation for a 100+ million company, he decided to venture out on himself. He's now helping clients to attract and convert more leads and customers.
His main focus are SEO, paid media & marketing automation – all with the focus to tie marketing campaigns to revenue.
Sascha has been featured in industry publications.