Leadfeeder vs Lead Forensics: Which One Should You Choose?
Intent data providers are software platforms that collect and analyze data signals from visitors' online behavior and activity to identify buying trends and patterns.
Two of the most widely used buyer intent data providers are Leadfeeder and Lead Forensics. But how do you decide which one to use?
This is where our Leadfeeder vs Lead Forensics comparison comes in! Keep reading as we put their features head-to-head to determine the winner.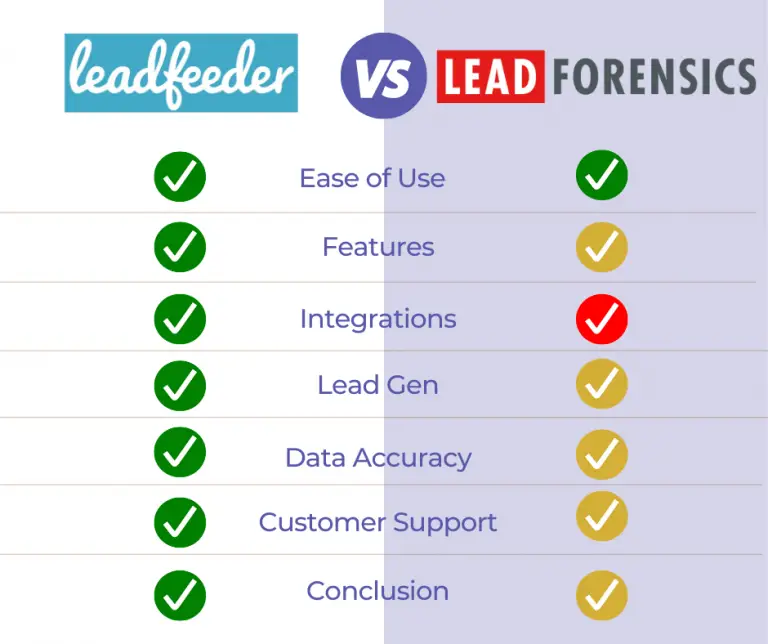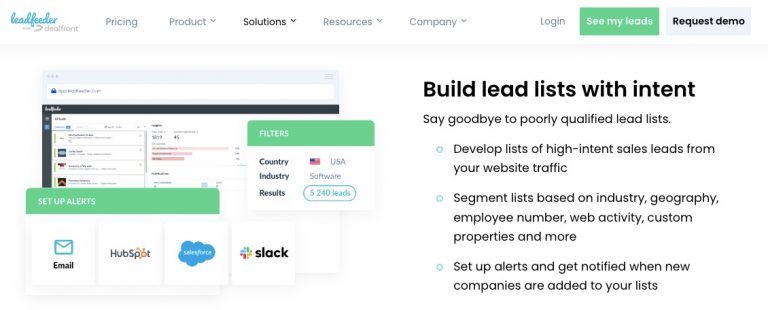 Leadfeeder is a feature-rich lead generation platform that reveals the names of companies visiting an organization's website. It can access anonymous traffic information and match dynamic/static IP addresses via its database.
It helps you save time otherwise spent assessing inbound leads, so you can focus on creating marketing strategies tailored to leads that are more likely to complete a purchase.
Leadfeeder provides GDPR-compliant intent data and offers a wide range of tools that serve to pinpoint potential prospects such as a lead scoring system, a contact management outline, and traffic-driven reports.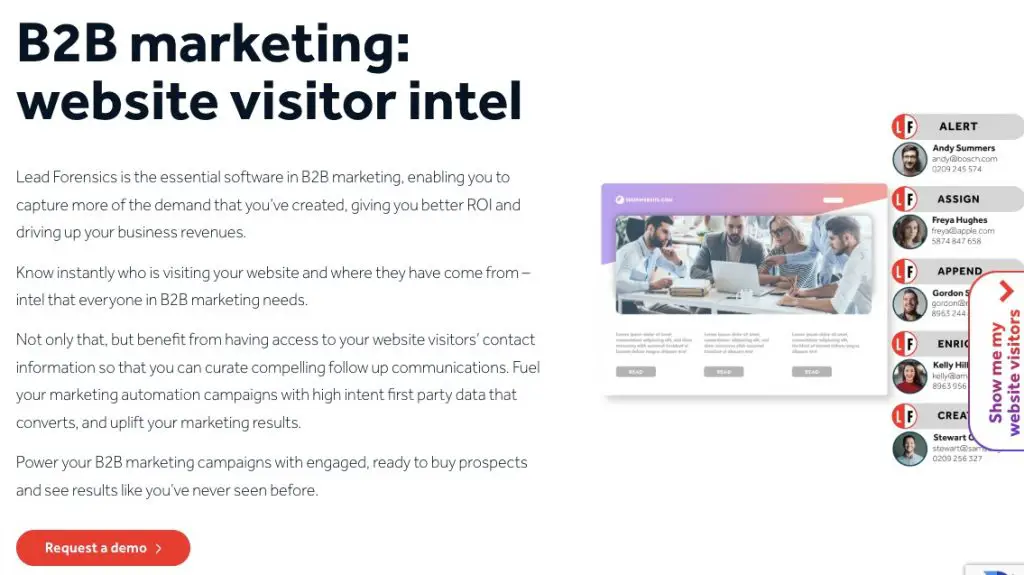 Based in the United Kingdom, Lead Forensics is a software platform that specializes in web analytics and lead generation. It aims to help businesses turn anonymous B2B website visitors into actionable sales opportunities.
Lead Forensics provides real-time identification of potential prospects with deep insight into customers' online buying behavior.
Its segmentation capabilities and analysis features enable companies to develop personalized communications for target accounts and instantly start sale-driven conversations.
| | | |
| --- | --- | --- |
| Feature | Leadfeeder | Lead Forensics |
| Ease of Use | 4.5/5 | 4.5/5 |
| Functionality | 4/5 | 3/5 |
| Integration | 4.5/5 | 1/5 |
| Lead Generation | 4.5/5 | 3.5/5 |
| Data Accuracy | 4/5 | 3/5 |
| Reporting | 4.5/5 | 4/5 |
| Customer Support | 4.5/5 | 3/5 |
| Value for Money | 4/5 | 3/5 |
Feature Comparison
Let's take a look at the main features of each tool to see who has the edge.
Functionality
We can evaluate the functionality of an intent data provider by examining the number and range of features it offers.
Leadfeeder is much more extensive with more than 70 working features. On the other hand, Lead Forensics has around 37 features to offer.
As such, it's not a surprise to learn that Leadfeeder has features that don't exist in Lead Forensics including:
Buying intent keywords tracking

Campaign analytics

Conversion rate optimization

Customer journey mapping

Customizable reports, fields, and templates

Engagement and pageview tracking

Dashboard creation

Lead verification

Referral tracking

Target account identification

Website analytics
Winner: Leadfeeder
Integrations
This feature allows you to sync the intent data provider with marketing tools you're already using for more convenient access and implementation of information into campaigns.
Leadfeeder offers 11 integration options, including Slack, HubSpot CRM, HubSpot Marketing Hub, Mailchimp, Salesforce Sales Cloud, Google Analytics 360, and Pipedrive. For all other integrations, Zapier can be used.
Lead Forensics, on the other hand, supports only 3 native integration: Salesforce, Microsoft Dynamics, and HubSpot. With the help of Zapier, users can integrate to over 60 of the most common marketing tools.
Winner: Leadfeeder
Lead Generation
Both Leadfeeder and Lead Forensics support lead generation by pushing data from your website traffic to your dashboard, so you never miss a potential customer.
Both tools offer lead capture, database integration, management, notifications, nurturing, qualification, and segmentation.
But only Leadfeeder features lead verification, so it takes the lead.
Winner: Leadfeeder
Data Accuracy
Leadfeeder and Lead Forensic provide intent data based on customers' online activity.
With such information, your sales and marketing teams can refine their strategies to serve true lead needs and generate sales for your business.
When it comes to accuracy, Leedfeeder is more reliable thanks to its robust integrations and database.
Winner: Leadfeeder
Reporting
Actionable reports are crucial for effective buyer intent marketing. Luckily, both Leadfeeder and Lead Forensics offer real-time reporting, high-quality reporting analytics, and web traffic reporting.
However, only Leadfeeder features customizable reports and summary reports.
Winner: Leadfeeder
Customer Support
Leaderfeeder and Lead Forensics both offer customer support via email, chat, video tutorials, and a knowledge base. While Leadfeeders features FAQs and forum sections, Lead Forensics has phone support.
That said, most Leadfeeder users report positive customer support experiences, whereas most Lead Forensics users report poor customer service.
Winner: Leadfeeder
Price Comparison
Now, let's take a look at the prices of each intent data software.
Leadfeeder Costs
The premium plan starts at €139 per month with a 2-week free trial.
Leadfeeder also offers a lite version that you can try free of charge for an unlimited time to test what this tool can do for your business.
Lead Forensics Price
Since Lead Forensics doesn't offer a list of prices on its website, you'll need to reach out to get a quote for your company. You can benefit from a free 2-week trial, but only if you register for a demo.
Now that you're familiar with the features and prices of Lead Forensics vs Leadfeeder review, let's wrap this comparison up with the advantages and drawbacks of these intent data providers.
Produces effective engagement-based reports

Workflows are easy to use

High data accuracy

Wide range of integrations

Excellent customer service
Contact information could be more detailed
Real-time updates

Consistent notifications

The dashboard is easy to navigate
Doesn't tell you who exactly visited the website

Limited visibility of referral search engines and search strings
Wrapping Up
So who's the winner of this Leadfeeder and Lead Forensics comparison?
Although both options perform well, our vote has to go to Leedfeeder since it comes out superior in just about every aspect!
It's more functional, integrates with more marketing tools, and offers excellent customer service. Not to mention, it has lead verification and more accurate data.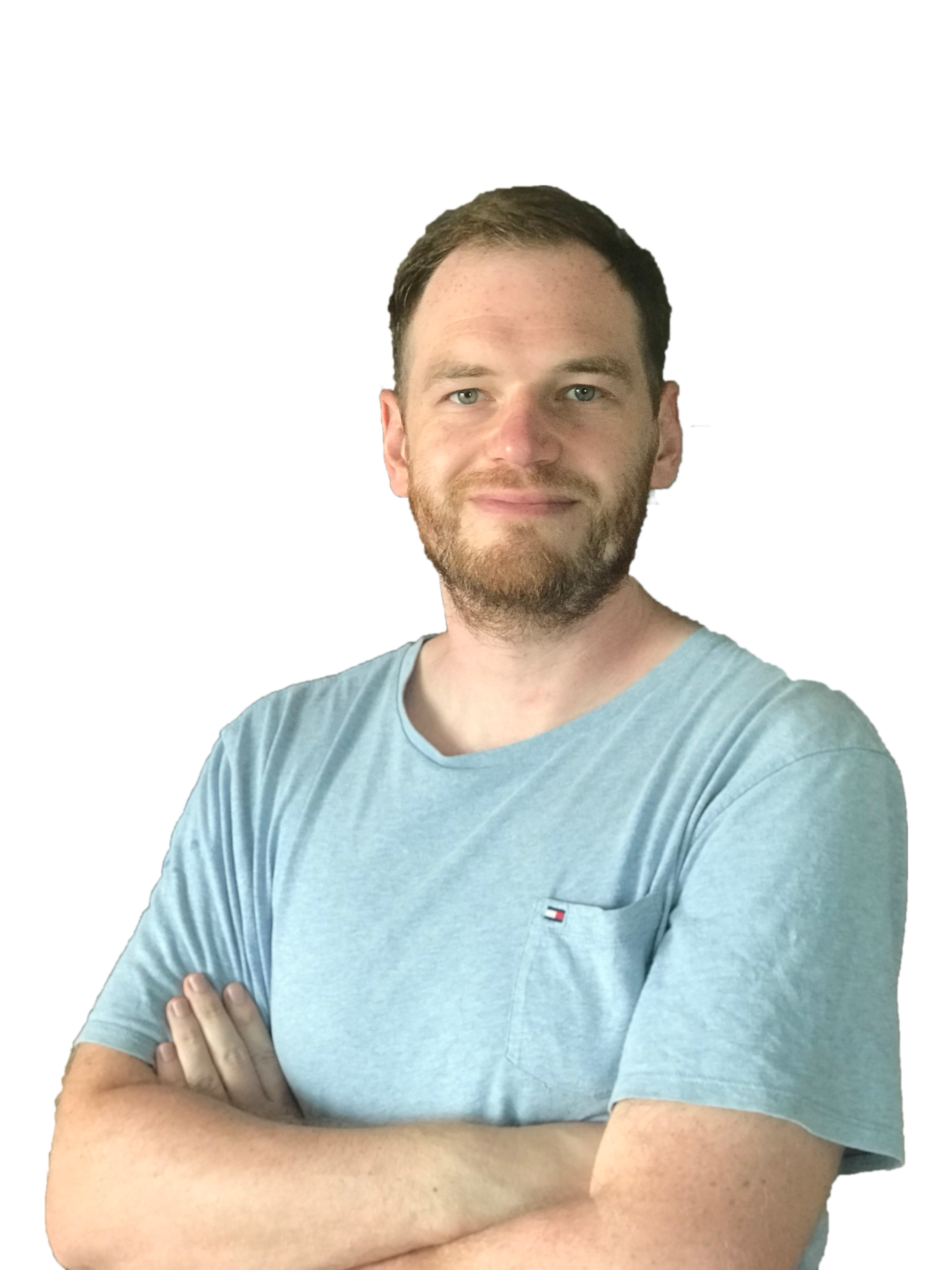 Sascha is a Lifecycle Marketing Consultant with over 8 years of digital marketing experiences in Silicon Valley, the UK, and Germany.
After leading the demand generation for a 100+ million company, he decided to venture out on himself. He's now helping clients to attract and convert more leads and customers.
His main focus are SEO, paid media & marketing automation – all with the focus to tie marketing campaigns to revenue.
Sascha has been featured in industry publications.