Harness the Power of the W-Shaped Attribution Model to Boost Sales
Unraveling the complex pathways of revenue attribution is no small task. We can gain insight into which campaigns are more effective than others through marketing attribution models, one of which being the W-shaped model that helps us to better comprehend customer behavior and optimize performance.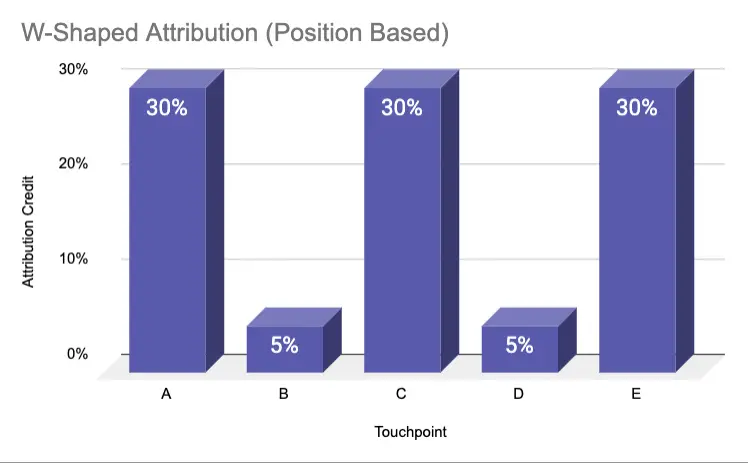 What is the W-shaped attribution model?
The W-shaped position-based multi-touch attribution model uses multiple marketing interactions to track conversions over multiple touchpoints. This model ensures that the customer journey is accurately tracked and analyzed in order to determine which campaigns or channels are responsible for driving sales.
Let's break down this mouthful sentence by analyzing it backward:
Multi-touch attribution model

: It's a model that attributes revenue to multiple marketing touchpoints within the customer journey.

Position-based

: The amount of credit each touchpoint gets is based on its position in the buying journey.

W-shaped

: The form of attribution graph. The majority of the revenue attribution is allocated to the first, middle, and last touchpoints in the customer journey.
The W-shaped attribution model takes into account all the activities a customer engages in during their buying process. It looks at various touchpoints such as initial brand exposure, website visits, email and advertising campaigns, and more. This model's main focus is on recognizing the impact of each of these touchpoints in a customer's journey from awareness to purchase, helping marketers better understand how they can optimize their strategies for maximum results.
How does the W-sharped attribution model work?
The W-shaped position-based multi-touch attribution model attributes the majority of revenue to the first and last touchpoint and the most important middle touchpoint. Each of these three steps receives a 30% attribution credit. The remaining 10% is split between all other touchpoints.
This could look like this:
30% Lead generation

30% Opportunity generation

30% Becoming a customer

10% Nurture steps in between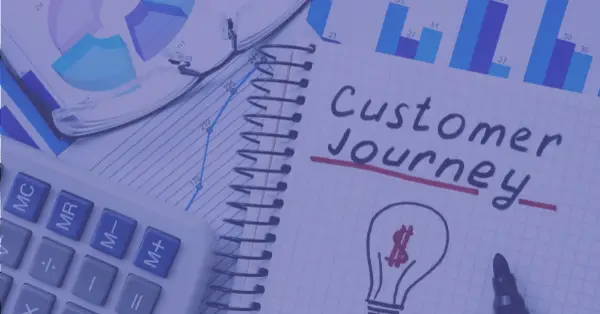 Example of W-shaped attribution
Let's assume someone clicks a LinkedIn ad and downloads an e-book of a B2B-software company. The user becomes a lead for the software company. Later, the lead researches the company and visits the website directly. After doing more thinking, the lead is ready to learn more about the problem and looks up software solutions. A Google Search ad directs her to our company and she submits a demo request form. The sales team now generates an opportunity.
The lead also receives a very insightful email from the company after some meetings. Lastly, a case study provided via another marketing channel converts the lead into a customer.
The attribution regarding the W-shaped model looks like this:
30% LinkedIn ad content download

5% Direct website visit

30% Google search ad demo request

5% Email marketing campaign

30% Case study
Benefits of W-Shaped Attribution
By providing insight into the customer experience from start to finish, you can ensure that each touchpoint is carefully considered and given its due credit should a prospect convert into a paying customer. It's wise to recognize these individual moments, as they are integral in driving successful conversions.
The W-shaped attribution model's math makes it easy to apply, so you can easily insert the desired attribution split and uncover key moments in your buying journey. This efficient method allows for the optimization of marketing strategies based on what has been proven to be successful, by emphasizing crucial touchpoints.
Disadvantages of the W-shaped attribution
Even though W-shaped attribution models take multiple touchpoints into consideration, they are still relatively simplistic. This attribution model assumes a set conversion path – becoming a lead, an opportunity, and then a customer. Sometimes those steps are not 100% distinguished. There might not be a crucial middle touchpoint.
Additionally, the W-shaped attribution model doesn't take the time horizon into account when the interaction occurs.
Depending on the setup and company's definition, it could also be another sequence of events like overall first touch (without lead generation), then lead generation and opportunity creation as the third-most-important step. While this focuses on the very first touch, it doesn't recognize the last touch before becoming a customer. If we were to eliminate the opportunity creation step and swap it for the customer conversion step, we miss another key moment.
Comparison of attribution models (with an example)
In order to better understand the W-shaped attribution, we also need to see the impact of other models. For better illustration, we will use the same example as previously.
(If you need a refresher on how each of the models works, check out our marketing attribution guide)
| | | | | | |
| --- | --- | --- | --- | --- | --- |
| Touchpoint | LinkedIn ad content download | Direct website visit | Google search ad demo request | Email marketing campaign | Case study view |
| First Touch | 100% | 0% | 0% | 0% | 0% |
| Last Touch | 0% | 0% | 0% | 0% | 100% |
| Linear | 20% | 20% | 20% | 20% | 20% |
| U-Shaped | 40% | 6.7% | 6.7% | 6.7% | 40% |
| W-Shaped | 30% | 5% | 30% | 5% | 30% |
| Time Decay | 5% | 10% | 15% | 30% | 40% |
| Data-Driven | 15% | 5% | 25% | 20% | 35% |
Clearly, each attribution model assigns drastically different credit to channels or campaigns. It will be up to us marketers to learn how best to interpret and apply the data gained from these models in order for any real performance improvements within our marketing initiatives.
When to use W-shaped attribution (and when not)?
B2B organizations with a predictable funnel that their prospects typically go through can greatly benefit from W-shaped attribution models. The model emphasizes the most significant points of contact in the buyer's journey. Especially, a clear path where lead generation, opportunity creation, and closing are clear milestones in the sales cycle.
When to avoid W-shaped attribution reporting
As touched on above, if the conversion path is not clear and can vary drastically from one customer to another, the W-shaped attribution model reaches its limitations. It's also important to clearly define what the most important steps are before assigning value to them. For example, is it first touch or lead generation, is the last important touchpoint closing or opportunity creation?
It can also be difficult to implement a standardized W-shaped position-based attribution in your technology stack. If you don't have the right attribution software, it's very hard to measure and pin key points.
Conclusion
The W-shaped attribution model can be a powerful tool for understanding the customer journey and optimizing marketing efforts. It takes into consideration multiple touchpoints during the customer's journey while giving more credit to those moments that have proven to be most influential in driving conversions. However, it is important to understand its limitations and only use this model if it's beneficial for your organization. Additionally, be sure to determine which specific events are most important in the customer journey before assigning any value to them. With a clear understanding of how this model works and its uses, marketers can leverage it to gain valuable insights and make more effective decisions about their campaigns.  By utilizing W-shaped attribution, organizations can gain a better understanding of how their efforts are impacting the customer journey and make informed decisions on how best to allocate resources. Ultimately, this will result in more successful campaigns and higher ROI from marketing expenditures.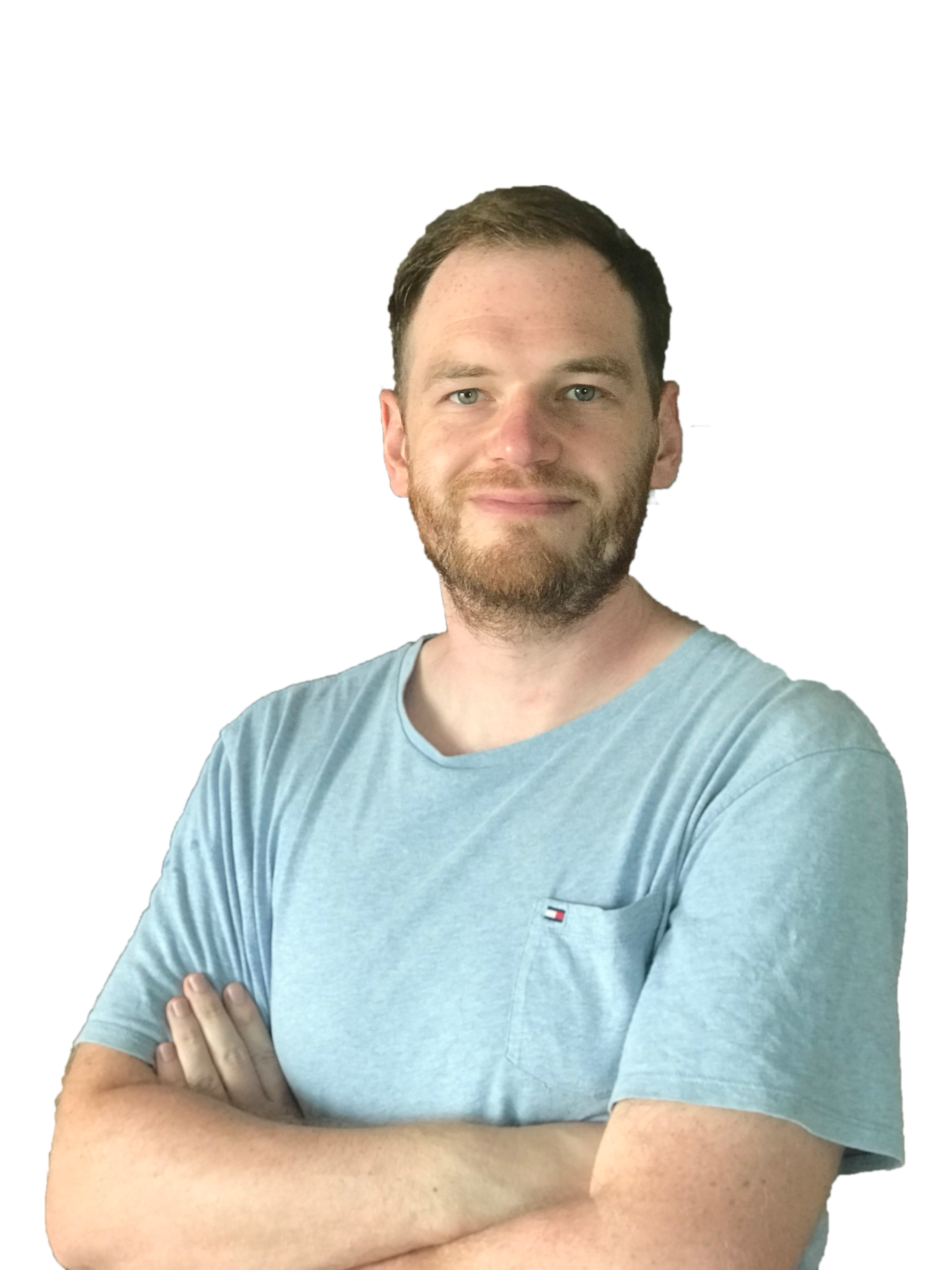 Sascha is a Lifecycle Marketing Consultant with over 8 years of digital marketing experiences in Silicon Valley, the UK, and Germany.
After leading the demand generation for a 100+ million company, he decided to venture out on himself. He's now helping clients to attract and convert more leads and customers.
His main focus are SEO, paid media & marketing automation – all with the focus to tie marketing campaigns to revenue.
Sascha has been featured in industry publications.