EverWebinar Review: The ultimate Automated Webinar Platform
Lead generation is a constant marketing battle, especially when it comes to hosting webinars. The process from A to Z is time-consuming for both you and your attendees, which is why we think EverWebinar may be a good service to consider investing in.
If you're wondering about this platform's features, pros and cons, and alternatives, this EverWebinar review is here to discuss all these points in depth.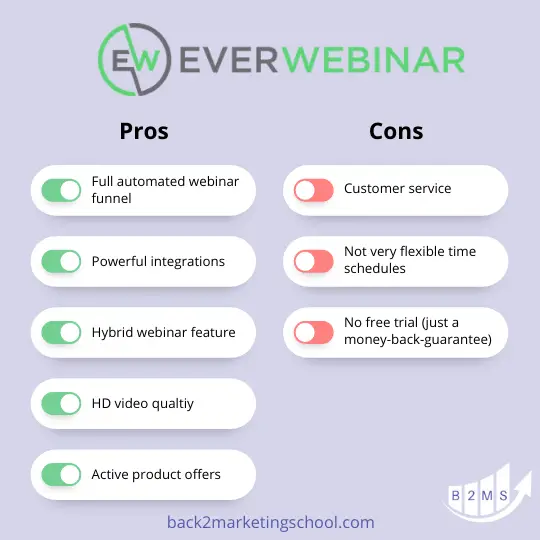 What Is EverWebinar?
In short, EverWebinar is an automated webinar platform that enables its users to schedule, host, and simulate live events according to their specific needs. 
The easy-to-use software lets you customize a webinar campaign without having to repeat processes over and over. With countless automated tools at your disposal, your audience can attend your webinars whenever they're free since the events are located in the cloud.
You don't even have to show up for every webinar!
Yet, that's not the only great thing about EverWebinar; it's teeming with other useful features that can be helpful for any webinars your company will be hosting. In the next section, we explore each aspect in more detail!
EverWebinar Best Features and Tools
From providing flexible schedules to ensuring each webinar has high-quality video and audio, EverWebinar has got you covered in so many ways.
Here's why it's popular webinar software with business owners: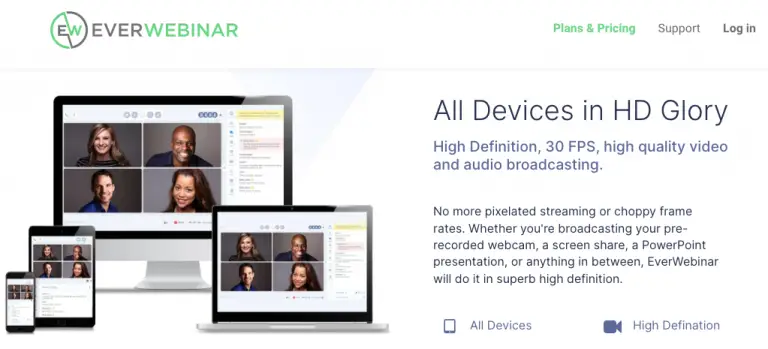 Schedules That Work for Everyone
The first thing everyone loves about this service is that it's designed to match different schedules. You don't have to be free to host a webinar, and you don't need to wait for your attendees to free themselves, either.
All you'll have to do is tap into the flexible scheduling tool, choose the dates and times that work for your audience, and plan your pre-recorded webinars accordingly. You can set specific dates, recurring times, and more.
One-click Evergreen Webinars
Want to import a live webinar hosted on WebinarJam —a leading webinar platform, and convert it into an Evergreen one on EverWebinar? Well, that's easily achievable with a single click!
As soon as you do that, you'll have an evergreen webinar with everything duplicated from the original live event. All the comments, questions, product offers, presentations, and more will be ready for your audience to look at.
EverWebinar Integrations
One of the coolest things about EverWebinar is that it doesn't disappoint in terms of automated integrations. The software can offer you a seamless experience since it's integrated with the following platforms:
GetResponse

Kartra

iContact

ActiveCampaign

Ontraport

ConvertKit

AWeber

Drip

Zapier
No matter what automation tool you're using, you can use it hand-in-hand with EverWebinar for the ultimate automated experience. 
This way, you'll be able to manage your contacts, send automated emails to attendees, take a look at relevant metrics and data, and so much more from one place!
Hybrid Webinar Feature
Another tool you can benefit from is the Hybrid Webinar, which allows you to host an automated webinar with a live chat. This way, the attendees can shoot any questions related to the topic of the webinar to the chat, and they'll get their responses as if the webinar was actually live.
All you'll have to do is enable the live chat simulator and have a member of your team respond to each question that you get. Chat messages can also be answered by email later.
Webinar attendees can participate in polls and surveys. This is another great to boost engagement and simulate a live webinar experience.
High Definition Video Quality
None of the features we're discussing here can reach their full potential without a solid high-definition video and audio quality. What's the point of arranging for an automated webinar if the video keeps lagging or the sound isn't clear?
Thankfully, EverWebinar shows your webinars and presentations in HD quality. No matter what device your audience will be using, the quality of the broadcast should remain top-notch.
Active Product Offers
To generate leads and increase your revenue, what's better than showing a product offer on-screen while your presentation addresses it in the background? 
This feature is surely handy to help your audience make split-second decisions and buy your service or product. You can set offers to appear at certain timings in the webinar rooms, encouraging your attendees to click on them and make a purchase without having to visit an external website.
Those clickable offers leave no room for mistyped link addresses, ensuring your guests find their way to your product easily.
Ready-to-use Landing Pages
Another thing to like about EverWebinar is that it has a huge selection of landing pages to pick from. Just click on the landing page that you think will work great with your content, and there you have it!
Now, you can make adjustments to different displays, including text, images, logos, and the like to tailor the template to your business's personality. Better yet, EverWebinar lets you host your landing page on its cloud server for free, unlimited access.
EverWebinar Downsides
Frankly, it's hard to find anything amiss with EverWebinar, especially after becoming more familiar with its incredible features. Still, nothing is without flaws, so you should check the drawbacks of this software before subscribing to it to know what you're signing up for.
First off, many EverWebinar users weren't fans of its customer service. They claimed that it was very lacking and passive.
Second of all, some people were annoyed that they couldn't schedule webinars at any time of the day. The timings supported by the service must be at the top of the hour, 15 minutes past, or 30 minutes past.
Still, everyone agrees that these minor nuisances weren't deal-breakers. The pros make up for the cons by a large margin!
EverWebinar Alternatives (WebinarJam, WebinarKit)
If you're looking for EverWebinar alternatives to avoid the downsides that we mentioned above, you may want to consider two options. 
WebinarJam —the market leader, should always have your back. As for WebinarKit, it's another popular automated webinar service that's definitely worth your attention. 
Let's give you a quick overview of these two tools.
WebinarJam
Just like EverWebinar,
WebinarJam
lets you reach out to your audience via webinars. Yet, with this software, you can't create automated webinars, only live events.
The service is used by more than 50,000 businesses across 40 industries, which says a lot about its performance.
Some of the best features of WebinarJam include:
Lets you connect with 5,000 people per one presentation

Supports up to 6 presenters to share experiences seamlessly

Top-quality video and audio broadcasting

Features live chat, private chat, Q&A, and more

Allows your attendees to share their thoughts and ideas, too

Available as a smartphone app
WebinarKit
WebinarKit
is a service that provides you with useful sales tools besides hosting and customizing automated webinars. It's packed with several features that can cover many marketing needs, such as:
The opportunity to sell your products, courses, and services 24/7 with its evergreen features

Unlimited numbers of attendees, registrants, and funnels

Easy customization of every part of your webinar funnels

Gives you simple-to-understand analytics to measure your registration page conversion rates, attendance rates, and more

Integrations with the most popular CRMs

Integrated email service and integration to most marketing tools

Interactive webinar rooms with question boxes, product offers, and polls.
To Wrap It Up
EverWebinar is surely one of the best automated webinar tools on the market, and proof of that is all over this article!
The service offers you many useful features, from flexible scheduling to Hybrid Webinars and all the way to active product offers. 
While EverWebinar has some hiccups, like passive customer service and the inability to schedule presentations at any time of the day, it's still worth checking out.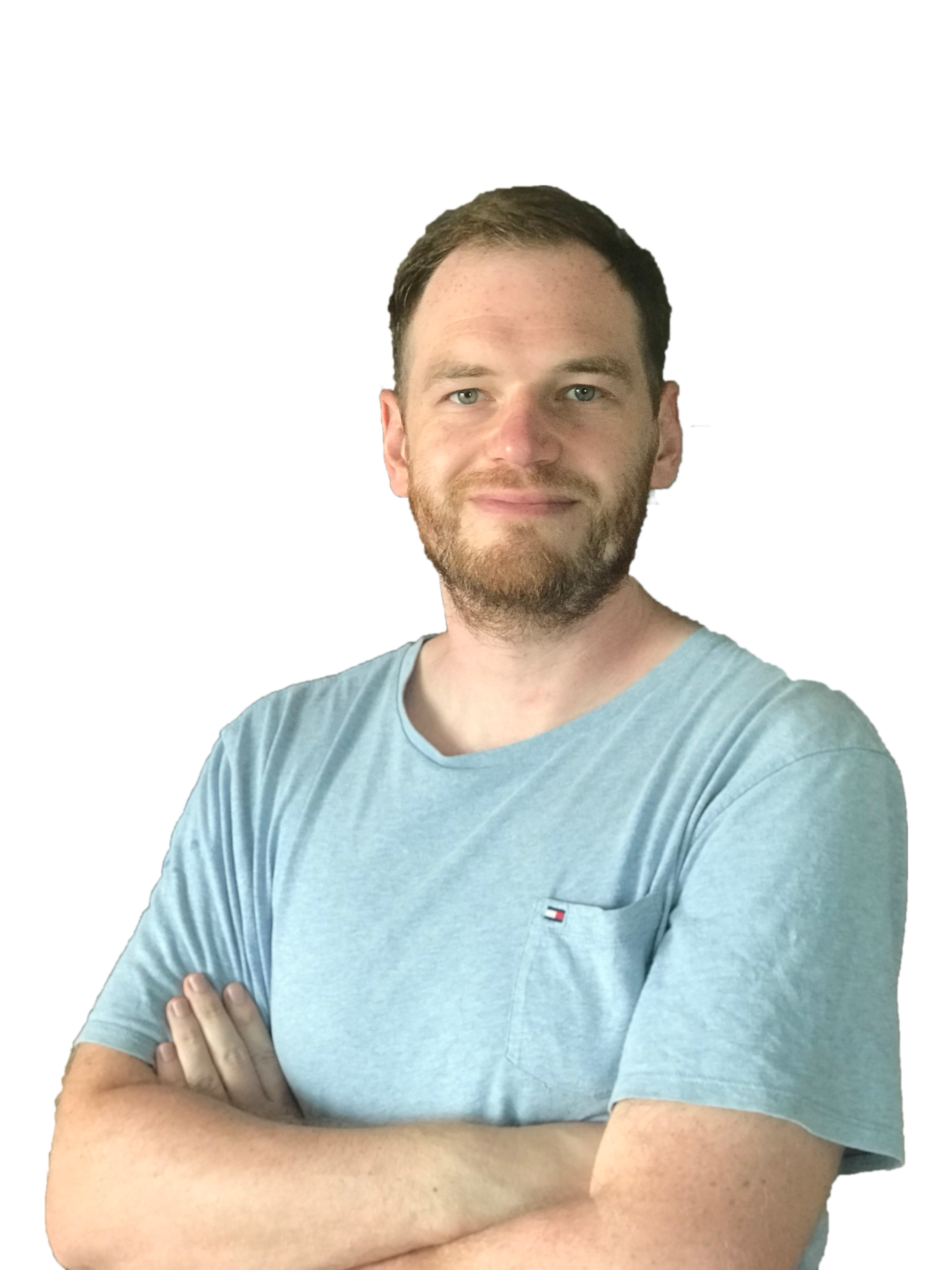 Sascha is a Lifecycle Marketing Consultant with over 8 years of digital marketing experiences in Silicon Valley, the UK, and Germany.
After leading the demand generation for a 100+ million company, he decided to venture out on himself. He's now helping clients to attract and convert more leads and customers.
His main focus are SEO, paid media & marketing automation – all with the focus to tie marketing campaigns to revenue.
Sascha has been featured in industry publications.