SEMRush vs SE Ranking: Which SEO Tool is better?
When it comes to SEO tools, SEMRush and SE Ranking often come up in conversation. They're both fantastic tools with dozens of useful features to help optimize your website and improve your Google ranking. But which of these tools should you get for your business? 
In this SEMRush vs SE Ranking comparison guide, I've compared both tools side-by-side to see which one reigns supreme.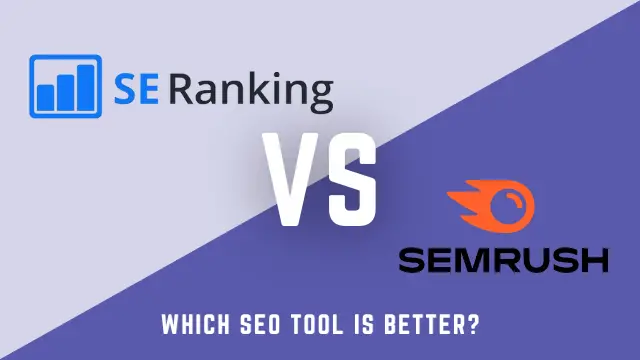 What Is SEMRush? A Brief Overview
Developed in 2008, SEMRush is one of the oldest and most popular SEO tools in the industry. Thanks to its in-depth analysis and massive database of over 21 billion keywords and 40 trillion backlinks, it's often the go-to SEO tool by big-name companies and in-house marketing agencies. 
With roughly 471,000 active users, SEMRush generates revenue of $124.88 million annually. These numbers don't lie—it's clear that SEMRush provides massive value to customers that goes beyond simple popularity. 
SEMRush's most notable features are as follows: 
Keyword research 

Competitor analysis 

Content marketing tools

On-page SEO

Social media management 

Position tracking 

International databases

Backlink analytics and link building

Google Ads Keywords

(including of competitors)
These features are just the tip of the iceberg. Subscribing to SEMRush's Business packages starting at $99.95 a month unlocks dozens of other functions that you probably don't know what to do with.
What Is SE Ranking? A Brief Overview
SE Ranking is a cloud-based SEO tool that caters to the needs of SEO specialists, agencies, and business owners. It enables users to perform all the integral SEO tasks they need to fully optimize their search engine ranking and web visibility. 
Though not as in-depth or accurate as SEMRush, SE Ranking is still an excellent all-in-one SEO tool with fantastic features at a budget price. With it, you can track your keyword performance, perform detailed website audits, and "spy" on your competitor's marketing efforts with its competitor analysis tool. 
Here are some of SE Ranking's best features: 
Keyword research

Rank tracking

Competitor analysis 

Backlink monitoring 

Automated professional reporting 

Comprehensive site audit 

On-page SEO checker

Report builder 

Lead generator 

Social media management 
I've yet to find an SEO tool that comes close to SEMRush's 21+ billion keywords, but SE Ranking does fairly well for itself with a decent 7 billion keywords. Considering their difference in price, 7 million isn't bad at all. It'll still give you a massive selection of keywords to choose from.
SEMRush vs SE Ranking: Side-by-Side Comparison
Here's how SEMRush and SE Ranking compares with each other: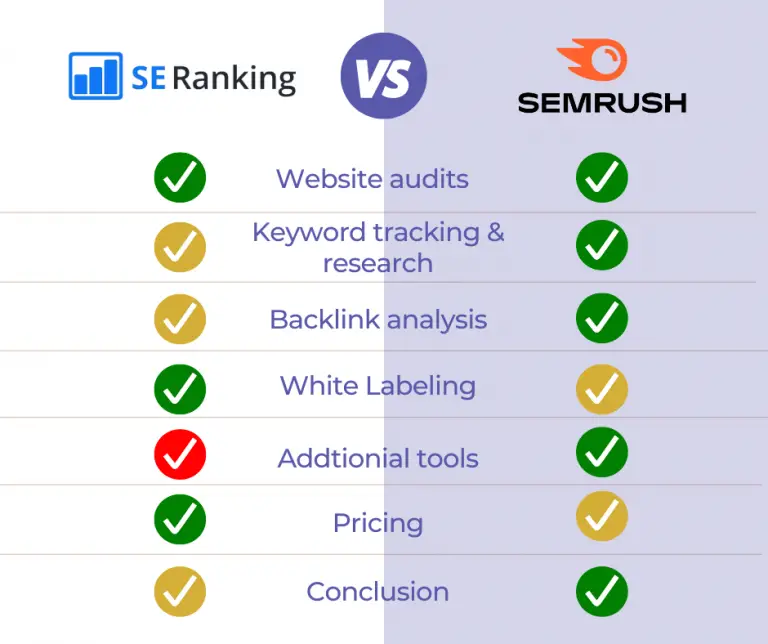 Keyword Research 
Keyword research is arguably the most important feature of SEO tools, and both SEMRush and SE Ranking exceeded my expectations. They more or less work similarly: after entering a particular keyword, the tool would generate a long list of related organic and paid terms, with their number of search results, monthly search volume, keyword difficulty, top-ranking domains, and cost-per-click. 
SEMRush's keyword gap tool shows keyword opportunities compared to your competitors with ease.
That said, SEMRush is known for its massive keyword database. SE Ranking's database of 7 billion keywords is nothing to scoff at, but it doesn't hold a candle to SEMRush's jaw-dropping 20 billion keywords. In this regard, SEMRush takes the crown in terms of keyword research. 
A hidden gem might be the video rank tracker of SEMRush.
Site Audit 
Site auditing is a comprehensive analysis of a website's health, speed, search engine friendliness, and visibility among others. It helps owners identify errors and improvements that can be made to improve their SEO strategies. 
SEMRush and SE Ranking both offer comprehensive site auditing. Some of the aspects analyzed by SEMRush and SE Ranking include: 
Overall site health

Missing descriptions, alt tags, and title tags

Ease of navigation 

XML sitemaps and robots.txt files

HTML element usage and page structure  

Technical SEO issues like broken links

Duplicate and/or thin content
On-site issues are categorized by type and severity so users can focus on the more critical problems that need immediate fixing. Each problem is described in detail with recommendations on how to fix them. 
While both SEO tools provide brilliant auditing, SEMRush takes the lead yet again because it's a bit more in-depth with its analysis. SEMRush can identify over 140 common issues based on priority and importance, while SE Ranking can identify around 120 issues.
Backlink Checker 
SE Ranking's backlink checker analyzes the backlinks of 220+ million domains against 15 parameters, such as Google index status, URL, social popularity, Moz Domain Authority, Majestic Trust Flow, server IP address, and others. It provides data on backlink domain trust, page trust, and do-follow/no-follow ratio among others. 
While SE Ranking only uses one backlink tool, SEMRush uses a total of five. These include: 
Backlink analytics

Bulk backlink analysis 

Link building tool

Backlink gap
The Bulk Backlink Analysis tool allows you to check up to 200 URLs/domains at a time, making it a suitable choice for business owners with multiple websites. SE Ranking also offers bulk analysis, but not nearly as much as SEMRush. 
SEMRush has a database of 43 trillion quality backlinks, making it the largest among well-known competitors—especially since these links continue to grow by the day.
The conclusion is simple: SEMRush wins yet again. Massive database aside, there's simply no beating Sumrush's backlink analysis tools.
Content Marketing
Both SEMRush and SE Ranking provide tools to help you write SEO-optimized content for your website. They feature the following marking tools: 
Plagiarism checks 

SEO templates

Brand mentions 

Page tracking 

Page audits 

Marketing calendars 
SEMRush features two other useful features: SEO Writing Assistant and Topic Research tool.
The SEO Writing Assistant analyzes the top SERP results and creates a content template including the optimal lengths, semantic related keywords, tone of voice, and other readability scores.
If you run out of ideas, the topics research tool got you covered with article and keyword suggestions.
On top of that, SEMRush has a social media tracker, auto-post tool (to social media), and brand monitoring tools to improve your brand presence. 
In terms of content marketing, SEMRush is the clear winner.
Pricing 
Though SEMRush offers more in-depth analysis and SEO functions when compared to SE Ranking, it comes at a significantly higher cost. 
SEMRush has three basic plans: Pro for around $100 a month, Guru for around $192 a month, and Business for a staggering $375 a month. 
The Pro plan is targeted toward newbies and small businesses. It lets you work on five projects a month, track 500 keywords, and get 10,000 results per report. 
Guru is for agencies and mid-size businesses, featuring 15 projects a month, 1,500 keywords to track, and up to 30,000 results per report. 
Business is for large enterprises and businesses, with 40 projects a month, 5,000 keywords to track (with daily updates), 50,000 results per report, and unlimited keyword, domain, and backlink analytics. 
SE Ranking is a lot friendlier on the pockets. Essential costs roughly $40 a month for 10 projects, 250 keywords, and 37,500 checks, while Pro costs around $90 a month for unlimited projects, 1,000 keywords, and 150,000 checks. Business is just under $200, giving you access to unlimited checks, 2,500 keywords, and 375,000 checks. 
Both digital marketing software products offer a free trial.
White labeling
SE Ranking's biggest selling point is the white labeling access for agencies. Starting with the Pro Plan you can remove the SE Branding and have your clients log into a custom branded platform to track results. This makes even small agencies look professional and set themselves up from the competition.
SEMRush doesn't offer white label client logins but custom branding for automated SEO reporting that can be scheduled straight to your clients email inbox. This feature is only available in the Business Plan, and therefore costly.
SE Ranking vs SEMRush white labeling goes to SE Ranking.
Final Thoughts
I hope this SEMRush vs SE Ranking comparison helped you decide which SEO tool works best for your website. 
SEMRush is the best option overall, but it comes at a premium price—almost double that of SE Ranking.  SEMRush is almost like an upgraded version of SE Ranking. It has a ton of features you won't find in SE Ranking, plus it provides a more in-depth analysis in nearly every aspect. If you're serious about growing your business and don't mind investing a bit of cash in SEO tools, SEMRush is a solid option. 
On the other hand, SEMRush may save you additional tools. You may pay for other tools like Surfer to create SEO content briefs. SEMRush's content template, got you covered.
In my opinion, SEMRush is worth every cent. I use it for all my SEO work, including my clients and website projects – as well as Back2MarketingSchool.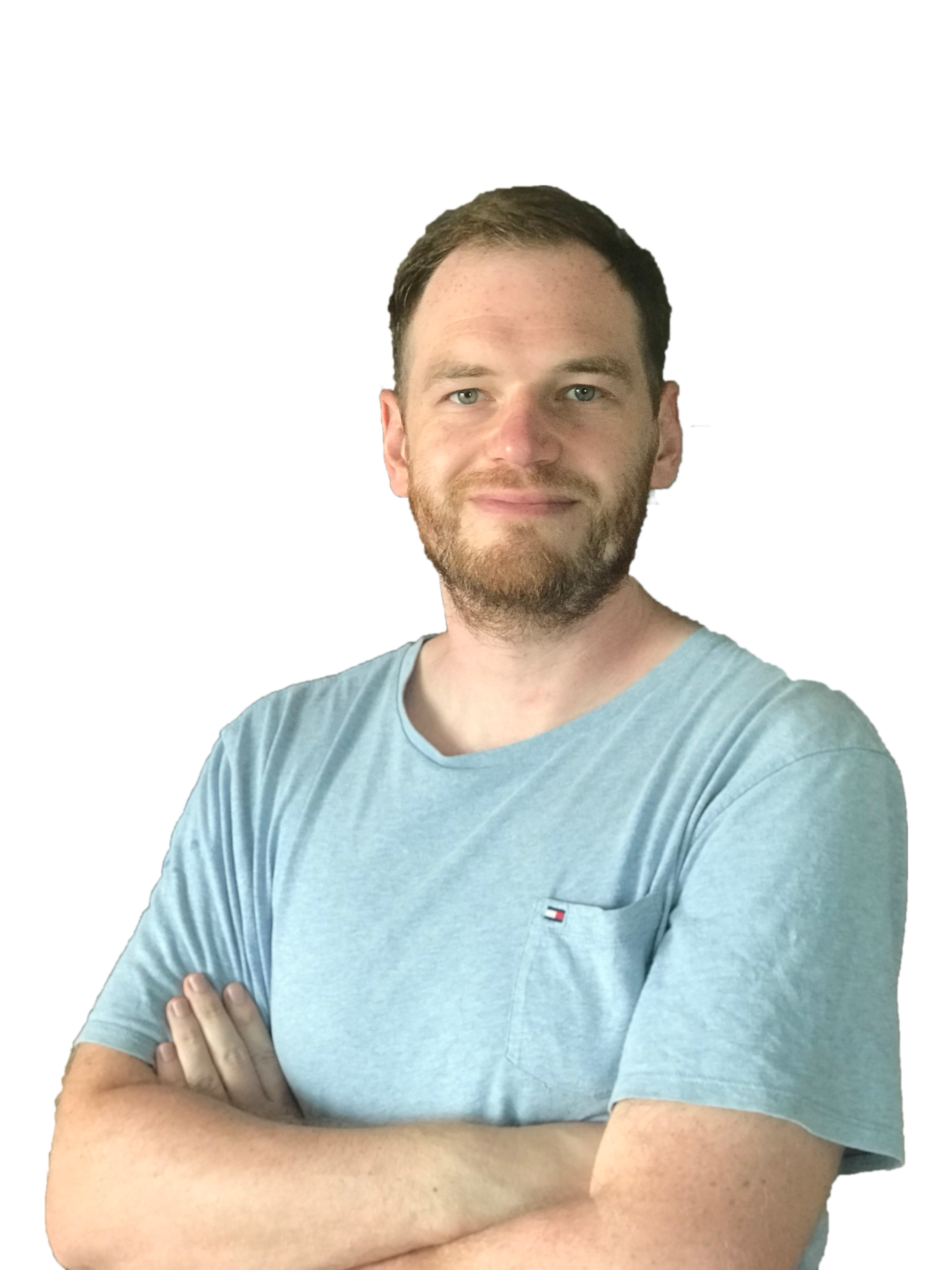 Sascha is a Lifecycle Marketing Consultant with over 8 years of digital marketing experiences in Silicon Valley, the UK, and Germany.
After leading the demand generation for a 100+ million company, he decided to venture out on himself. He's now helping clients to attract and convert more leads and customers.
His main focus are SEO, paid media & marketing automation – all with the focus to tie marketing campaigns to revenue.
Sascha has been featured in industry publications.